Combating trafficking in human beings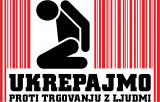 Trafficking in human beings is a phenomenon that occurs in modern society; it is becoming a structural element of some industries; and above all it interferes with the fundamental rights and freedoms of the individual who becomes a victim of such trafficking or exploitation.
Persons fleeing the war in Ukraine at risk of becoming victims of trafficking
The war in Ukraine has caused the biggest refugee crisis in the EU since World War Two. According to the latest estimates, approximately 4 million Ukrainians have been forced to flee their country, most of them women and children, a very vulnerable group particularly at risk of trafficking in human beings.
Many people are offering Ukrainian nationals help, including accommodation in private-owned facilities, job opportunities, and transportation to other regions or other countries. However, certain offers and apparent willingness to help may in fact be traps in which persons can fall victims to traffickers.
There have been several cases of individuals trying to establish personal contacts with female refugees from Ukraine accommodated in Logatec and Debeli Rtič. Several persons were offering marriage agreements and accommodation in private apartments in return for sexual favours and provision of house chores. We have also detected a suspicious advertisement offering jobs in the fashion industry.
The Inter-ministerial Working Group on Combating Trafficking in Human Beings is therefore warning of the risks the crisis in Ukraine has caused in terms of trafficking in human beings. The goal of traffickers is exploitation of victims for prostitution, sexual abuse, forced labour, servitude, exploitation of criminal activities, or the removal of organs. In addition to exploitation, the phenomenon of trafficking also entails activities of the traffickers, including recruitment, transportation, relocation, provision of shelter, reception of persons and use of certain means, such as force, threats, deception, kidnapping, abuse of inferior or dependant position, giving and receiving payment or benefits, for gaining approval of the person, who controls another.
If you have detected any suspicious circumstances or believe that you could be a victim of trafficking, please call the police, or get in touch with anti-trafficking non-governmental or humanitarian organisations on the contact telephone numbers or e-mail addresses.
Štefanova ulica 2
1501 Ljubljana

Kristanova ulica 1
1000 Ljubljana

Ulica stare pravde 2
1000 Ljubljana

Cesta Dolomitskega odreda 11
1000 Ljubljana
Do not become a victim of trafficking
Do not hand over your documents and your phone to anyone!
Agree on the price for transport before you start!
If you travel with someone in a car, ask for the exact address, his phone number and insist that he shows you a document!
Write down the car´s plate number or take a photo and send it to a person you trust!
Stay in touch with people you trust while you are travelling and send them photos to show where you are!
Štefanova ulica 2
1501 Ljubljana


Tjaša Škreblin
Delegated Head