Minister Fajon hands over two buses for Ukrainian schoolchildren
Minister of Foreign and European Affairs Tanja Fajon handed over two Ljubljana Passenger Transport buses, which the Municipality of Ljubljana donated to Ukraine, to the Ambassador of Ukraine to the Republic of Slovenia, Andriy Taran. "Today we continue our assistance to Ukraine, this time, too, supporting the most vulnerable in the war – children and young people –, so that they can get to school more safely in these difficult circumstances."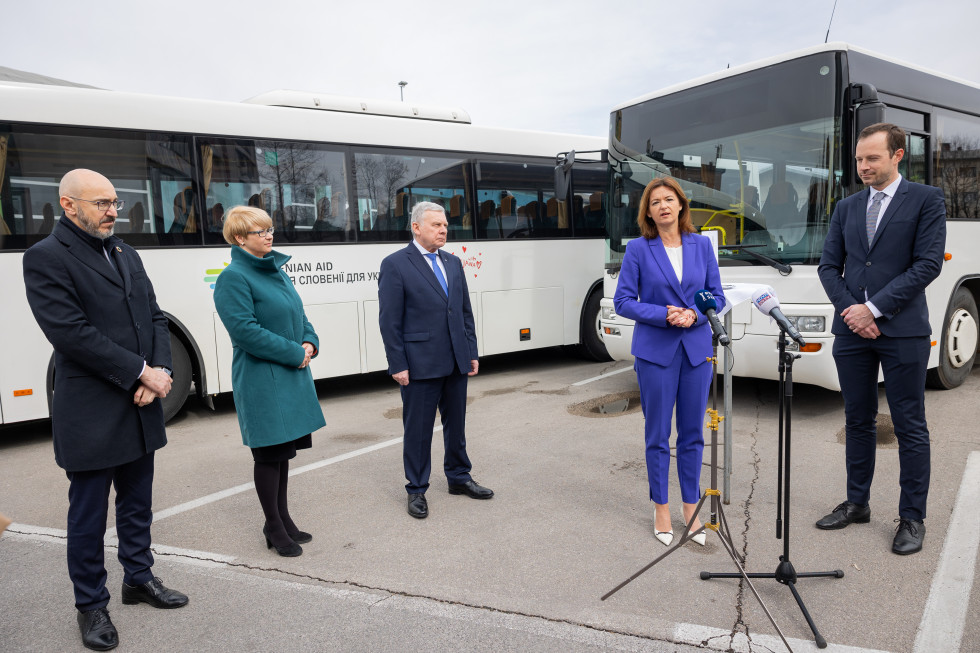 Minister Fajon handing over two Ljubljana Passenger Transport buses to Ukrainian Ambassador Taran
Minister Fajon handing over two Ljubljana Passenger Transport buses to Ukrainian Ambassador Taran
Minister Fajon handing over two Ljubljana Passenger Transport buses to Ukrainian Ambassador Taran
"The war in Ukraine has been going on for well over a year now and we have all watched with horror and sadness the killing of innocent civilians and the destruction of civilian infrastructure. Children are the greatest victims of this tragedy, this brutal Russian aggression. Education lays the foundations for our future, so it is important that the children continue attending school and feel safe doing so. This is essential for their well-being and their future. I will be happy if we continue the campaign and acquire more buses," said Minister Fajon upon handing over the two buses.
The vehicles are intended for the transport of children in Kryvyi Rih and will be taken there tomorrow by two Ukrainian drivers.
Since the start of the Russian aggression, Ukraine has struggled to provide safe passage of children to school. The European Commission's initiative to acquire buses for Ukrainian schoolchildren was supported by Minister Fajon, who wrote to Slovenian municipalities and transport operators to invite them to join forces and donate buses to help Ukrainian children.
Last year, Slovenia allocated €29.4 million in aid to Ukraine, including €5.5 million in humanitarian aid. Slovenia is responding to the needs of the Ukrainian people with tangible material aid: at the end of 2022, it donated two ambulances, and another one designed to transport premature babies and mothers will be ready by the summer; Slovenian energy companies donated equipment to help Ukrainians get through the winter cold a little more easily; the Municipality of Maribor has already donated a school bus to Kharkiv; Slovenia has received two wounded Ukrainian people for medical treatment; and around 8,000 Ukrainian refugees have found a temporary home in Slovenia.
A significant part of the humanitarian aid has come from municipalities, NGOs, private companies and individuals. "Slovenians know well what it means to fight for territorial integrity and sovereignty," said Minister Fajon and stated once more that Slovenia will continue to help its Ukrainian friends for as long as necessary.