Mass rapid testing is important, as there is a great deal of virus among the population
A press conference on the current situation regarding the COVID-19 virus was held by state secretary at the Ministry of Health Marija Magajne and Director of the National Institute of Public Health Milan Krek.
1,458 PCR tests were conducted yesterday. 268 new cases were confirmed, with a positivity rate of 18.4%. 3,226 rapid tests were conducted yesterday. 85 new infections were confirmed, with a positivity rate of 2.6%. A total of 4,684 tests were conducted, with 353 positive results. 1,066 patients were hospitalised due to coronavirus, with 169 patients in intensive care. There were 19 deaths, 14 in hospitals and 5 in nursing homes.
According to data released yesterday, more than 800,000 people have already been tested using PCR tests, and more than 250,000 using rapid tests. Since the appearance of the first case, 166,473 positive Covid cases have been recorded in Slovenia. The National Institute of Public Health (NIJZ) estimates that there are 17,167 active cases in the country.
According to data released today by the NIJZ, the seven-day average of positive tests is 1,223, which is slightly higher than yesterday's level of 1,213. The number of persons requiring hospital care due to COVID-19 sits at 1,066 today. Both of these figures have to fall below 1,000 in order to transition into the next, orange phase.
Mass testing is important, said Magajne, since there is a great deal of virus among the general population, and this could be brought into the school environment by teachers. They are clearly well aware of this, as demonstrated by their strong participation in testing. Today, it is being conducted smoothly, in parallel with the duration of classes. Testing did not have to be conducted until the beginning of classes today, as the instructions merely state that it has to be conducted regularly, once a week.
A new tender for rapid tests will be published in the next few days, while 20% of the 500,000 tests obtained through the first tender are still available. In February, Slovenia is also expecting to obtain quantities of tests through the European-level joint procurement of Covid tests.
Magajne confirmed that the testing of secondary-school and college students is planned.
The spread of the UK variant among all positive Covid cases is checked using a system in which 10% of all positive tests are analysed for the UK variant, in order to determine whether its incidence rate of 2% of all cases is increasing.
The number of new positive cases has otherwise fallen over the last few weeks, but this decline has levelled off in the past week, as shown by the 7-day incidence curve, which has remained steady. The 7-day incidence as a percentage of the 14-day incidence, which was as low as 41%, has once again risen to 50% over the last few days. Slovenia's 14-day incidence was 824 positive cases, behind Portugal, Spain and the Czech Republic.
A comparison of the measures implemented by Slovenia to prevent the epidemic in comparison with other countries indicates that Slovenia does not have very strict measures in place, as it sits in the lower half of the rankings with regard to strictness. The assessment included restrictive measures regarding schools, public events, commercial operations, general mobility, public transport, etc.
Krek noted that with regard to the criteria of 14-day positive cases per million inhabitants or deaths in the same period, Slovenia does not differ substantially from other European countries. Slovenia is among the strictest countries with regard to wearing masks, but in view of the 14-day incidence this is unavoidable.
Krek concluded the presentation by emphasising that the measures for preventing the spread of the virus are critical, but at the same time it is important to get the vaccine. Since there is a great deal of virus among the population, we all have to behave as if we were Covid-positive, that is, to act as if we were in quarantine, i.e. strictly adhere to all preventive measures.
The Jožef Stefan Institute's speculation about a "Slovenian strain" that allegedly appeared during the autumn is unlikely to be true. He is also sceptical about their forecasts that the UK variant of the virus will not spread rapidly in Slovenia until March, as this could occur as early as February.
It is very risky for us to be opening schools, specifically for the first three years of primary school, with the 14-day incidence per 100,000 inhabitants at 824 positive cases. In comparison, Germany has an incidence of 266, but its schools are closed. However, the question of whether to open or close schools may soon be out of the Government's hands, since they will have to close on their own if a large number of teachers become infected.
According to Krek, sources of infection at nursing homes have to be associated with the local governments, as positive cases among employees represent a threat to the city, the municipality and the region, as these people return home and could infect other members of the general population. He also stated that local governments have to have a positive attitude towards nursing homes, and must adhere to the preventive measures as closely as possible in order to minimise the possibility of bringing the virus into the homes.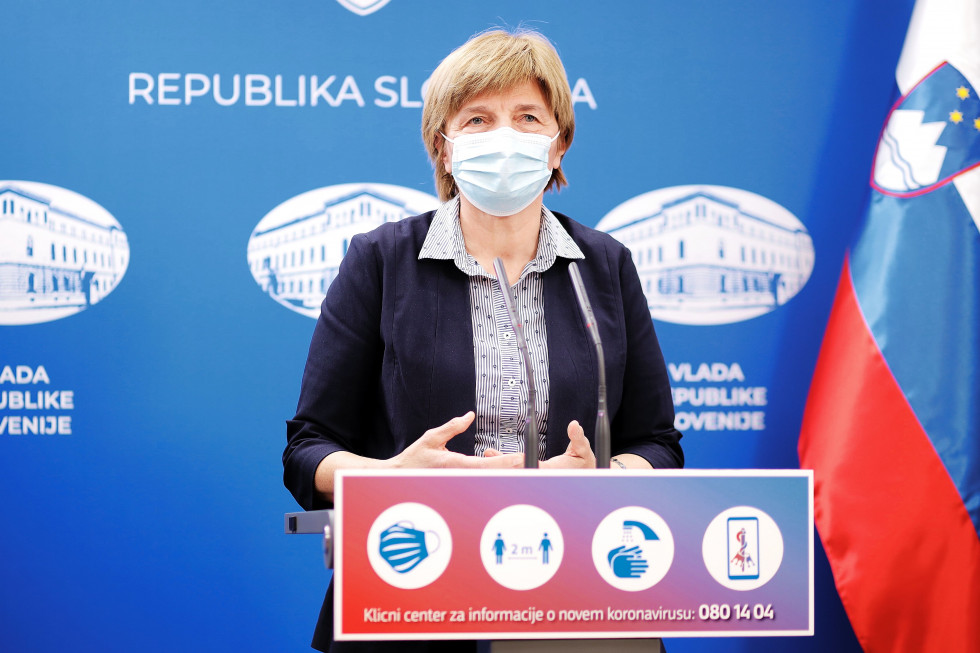 Director of the National Institute of Public Health Milan Krek