Vovko on the overburdened medical staff, Archbishop Zore on the prohibition of religious services
The Metropolitan Archbishop of Ljubljana, Msgr Stanislav Zore, infectious disease and intensive care specialist Tomaž Vovko, and the government spokesperson Jelko Kacin spoke about the current situation regarding COVID-19.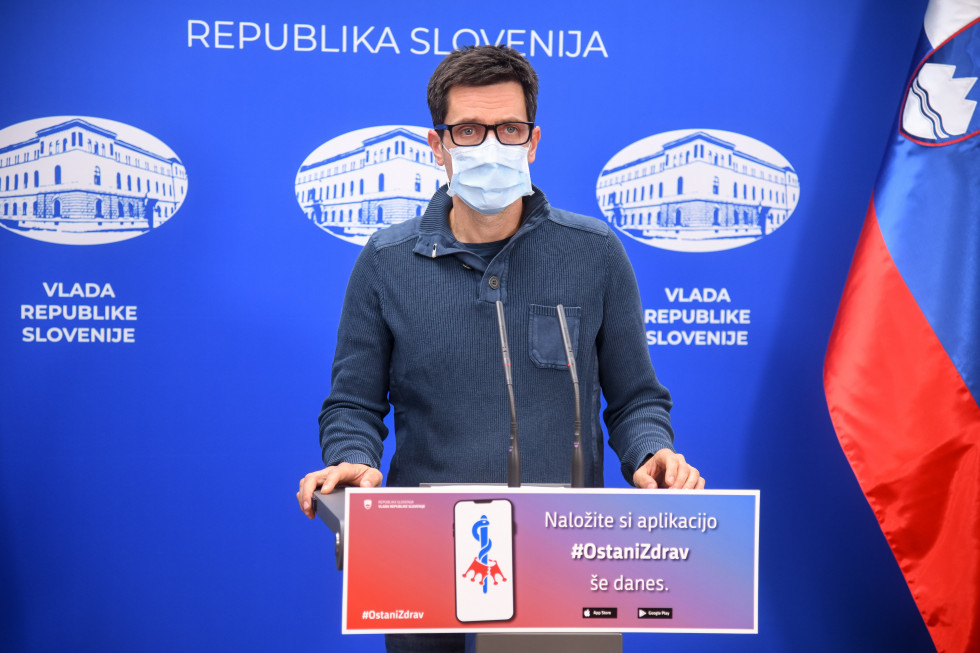 The Metropolitan Archbishop of Ljubljana, Msgr Stanislav Zore
On Wednesday, 5196 tests were carried out and 834 positive cases were confirmed, resulting in a positivity rate of slightly more than 16%. A total of 242 patients are currently in hospital, of which 45 are in intensive care units. Four patients died of COVID-19.
The 14-day incidence per 100,000 inhabitants has risen to 258. Spokesperson Kacin presented data on this incidence rate in the neighbouring countries. In the past few days, the incidence rate in Hungary rose to 147, 148 in Austria, 100 in Italy and 130 in Croatia.
Infectious disease specialist Vovko presented the current situation in the Department of Infectious Diseases. Currently, 20 patients are being treated in intensive care units and a further 40 patients require hospital care. The average age of the patients in intensive care is 65 years, ranging from 45 to 85. Lately, the treatment of patients has been relatively successful.
There are 1.7 patients per doctor on duty, and currently 20 patients are being cared for by four doctors, which is an indication of the latter's current heavy workload. The nurses' workloads are very heavy as well. Although they know what should be done for patients, they are not able to manage. At the moment, they also have other tasks, i.e. educating new nurses and organising work, which leaves them with insufficient time for patients.
Vovko also described the case of a vital 58-year-old patient who had not had any health problems. He waited too long before going to hospital. When admitted, he was practically dying. The doctors saved him by means of extrapulmonary circulation, and his condition is improving. Vovko warns that patients can still be treated at the moment, but if the rate of infection continues to grow as it did today, it will no longer be possible in three weeks.
Archbishop Zore described preventive measures in parishes. Masses attended by a congregation are prohibited in the red statistical regions. Personal communion will be available from priests. Religious education will be carried out as distance learning until further notice.
In the orange regions, masses are limited to a congregation of ten people, and priests will determine who may attend. Religious education will be held as usual for pupils from 1st to 5th grade, and as distance learning for pupils from the 6th grade on.
On All Saints' Day there will be no prayers or blessings in cemeteries; priests will perform them without the presence of adherents. Five infected priests are currently quarantined and one died last night.