Application for protecting public health and lives is anticipated to be available in mid-August
Based on the German version, the application has already been adapted to Slovenian conditions and is undergoing a testing phase. It was presented at a press conference by Peter Geršak, State Secretary at the Ministry of Public Administration, Primož Cigoj, Director of the RSteam company, and Špela Horjak, Deputy Government Spokesperson.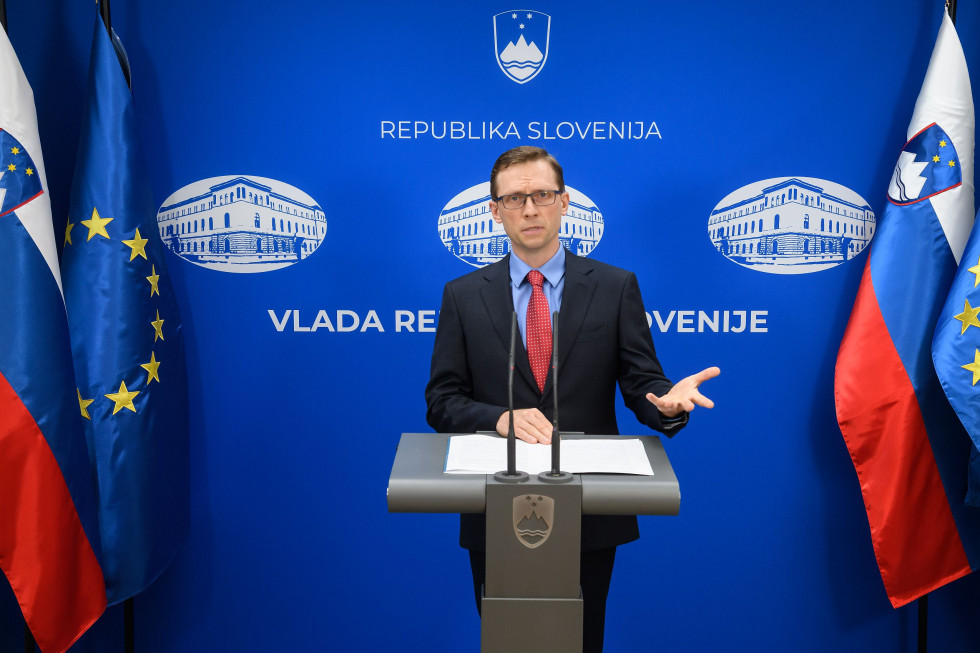 Deputy Government Spokesperson Špela Horjak
Director of the RSteam company Primož Cigoj
Some 879 tests were carried out on Wednesday, of which 24 cases were positive. Furthermore, 22 patients were hospitalised, five require intensive care and one person died. In total, there are 242 actively infected cases, which is five more than a day before. New cases are dispersed among numerous municipalities; the largest number, five, was recorded in Rogaška Slatina, four in Ljubljana, two in Ilirska Bistrica and one in each of several other municipalities. Among the residents in the white zone of Hrastnik Retirement Home, 41 tests were performed on Wednesday and one person tested positive. Data collected on Tuesday and Wednesday reveal that some 50 per cent of newly infected persons come from work organisations, which is why Horjak emphasised the importance of implementing self-protection measures in private environments and at work.
The application, which has the hashtag #Ostani Zdrav, will be submitted to the stores Google Play and App Store by the deadline, i.e. Saturday, 1 August, ensured Geršak. The Ministry has no influence on the speed of the review and approval of the application's suitability to be published in App Store and Google Play, but the Ministry will be on standby if additional information or documentation is required during the review.
The application has no access to a smartphone's list of contacts or any other data from which the owner's identity could be inferred. When meeting another user, smartphones will automatically exchange random IDs through the Bluetooth technology. In addition to random IDs, the phone only records the duration of the meeting and the proximity between both smartphones. Neither the location of the meeting or the user's name are recorded.
If the user tests positive, they will be able to voluntarily inform other persons with whom they were in contact in recent days, i.e. through randomly generated IDs that in no case reveal the user's identity. The application will inform the recipient that they have been recently in contact with an infected person and it will calculate their risk level. There are three risk levels: low, unknown and higher risk.
Cigoj also explained that for now the Slovenian application will not be connecting with applications in other countries, although the German government is preparing an upgrade that will also allow that.