Prime Minister's bilateral meetings during the World Economic Forum in Davos
Former Prime Minister Marjan Šarec (2018 - 2020)
During the World Economic Forum, Prime Minister Marjan Šarec attended a working lunch where a discussion on 'Generating Growth for Central and Eastern Europe' took place. The main emphases included the economic situations in the countries of Central and Eastern Europe. The discussion partners spoke about issues concerning necessary measures by governmental decision-makers and businesspeople directed at promoting sustainable development and the ability to adjust economies to new driving forces of growth that must be closely linked with the transition to a low-carbon society.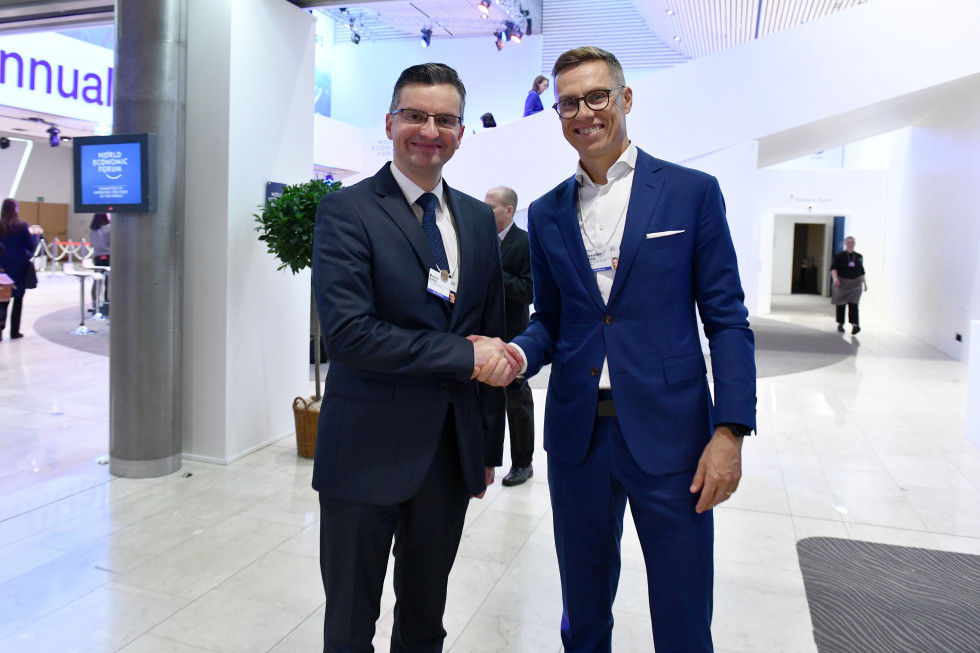 Prime Minister Šarec and GD IMF Kristalina Georgiev.
Meeting of Slovenian and Croatian Prime Ministers
Meeting of Prime Minister Šarec and ERC President Mauro Ferrari
The Prime Minister also held a brief conversation with the Croatian Prime Minister Andrej Plenković. They exchanged views on bilateral relations and highlighted the importance of the progress to be made by the nations of the Western Balkans in their efforts to join the European Union and the related expectations during the Croatian Presidency of the Council of the EU.
Prime Minister Šarec also met with Alexander Stubb, Vice-President of the European Investment Bank (EIB). They spoke about further cooperation between Slovenia and the EIB with an emphasis on the continued support of the Bank for major infrastructure projects and its role in the European Green Deal.
The Prime Minister also held a meeting with Kristalina Georgieva, the newly appointed Managing Director of the International Monetary Fund (IMF), with whom he particularly focused on the current macroeconomic and economic situation in Slovenia and good mutual cooperation within the framework of the Center of Excellence in Finance (CEF), an international organisation with its head office in Ljubljana. The discussion partners further exchanged their views on the situation in the EU and the forecasts of global economic trends.
Mr Šarec then spoke with Professor Mauro Ferrari, President of the European Research Council (ERC), about the excellence of Slovenian science in particular. The Prime Minister emphasised the interest of Slovenian researchers in successfully responding to calls of the European Research Council, whose grants are among the most competitive and prestigious in the world.