Minister Fajon reiterates the need for an immediate humanitarian ceasefire in Gaza
Minister for Foreign and European Affairs Tanja Fajon participated in an informal video conference of EU foreign ministers on the situation in Israel and the wider region.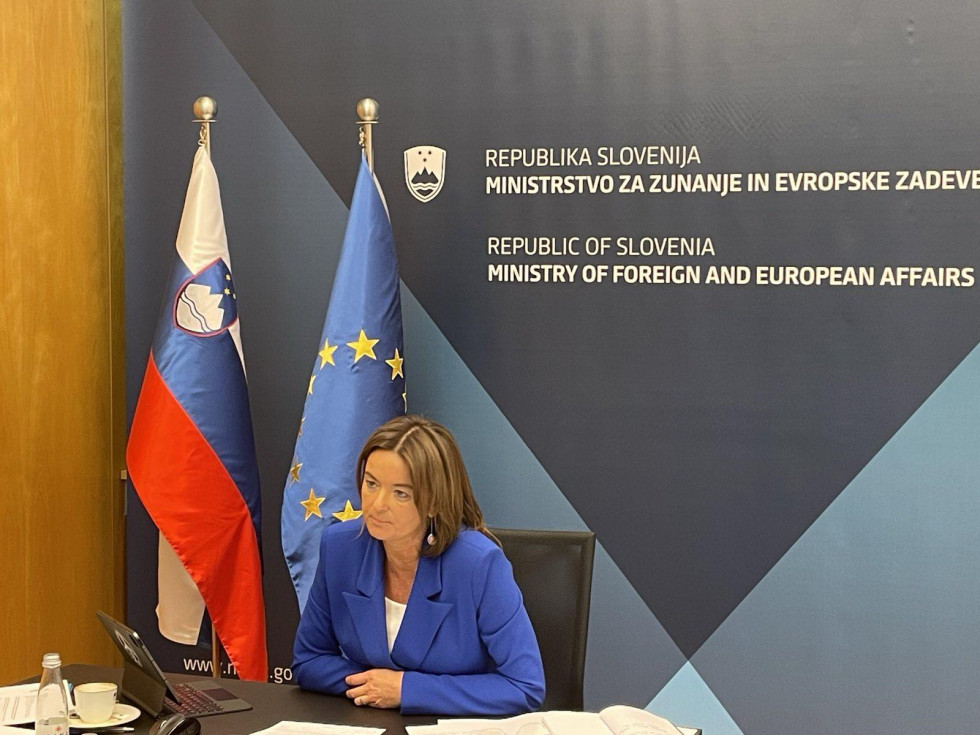 Minister Tanja Fajon at the video conference of EU foreign ministers
The High Representative of the Union for Foreign Affairs and Security Policy, Josep Borrell, briefed ministers on the results of his recent visit to the Middle East and the Gulf. He reported that he had conveyed the joint messages of the European Union to his counterparts from Israel, Palestine, Jordan, Bahrain, Qatar and Saudi Arabia, and called for a continued engagement of the EU in the region.
The ministers discussed the deteriorating humanitarian situation in Gaza and possible further EU action and engagement. "There is an urgent need for an immediate humanitarian ceasefire, the situation in Gaza is appalling, tragic and deteriorating by the day. On International Children's Day we see the graves of thousands of children, the bombing of schools. These are flagrant violations of international humanitarian law. It is our responsibility to protect the most vulnerable," said Minister Fajon.
She reiterated her call for the protection of civilians and the establishment of humanitarian corridors to ensure that aid reaches the people, and called for the release of hostages. She stressed the importance of preventing the escalation of the conflict into the region and expressed concern at the increase in Israeli settler violence and casualties in the West Bank.
Ministers agreed on the need to address the future of a Palestinian state on a two-state basis, which will contribute to a sustainable and lasting peace in the Middle East. "The biggest guarantee for Israel's security is the creation of a Palestinian state, peaceful coexistence between Israelis and Palestinians," added Minister Fajon.
She announced that she would be visiting the region shortly. Slovenia's intention is to actively contribute to stabilising the situation and finding a possible political solution.