Minister Fajon accompanied by a business delegation wraps up the visit to Vietnam
In the Vietnamese capital of Hanoi, Minister Fajon met with her host, Minister of Foreign Affairs Bui Thanh Son, Prime Minister Phan Minh Chinh and Minister of Industry and Trade Nguyen Hong Dien. It was the first visit at the level of foreign minister and deputy prime minister in 17 years.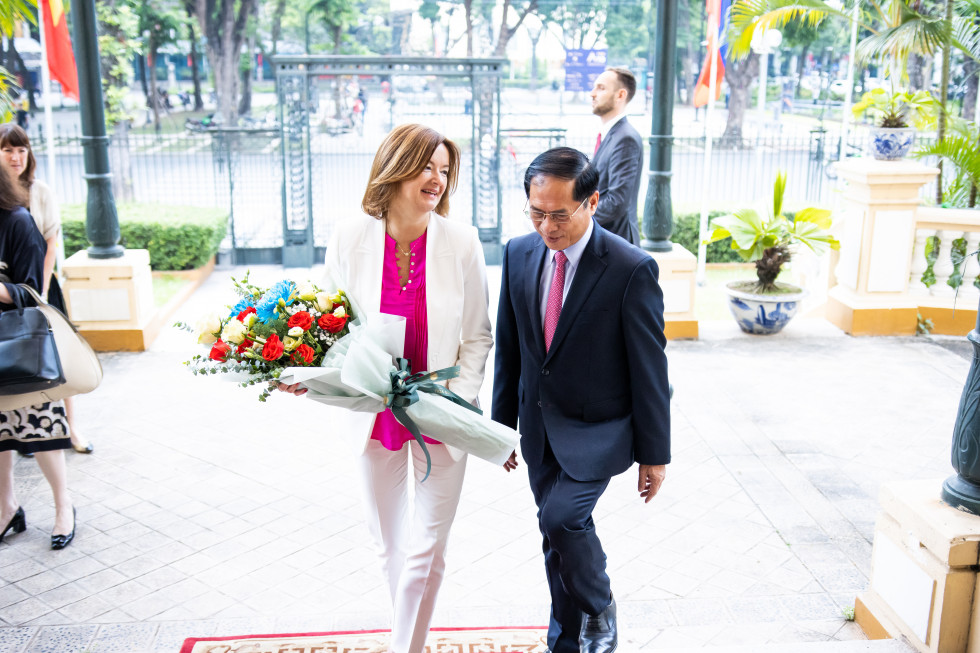 Signing of the Memorandum of Cooperation
Meeting with Vietnamese Foreign Minister Bui Thanh Son
Visit to Minister of Industry and Trade Nguyen Hong Dien
Visit to Minister of Industry and Trade Nguyen Hong Dien
MMinister Fajon with Prime Minister Pham Minh Chinh
The two Foreign Ministers focused on strengthening relations between the two countries, both in the political and economic spheres. "I am delighted that our visit to Vietnam has opened a new chapter in bilateral relations between Slovenia and Vietnam. The interest in enhancing economic cooperation is mutual, which is supported by the interest of the Vietnamese side in Slovenian companies, the representatives of which accompanied me on my trip. Not only in the Port of Koper, the gateway to Europe for Southeast Asia, but also in other companies and our country's potential in the green transition and digitalisation. For Vietnam, which is becoming an important economic and strategic player in Southeast Asia, Slovenia is an attractive business and tourism destination. I am confident that next year, when we celebrate the 30th anniversary of diplomatic relations between Slovenia and Vietnam, we will see concrete results," Fajon said on the sidelines of the meeting.
In a bid to strengthen economic ties, the two ministers confirmed that Slovenia will host the 3rd meeting of the Joint Economic Commission in October. The upcoming opening of a Consulate General in Ho Chi Minh City is also a step towards closer cooperation.
Minister Fajon also met with the Vietnamese Minister of Industry and Trade, Nguyen Hong Dien, Co-Chair of the Joint Economic Commission. They agreed that there are many opportunities to establish or build on economic cooperation, particularly in high technology, transport, logistics, infrastructure, green transition and digital transformation. Representatives of Slovenian companies also presented their activities and interest in the Vietnamese market to Minister Nguyen Hong Dien.
Minister Fajon concluded her visit to Vietnam with a meeting with Vietnamese Prime Minister Pham Minh Chinh, who congratulated her on "the great progress Slovenia has made over the last 30 years." They stressed the importance of cooperation in tackling global challenges and the commitment of both countries to respect for international law, peace and stability.
During her visit to Hanoi, Minister Fajon took the opportunity to promote Slovenia's candidacy for a non-permanent seat on the United Nations Security Council for the 2024–2025 term. She discussed priorities at a separate meeting with ambassadors of the Asia Pacific Group.