Visit to the Intellectual Property Office of Singapore and participation in the International Trademark Association meeting
The annual meeting of the International Trademark Association (INTA) is held in Singapore and attended by the delegation of the Slovenian Intellectual Property Office. The delegation also attended an event organised by the Intellectual Property Office of Singapore, where the Directors of the Slovenian and Singaporean IP Offices exchanged good practices in the field of intellectual property.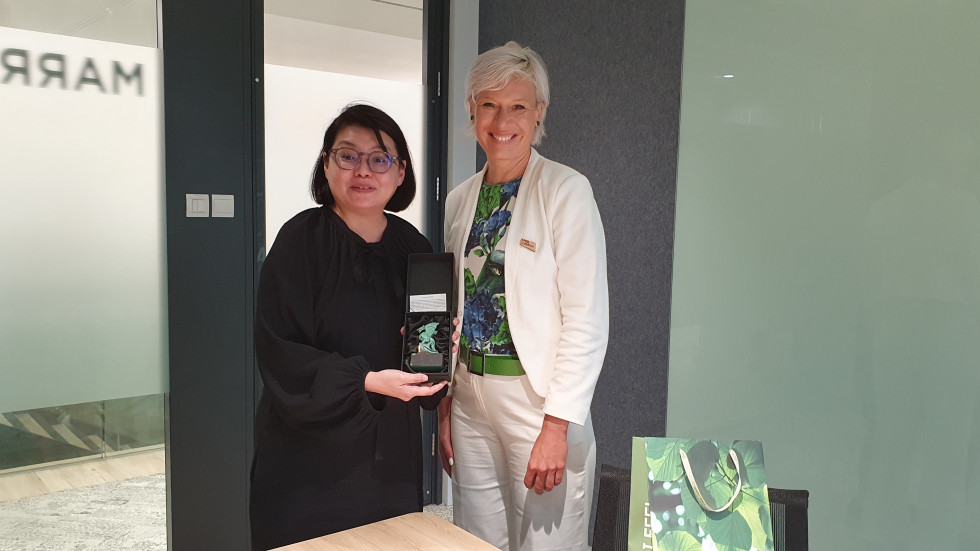 Gift exchange at the Intellectual Property Office of Singapore
Bilateral meeting of the Directors of the Slovenian and Singaporean Offices
Director Karin Žvokelj at a reception hosted by the French Ambassador in Singapore, attended also by WIPO Director-General Daren Tang
IPOS 360 event at the Intellectual Property Office of Singapore
At the invitation of the Intellectual Property Office of Singapore (IPOS), a Slovenian delegation attended the IPOS 360 meeting hosted by IPOS Executive Director Rena Lee. On this occasion, IPOS presented Singapore's National IP Strategy 2030, new developments and initiatives in the IP and innovation ecosystem, and activities to promote IP among different target groups. The event also provided an opportunity to meet with heads and representatives of national offices from Europe, Asia, North America and Australia, as well as representatives of the World Intellectual Property Organization (WIPO) Singapore External Office.
At a bilateral meeting on the sidelines of the event, the Director of the Slovenian IP Office, mag. Karin Žvokelj, Director of IPOS, also received the Director of IPOS. They exchanged experiences and discussed the activities carried out by the two Offices for small, medium and start-up companies, the promotion of intellectual property, the experience with the preparation of a national strategy for intellectual property and the way of valuing intellectual property as an intangible asset on the balance sheet of an individual company.
The INTA meeting
The International Trademark Association (INTA) is a global non-profit association of trademark professionals and owners. The association includes nearly 6,000 organisations from 181 countries. The organisations represent more than 33,500 professionals, including trademark owners from large corporations, small and medium-sized enterprises, law firms and non-profit organisations. The Association also includes members of government agencies, professors and law students.
The 2023 Annual Meeting hosts the most influential IP professionals from around the world. It is one of the largest meetings of its kind, held for the first time in Singapore. The overarching theme of the meeting is "The Business of Innovation", with educational topics presented on cutting-edge IP legal issues and the business of intangible assets at all levels.
The Director of the Slovenian Office also attended an official dinner at the French Embassy in Singapore, where Pascal Faure, Executive Director of the French National Patent Institute, and Daren Tang, Director General of WIPO, were the guests of honour.
In addition to this meeting, Director Žvokelj also responded to other invitations and used the meeting to network with Directors of other Offices and top representatives of international IP organisations.