6th World Bee Day: Bee diplomacy for environmental and social resilience
This year, Slovenian Bee diplomacy is entering a new phase with projects primarily supporting social and environmental resilience. In cooperation with local partners, Slovenian diplomatic missions and consular posts will again carry out more than 30 projects around the world. The two most important celebrations will take place in Rome and New York.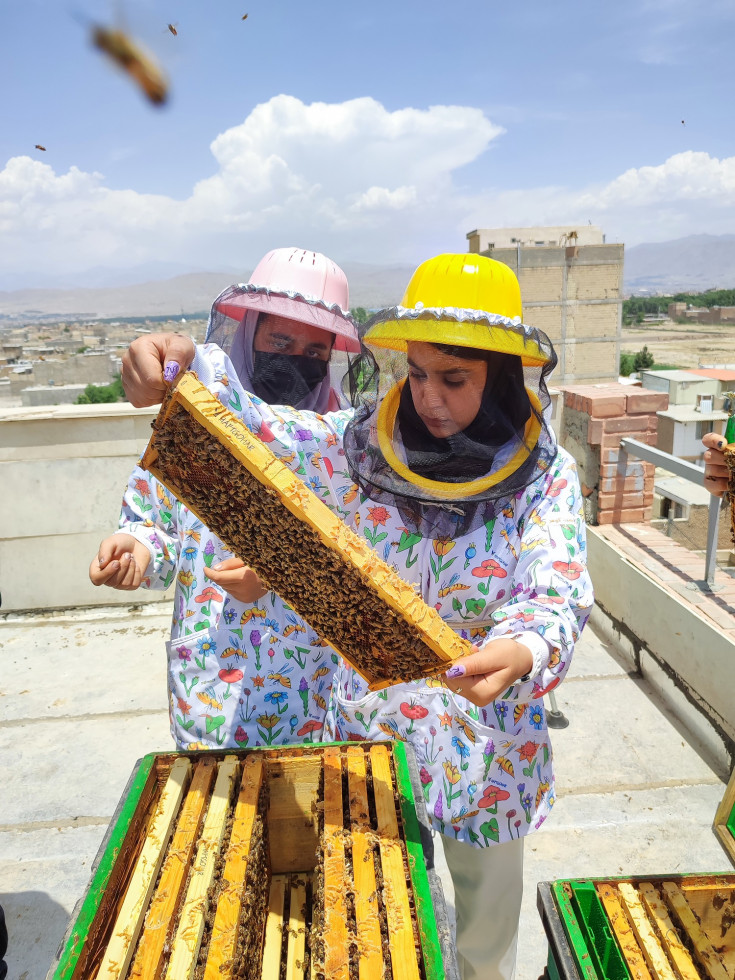 Project to empower landmine victims through beekeeping in Bosnia and Herzegovina
Bees and other pollinators are fundamental for the health of ecosystems and food security. The celebration of World Bee Day on 20 May is an opportunity for global cooperation and solidarity for the protection of bees. World Bee Day, which was declared by the UN General Assembly in 2017 on the initiative of Slovenia with the support of the Food and Agriculture Organization (FAO), will be celebrated for the sixth time this year.
Caring for bees and other pollinators is vital to human survival. Ninety per cent of wild plants and one in every three spoonfuls of food we eat depend on them. Today, they are critically threatened by intensive farming, climate change and excessive pollution. Against a backdrop of a growing food crisis and environmental degradation, bee diplomacy is becoming more important year by year.
Slovenia and beekeeping in development cooperation
In vulnerable areas and communities, beekeeping activities can play a particularly important role. They provide an alternative source of income and improve the lives of people affected by the impacts of climate change, such as droughts, floods and fires. Beekeeping also benefits regions affected by protracted conflict.
Slovenia is actively involved in integrating pollinators into international environmental policies and in addressing global food security concerns through bee diplomacy. The empowerment of vulnerable groups is a constant feature of Slovenian foreign policy and an important part of bee diplomacy. Slovenia has many good practices for empowering women, young people, children, war victims, migrants and others through pollination projects and beekeeping.
Slovenia once again with over thirty pollination projects worldwide
With the support of diplomatic missions and consular posts of the Republic of Slovenia abroad, more than 30 pollination projects will be implemented around the world this year, with a focus on strengthening environmental and social resilience. In Bosnia and Herzegovina, for example, the successful project to empower landmine victims through beekeeping, implemented by the ITF (Enhancing Human Security) with development funding from the Ministry of Foreign and European Affairs, is still running. This third cycle of the project focuses on beekeeping as a lever for stable household economic income and improving the quality of life for landmine victims. In Banja Luka, an apiculture centre has also been set up in the partner Organization of Amputees UDAS to share knowledge and improve beekeeping practices.
In cooperation with a renowned Iranian beekeeper, the Embassy of the Republic of Slovenia in Tehran is continuing its internationally acclaimed project to integrate Afghan refugees into society, which was launched in 2019. This year, special attention will be given to the youngest. Slovenia provides a school in Karaj with urban beehives, protective equipment and other beekeeping tools for the practical training of schoolchildren. This year, for the first time, the programme includes the production of royal jelly and the training of trainers, who will then teach the art of beekeeping in their communities.
Main international events in Rome and New York
The main international ceremony to mark the 6th World Bee Day will take place at the FAO Headquarters in Rome on Friday, 19 May. The keynote speech will be delivered by President of the Republic of Slovenia Nataša Pirc Musar. An expert debate, this year focusing on pollinator-friendly agricultural production practices, will follow.
In partnership with FAO, Slovenia is organising another event at the UN headquarters in New York on 22 May to take stock of the achievements of bee diplomacy so far. The event will highlight the important role pollinators can play in building social and environmental resilience and showcase innovative pollination projects in crisis and (post-)conflict areas.