Prime Minister Robert Golob at the summit in Kyiv: We must strive for respect for international law and just satisfaction
In the second part of his visit to Ukraine, Prime Minister Robert Golob met with the Chairman of the Verkhovna Rada of Ukraine, Ruslan Stefanchuk.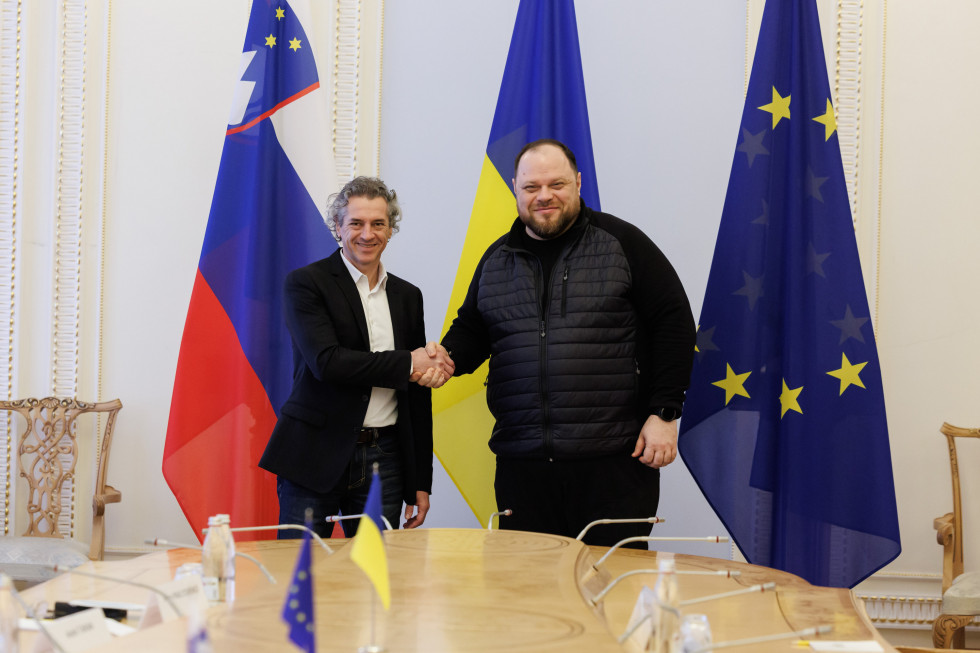 Prime Minister Robert Golob attends the Bucha Summit.
Prime Minister Robert Golob attends the Bucha Summit.
Prime Minister Robert Golob attends the Bucha Summit.
Prime Minister Robert Golob and President of Ukraine Volodymyr Zelenski at a press conference.
Press conference with President of Ukraine Volodymyr Zelenski and heads of delegations.
They highlighted the importance of inter-parliamentary cooperation and friendship groups in strengthening bilateral relations. The Prime Minister recalled last year's visit by the Deputy Chairman of the Verkhovna Rada of Ukraine, Olena Kondratiuk, to Slovenia. He called for more such visits, which can contribute significantly to better mutual understanding and establishment of good relations between the two nations, Slovenian and Ukrainian.
At the end of his visit, Prime Minister Golob attended the summit on Russia's accountability for crimes in Ukraine, held in the Mariinsky Palace in Kyiv. He strongly condemned the unprovoked and unnecessary war and stressed that Slovenia, among other things, had joined the group of countries calling for the establishment of a special tribunal to prosecute Russia's crimes against Ukraine. "Atrocities committed in Bucha and elsewhere in Ukraine are a serious violation of human rights and international humanitarian law. Innocent civilians were subjected to brutal violence and horrors that have left a lasting mark on communities and the collective consciousness of the Ukrainian people," said Prime Minister Golob at the summit, adding that perpetrators must be brought to justice in order to help prevent such atrocities from happening again.
Slovenia is a strong advocate of international criminal law and the International Criminal Court (ICC) and is doing everything possible to support Ukraine in its efforts to hold those responsible for the most serious crimes accountable. We welcomed the ICC's decision to issue arrest warrants for Russian President Vladimir Putin and the Russian Commissioner for Children's Rights for the unlawful deportation of Ukrainian children to Russia. This is a deplorable and reprehensible Russian tactic. Children, in particular, are the ones that we must protect with all possible means.
"We should strive for a world in which international law is respected and justice is served. This is the only way to achieve a just and lasting peace," stressed Prime Minister Golob.