State Secretary Štucin holds consultations with Portuguese Secretary of State Antunes
State Secretary Marko Štucin hosted Tiago Antunes, Secretary of State for European Affairs at the Portuguese Ministry of Foreign Affairs. Their consultations focused on current European and international issues, and they also discussed bilateral cooperation.
The two officials called for further deepening of the constructive cooperation and partnership between Slovenia and Portugal at the bilateral and European levels, as well as in the framework of Mediterranean integration (MED-9). They also expressed their interest in the further intensification of political dialogue between the two like-minded EU member states, which recognise the importance of the rule of law for the successful development of European policies.
They exchanged views on the current situation in Ukraine, including the issue of accountability for war crimes, as well as on continued solidarity support for Ukraine. They spoke in favour of the European perspective for the Western Balkans, as the progress and stability of the region and EU enlargement with these countries are in our common interest. In this context, State Secretary Štucin underlined the importance of a credible EU enlargement policy, stressing that "the Western Balkans region must remain a geostrategic priority for the EU".
State Secretary Štucin and his Portuguese guest also discussed other European topics, ranging from energy security, strengthening the competitiveness of the European economy at the global level, and economic governance reform to migration issues, with the Slovenian side reiterating its support for the abolition of checks at the EU's internal borders. The two officials expressed the shared ambition of their respective countries to build on the existing economic cooperation and direct investment, welcoming the positive growth in trade in goods and services as well as tourism exchanges between the two countries last year.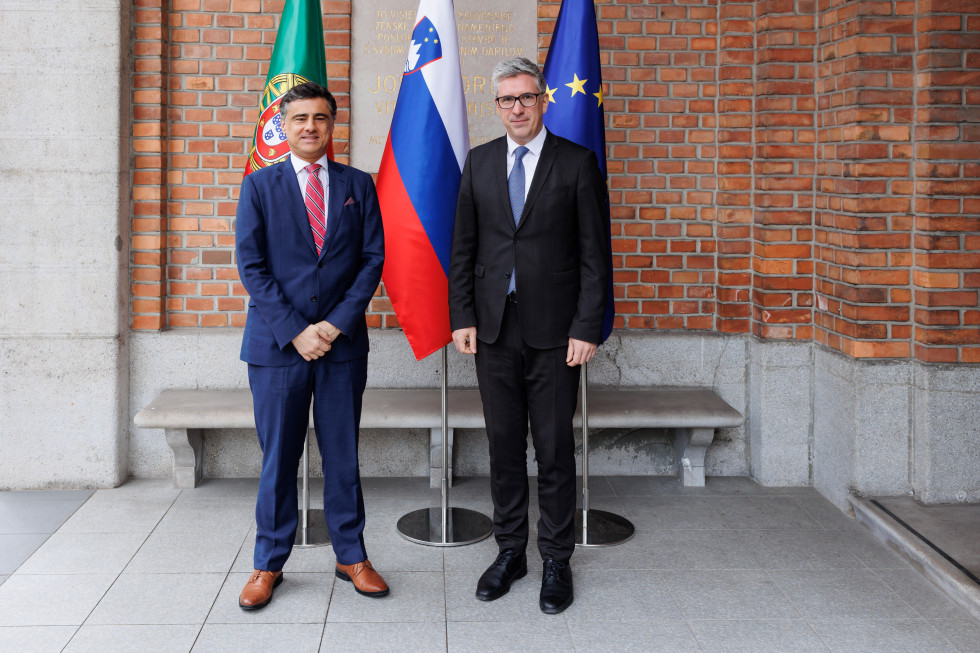 State Secretary Marko Štucin and Portuguese Secretary of State Tiago Antunes
State Secretary Marko Štucin and Portuguese Secretary of State Tiago Antunes
State Secretary Marko Štucin holding consultations with Portuguese Secretary of State for European Affairs Tiago Antunes
State Secretary Marko Štucin holding consultations with Portuguese Secretary of State for European Affairs Tiago Antunes