State Secretary Štucin in Dublin for consultations with Irish Minister of State Burke
During a visit to Dublin, State Secretary Marko Štucin held bilateral consultations with Peter Burke, Minister of State for European Affairs and Defence in the Department of Foreign Affairs of Ireland. The two officials discussed the strengthening of bilateral relations and engaged in an in-depth exchange of views on current European and international topics.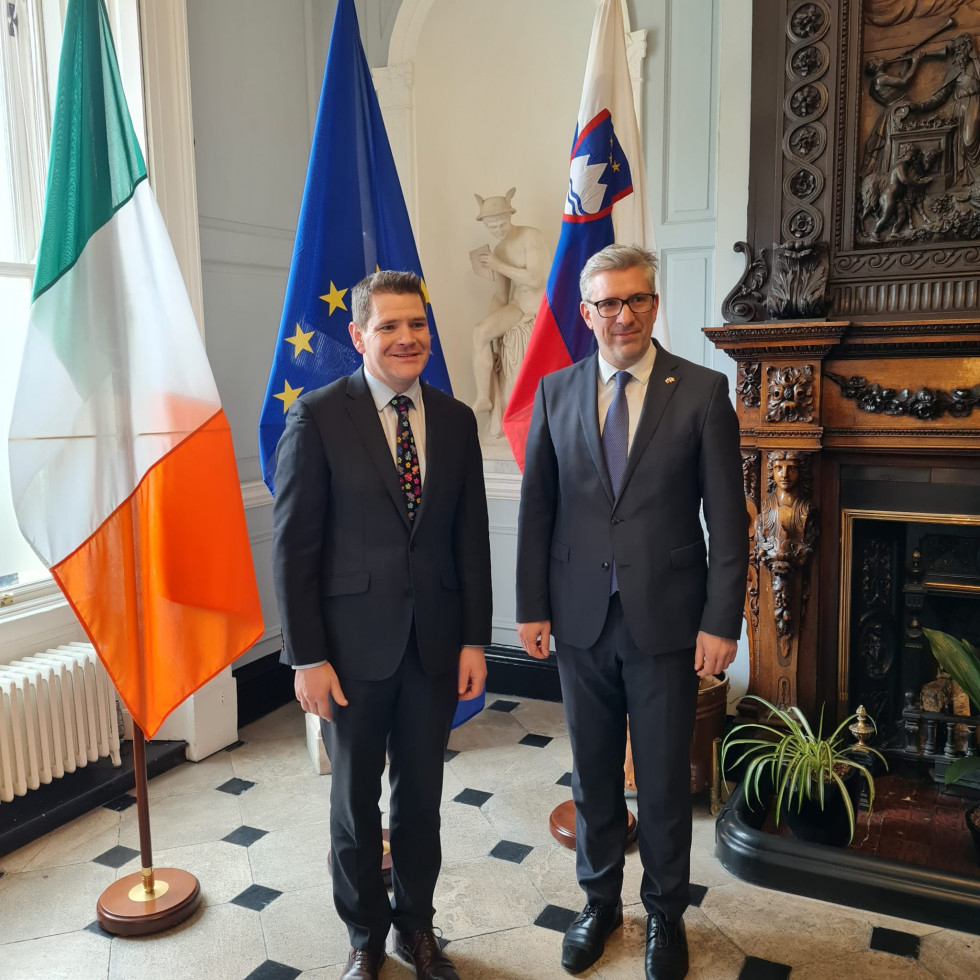 State Secretary Štucin with Chair of the Committee on European Union Affairs Joe McHugh
Consultations with Minister of State Peter Burke
State Secretary Marko Štucin in a meeting with Chair of the Ireland Slovenia Parliamentary Friendship Group and Senator Joe O'Reilly and other members
Državni sekretar Štucin in državni minister Burke sta se zavzela za nadaljnje poglabljanje prijateljskih vezi in zelo dobrih odnosov med Slovenijo in Irsko, dveh sorodno mislečih držav članic EU in trdnih podpornic multilateralizma. Izmenjala sta poglede o aktualnih zunanjepolitičnih temah, s poudarkom na razmerah v Ukrajini, razmerah na Zahodnem Balkanu in širitvi EU, konkurenčnosti evropskega gospodarstva, odnosih med EU in Združenim kraljestvom ter migracijah.
V okviru obiska je državni sekretar Štucin opravil pogovore v irskem parlamentu z vodjo Odbora za EU zadeve Joem McHughjem in predsednikom parlamentarne skupine prijateljstva Irska – Slovenija ter senatorjem Joem O'Reillyjem ter ostalimi člani. Sogovorniki so poudarili pomen parlamentarne razsežnosti sodelovanja in skupin prijateljstva v obeh parlamentih za nadaljnjo krepitev dvostranskih vezi med Slovenijo in Irsko.
Državni sekretar Štucin se je srečal tudi s predstavnikom Centra za mir in spravo - Glencree, katerega cilj je spodbujanje miru in sprave znotraj ter med skupnostmi.