Naming a meeting room after the great Slovenian inventor Peter Florjančič
A ceremony was held today at the Intellectual Property Office to name a large meeting room after the outstanding Slovenian inventor and cosmopolitan Peter Florjančič. The event was attended by his daughter and grandson, and addressed by State Secretary Dejan Židan and the Director of the Office Karin Žvokelj.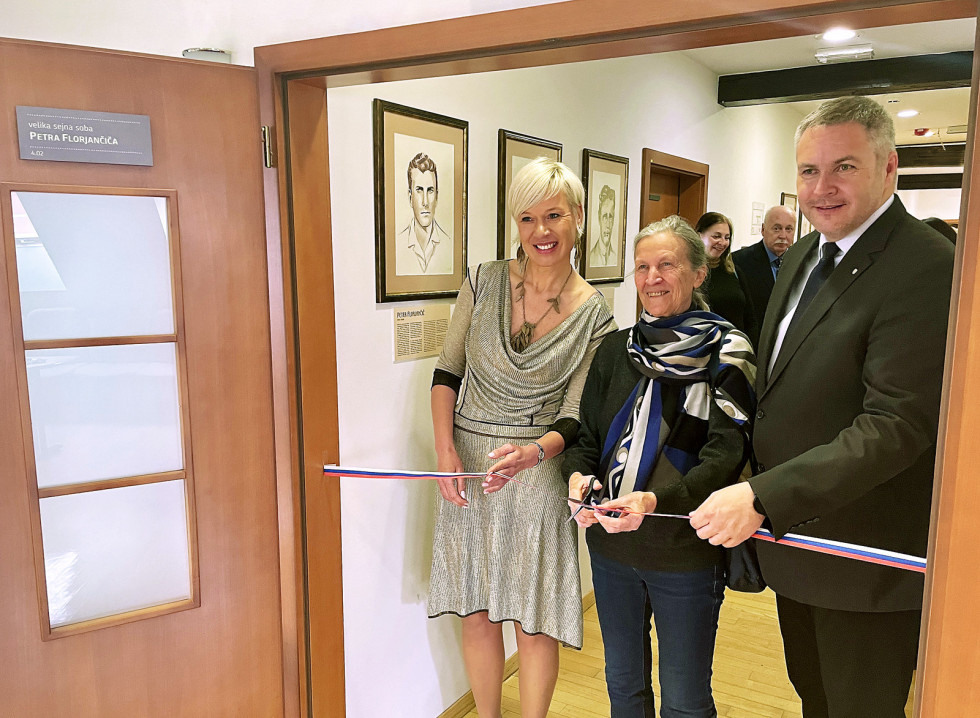 Karin Žvokelj, Director of the Office, and Ms Marion Florjančič at the cake cutting ceremony
Director of the Slovenian Intellectual Property Office Karin Žvokelj said in her speech that by naming the most important meeting room at the Office, where most events take place, we will preserve the memory of Peter Florjančič, and his name and inspiration will live on and inspire many generations.
Peter Florjančič dedicated his life to invention. At the age of 25, during the Second World War, he achieved his first major success with a patent for a loom that enabled faster weaving, and for a machine for weaving scarves, which were manufactured in Davos between 1944 and 1945 and were a bestseller.
The extensive list of his achievements and his incredible inventive spirit are simply astonishing. He gained worldwide fame with the invention of the perfume dispenser and the slide frame, and was active in many different fields of technology. Many of his unrealised inventions were ahead of their time, as technology and materials did not yet allow them to be made. One such example is the car airbag, which he conceived as early as 1957, but the automotive industry was not yet technologically ready for this revolutionary innovation.
Since 1943, he has applied for more than 400 inventions, many of which have been awarded worldwide. To date, 43 have reached the production stage. The Slovenian Intellectual Property Office has granted him eighteen patents, and he is the holder of five trademarks and thirteen designs. His last design was registered in December 2016, for a ring in the shape of a stylised oar for the Bled pletna boat.
He also often stressed the importance of every innovator thinking about the market for his invention from the very beginning of the invention process. State Secretary Dejan Židan said at the ceremony that "in Slovenia we strive to be technologically comparable to the most developed countries in the world. The potential of many Slovenian inventors, who follow the long tradition and knowledge of their world-renowned predecessors, is crucial to achieving this goal. Peter Florjančič is certainly one of the best examples." He added that both the Ministry and the Office "will continue to work to create an enabling environment for innovation to emerge and succeed in the marketplace. In this way, we will contribute to technical progress, social development, prosperity and job creation."
Peter Florjančič's daughter, Ms Marion Florjančič, and his grandson, Mr Peter Riolo, shared some memories and anecdotes. Some of his inventions, which are kept at the Technical Museum of Slovenia, were also on display. We are delighted to have collaborated with the museum again on this occasion, as we have already organised an exhibition on Peter Florjančič together in the past. We also collaborated with him personally on several occasions, he was our guest at various events, and on his centenary we held a celebration in Bled with many distinguished guests, attended by ambassadors from the countries where Florjančič lived and worked (Austria, Switzerland, Germany, Italy).