State Secretary Štucin holds consultations with Deputy Foreign Minister of Bulgaria
State Secretary Marko Štucin hosted Deputy Foreign Minister of Bulgaria Velislava Petrova. They talked about the ways of enhancing bilateral relations and went on to exchange views on the current European, regional and international issues, including EU enlargement.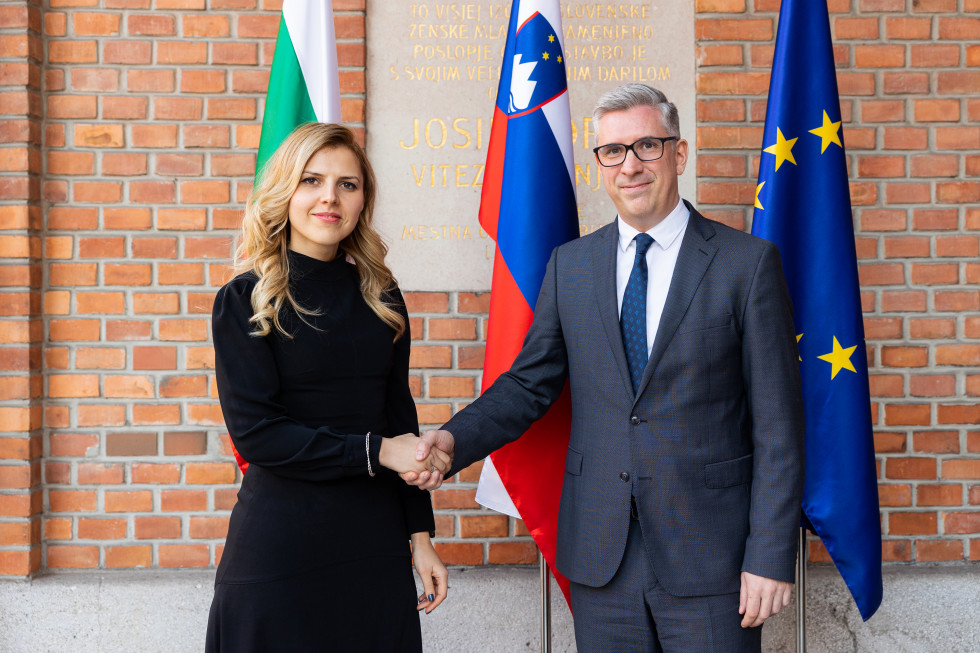 State Secretary in a meeting with State Secretary Petrova
Slovenia and Bulgaria are friendly countries that are part of the EU and NATO and share a number of common interests and views. The two State Secretaries confirmed a mutual interest in strengthening bilateral relations and went on to exchange views on the situation in the Western Balkans and on EU enlargement. In this context, State Secretary Štucin underlined that Slovenia would continue to assist the Western Balkan countries on their European path, as enlargement is in its strategic interest.
When talking about the Russian aggression against Ukraine and the consequences of the war, the two high officials stressed the importance of providing continued support and assistance to Ukraine and spoke in favour of strengthening the EU's strategic autonomy. They also exchanged views on migration, with State Secretary Štucin advocating a fully functioning Schengen area and the abolition of internal border controls, and went on to ensure Slovenia's continued support for Bulgaria's accession to Schengen.