Slovenian Cultural Day celebration in Tokyo
On 8 February 2023, the Embassy of the Republic of Slovenia in Tokyo organised a celebration of the Slovenian Cultural Day at the Embassy's premises.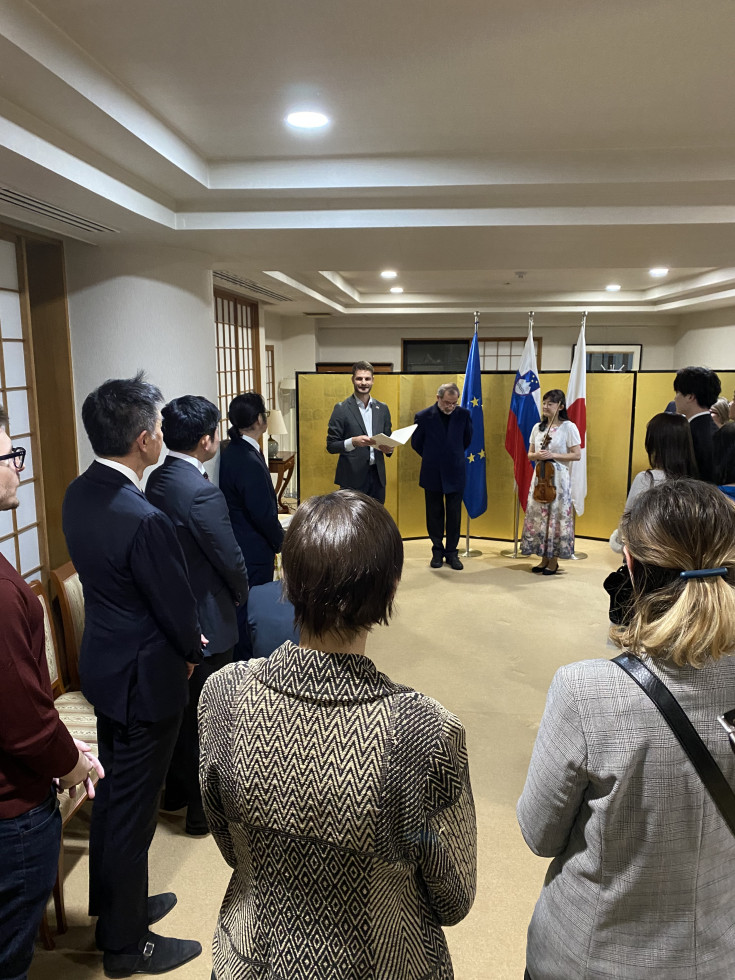 Address of Ambassador Janez Premože
Address of Jelisava Dobovšek Sethna
Performance of Yuko Kiyooka
Poetry recital
Reception after the end of the programme
The event was attended by around 40 people, including the Chairman of the Japan-Slovenia Business Council, Tadashi Aoyagi, the President of the Slovenian-Japanese Friendship Association, Jelisava Dobovšek Sethna, representatives of Japanese companies cooperating with Slovenian companies, importers of Slovenian products to Japan and many Slovenians and friends of Slovenia living in Japan.
At the beginning, Yuko Kiyooka, a renowned violinist, played Slovenian national anthem. In his welcoming speech, Ambassador Janez Premože highlighted the importance of cultural and friendly ties between Slovenia and Japan, and thanked those present who had contributed to strengthening of those ties. He specifically mentioned several Slovenian artists who have recently toured Japan, such as Gašper Jemec and Eva Petrič, and the activities of the Ryu group, which brings together Japanese and Slovenian artists. He also recalled that this year marks the 30th anniversary of the opening of the Slovenian Embassy in Japan and expressed his wish that the Embassy remains a meeting point for Slovenians and friends of Slovenia in Japan.
The President of the Slovenian-Japanese Friendship Association, Dobovšek Sethna spoke about this year's Prešeren Prize winners, multidisciplinary artist Ema Kugler and academic painter prof. Herman Gvardjančič. She announced that the Friendship Group will, together with the Embassy of the Republic of Slovenia in Tokyo and the Slovene Language Department at the University of Tokyo, organise a Slovene Culture Festival this autumn. The festival will include a symposium on Slovene language and culture, a film marathon featuring selected Slovene films and documentaries, and days of Slovene cuisine.
This was followed by a recital of poems in Slovenian and Japanese languages by the Embassy staff, Dobovšek Sethna and current and former students of the Slovenian Language Course at the Tokyo University of Foreign Studies. For this occasion we have chosen the poems "Kam?" by France Prešeren, "Bosa pojdiva, dekle, obsorej" by Karel Destovnik Kajuh and "Moj potni list" by Dr. Vladimir Kos.
The programme was concluded by Mrs. Kiyooka with the composition "Oj, Triglav, moj dom". The programme was followed by a banquet.