Minister Fajon and Spanish Foreign Minister Albares on feminist foreign policy
Minister of Foreign and European Affairs Tanja Fajon received Minister of Foreign Affairs, European Union and Cooperation of the Kingdom of Spain, José Manuel Albares Bueno, who was on an official visit and also participated as the guest of honour at the 26th Consultations of Slovenian Diplomacy. They discussed bilateral relations and the feminist foreign policy that Spain is promoting as a foreign policy concept.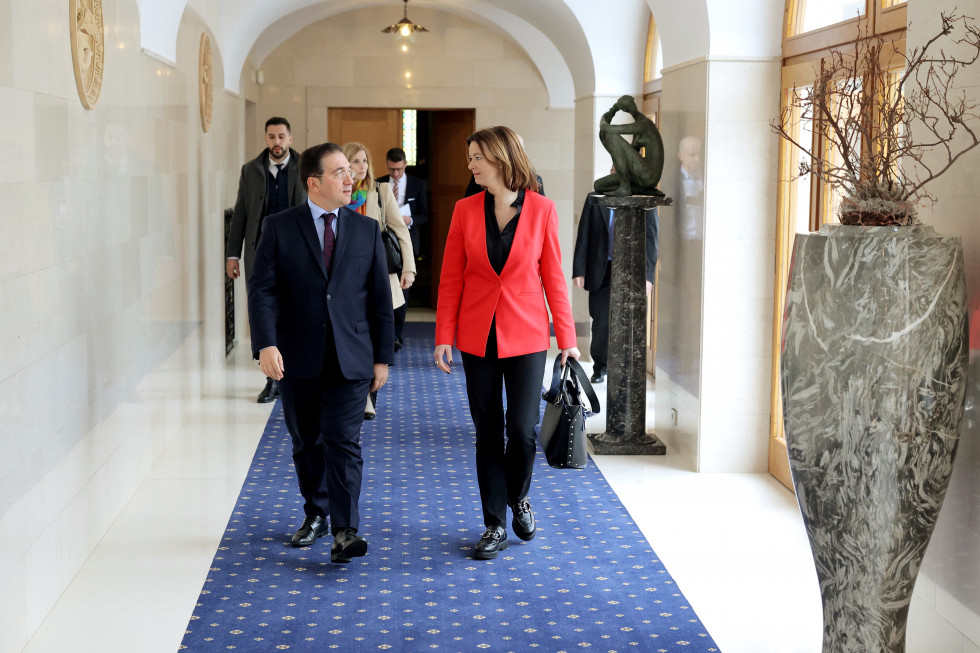 Minister Fajon and Minister Albares
Minister Fajon and Minister Albares
Minister Fajon and Minister Albares
Minister Fajon and Minister Albares
Slovenia and Spain traditionally enjoy positive and friendly relations with shared views on many European and international issues. In the light of the current geostrategic issues related to the war in Ukraine and its impact on the energy sector, Minister Fajon and Minister Albares stressed "the importance of a strong and connected Europe, of working together, of having strong partnerships and of having an inclusive Europe and inclusive politics. This is the only way to be successful in facing the challenges of the day".
"I am particularly pleased that Slovenia, like Spain, is placingsolidarity, multilateralism and, above all, a feminist foreign policy at the heart of its foreign policy. The latter will be given a special place in Slovenia's new foreign policy strategy. Recently, we have seen the suffering of many women and girls, as well as the repression of women's rights in Iran and Afghanistan. This makes it all the more important that we give special care and attention to these issues in our foreign policy," said Minister Fajon.
The two ministers also discussed the strengthening of economic cooperation between their respective countries, assistance to Ukraine and the importance of putting an end to Russia's devastating aggression as soon as possible. They also discussed the EU's enlargement to the Western Balkans, with Minister Fajon stressing the need for a credible pursuit of the EU's enlargement process and of the reform processes in the Western Balkan countries, which are essential for maintaining stability in our neighbourhood.
"I would like to thank my colleague, Minister Albares, for addressing our ambassadors today, during the traditional consultations. This was an exceptional opportunity, as Spain will take over the Presidency of the Council of the EU in the second half of the year. I am glad that we were able to get an early insight into Spain's views and priorities, especially at a time of global tectonic geostrategic shifts," said Minister Fajon.