Minister Fajon in New York on Slovenia's candidature for a non-permanent seat on the UN Security Council
Ministry of Foreign Affairs
Foreign Minister Tanja Fajon and President Borut Pahor presented Slovenia's vision for its candidature for a non-permanent seat on the UN Security Council to the Permanent Representatives of the UN Member States in New York. "During its 30-year UN membership, Slovenia has proven on several occasions its commitment to multilateralism, solidarity and shared responsibility for world peace, security and development. Today, we are committed to this goal more than ever," underlined Minister Fajon.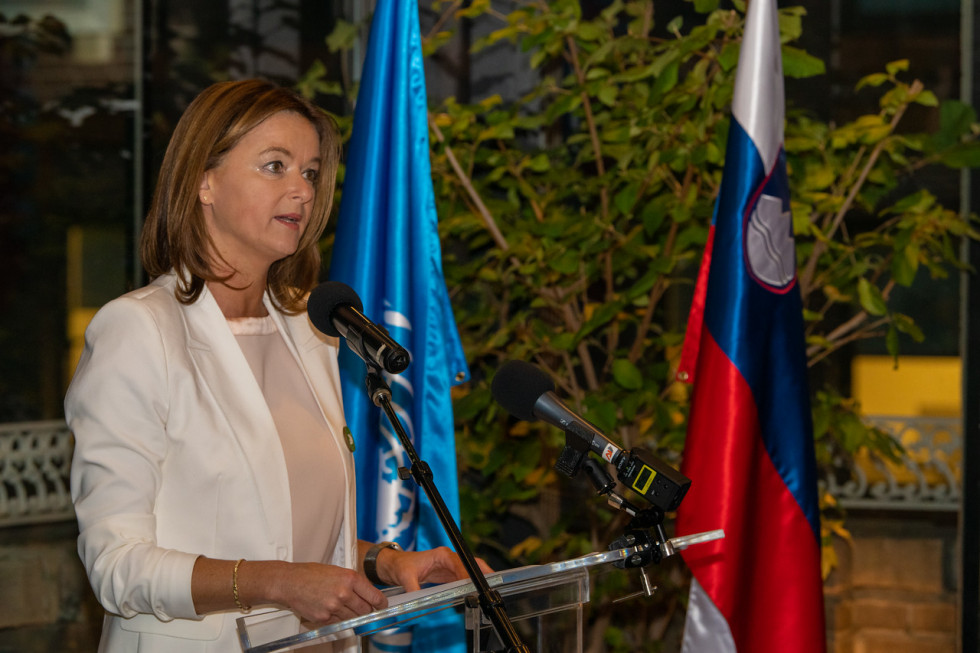 President Pahor delivering a speech
Minister Fajon and Boštjan Malovrh
Minister Fajon addressing the participants
Minister Fajon and President Pahor
Minister Fajon with guests
Reception to mark the presentation of the candidature
Minister Fajon
Candidature logo
Through its UN Security Council membership, Slovenia aspires to contribute to the preservation of international peace and security, enhance dialogue with other UN Member States and build the trust in multilateralism. "An effective multilateral system is vital for Slovenia, and trust is the cornerstone of all relations. By building trust, we are also enhancing international relations, thereby paving the way for a kinder and safer future. If elected to the UN SC, Slovenia will always be an honest broker and a reliable partner to all, in a constructive, engaged, decisive and active manner," pledged the Minister.
As a non-permanent member of the Security Council, Slovenia will strive toward two main goals: 1) Building trust and mutual respect by consistently observing international law and the UN Charter, whereby it will strive to hold inclusive debates and make decisions on the basis of reliable and credible information; and 2) securing the future by highlighting equality and the indispensable role of women and young people in all phases of conflict.
These objectives are also part of Slovenia's candidature slogan: Building Trust - Securing Future, which reflects the areas in which Slovenia has proven to be a credible partner in international relations over its thirty-year history. The first part of the slogan refers to respect for international law, especially in terms of accountability, conflict prevention, transparency and the women, peace and security agenda, while the second part focuses on climate and security, water diplomacy, food security and children in armed conflict.

The Minister then went on to present the new candidature logo, which depicts a dove with an olive branch, the international symbol of peace. The image was chosen in the context of the mandate of the UN Security Council as defined in the UN Charter – preserving international peace and security. In addition, the logo reflects a modern and engaged foreign policy and reflects Slovenia's positioning as a creative, green and smart country.