Prime Minister announced measures to remedy damage caused by fires on the Karst and prevent fires in future
On Sunday 24 July 2022, Prime Minister Robert Golob visited the area affected by the fire in the Karst region for the third time. He was briefed on the current situation and met the mayors of the affected municipalities.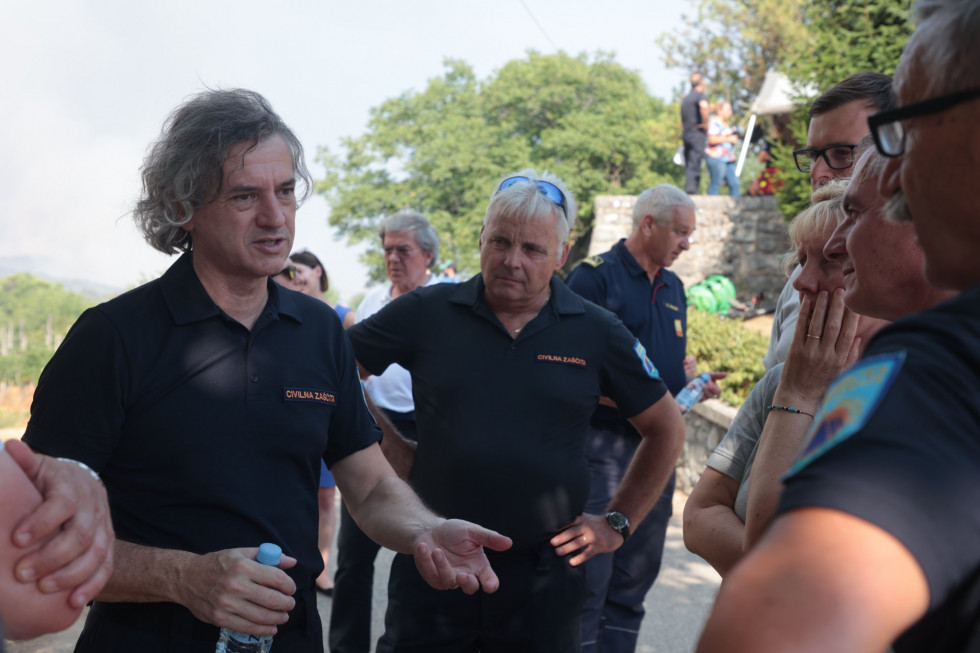 Prime Minister during a visit to a fire zone
Prime Minister during a visit to a fire zone
Prime Minister during a visit to a fire zone
Prime Minister during a visit to a fire zone
Prime Minister during a visit to a fire zone
After speaking to them, he said that hopefully the fire was at last under control: "A fire watch financed by the state will be set up for the Municipality of Miren–Kostanjevica. According to legislation this is the duty of the municipality." The selfless firemen and women were helped yesterday by nature as the northeasterly burja wind blew in the right direction, accompanied by help from the air.
After seeing the site of the fire, the PM announced that already this week they would begin making a comprehensive inventory of the damage done both to private and public property, to land and forests. "Citizens will be invited by their municipalities to report damage, while the Slovenian Forest Service will estimate the damage caused to the forests," he emphasised.
Golob also announced that an ambitious and extensive plan for preventing future fires on such a scale would be drawn up no later than the autumn. He added that the state needs a system upgrade in both organisation and equipment in the increasingly important domain of protection and rescue.
Two days previously, during his second visit to the regional civil protection force, the PM played a decisive role in the coordination and functioning of the state's entire defence structure in the crisis management of the largest fire in Slovenia's history. Following his intervention, the Vipava Valley, which was first threatened by the fire on Friday 22 July, was also included in the control system on an equal footing. The close regional cooperation that was thereby established, resulted in preparedness on all levels and on both sides of the Karst ridge.
On 22 July, the PM also visited the collective evacuation centres in Bukovica and Šempeter pri Novi Gorici. He addressed a large number of people, reassured and encouraged them, and announced extensive fire-fighting activity from the air and on the ground.