Prime Minister Janez Janša visits the Slovenian Academy of Sciences and Arts
Former Prime Minister Janez Janša (2020 - 2022)
At the invitation of the President of the Slovenian Academy of Sciences and Arts (SASA) and Academy Member, Peter Štih, Prime Minister Janez Janša visited the institution and met with its leadership.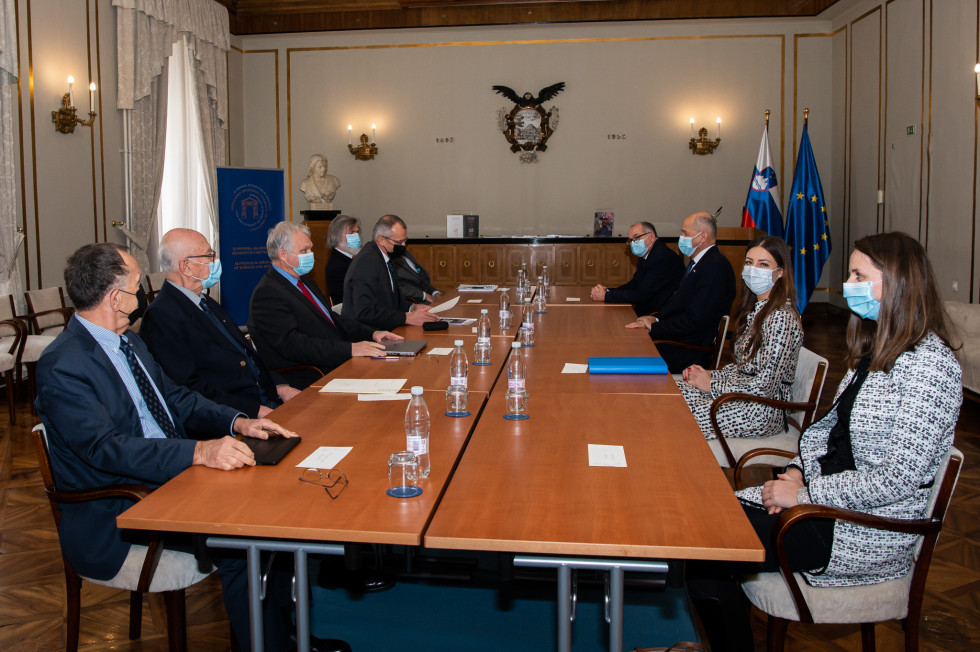 Prime Minister Janez Janša visits the Slovenian Academy of Sciences and Arts
Prime Minister Janez Janša visits the Slovenian Academy of Sciences and Arts
They mainly discussed SASA's history, mission, tasks and activities. They also touched on the COVID-19 epidemic and the functioning of the institution during this time.
SASA is the supreme national institution of sciences and arts that is autonomous and addresses the key questions posed by sciences and arts. It participates in the discussions on general social and economic issues, supports scientific, cultural and artistic activities of the whole Slovenian national community, while also developing international cooperation in the field of sciences and arts. SASA was founded 84 years ago and associates full, associate, corresponding and honorary members. SASA President and Academy Member Peter Štih stressed SASA's international involvement, with 45 bilateral cooperation agreements that serve as the basis for the exchange of scientists.
The institution's leadership also spoke about its actions during the COVID-19 epidemic, whereby Academy Member Štih mentioned the declaration calling for solidarity during the crisis and the three SASA calls for vaccination. Reconciliation was also discussed and Mr Štih recalled the declaration on reconciliation published by SASA last year.
Furthermore, the participants spoke with the Prime Minister about the need to nurture the Slovenian language as the fundamental expression of the Slovenian identity and also discussed demographic challenges. The speed of population ageing in Slovenia is among the highest in Europe, while all nations will face demographic challenges in the future. They also talked about the ethical aspects of artificial intelligence.
On behalf of the Government, the Prime Minister thanked the institution for supporting science and the science-based measures in the fight against the COVID-19 epidemic.