Prime Minister Janša attends European Council meeting in Brussels
Former Prime Minister Janez Janša (2020 - 2022)
Prime Minister Janez Janša is attending a European Council meeting in Brussels, where he and the other EU leaders will discuss the COVID-19 situation, including the emergence of new virus variants, coordination of measures, provision of vaccination and and external relations. They will also address external relations, including with Belarus and Ukraine, as well as the issue of crisis management and resilience, energy prices, security and defence, and the external aspects of migration.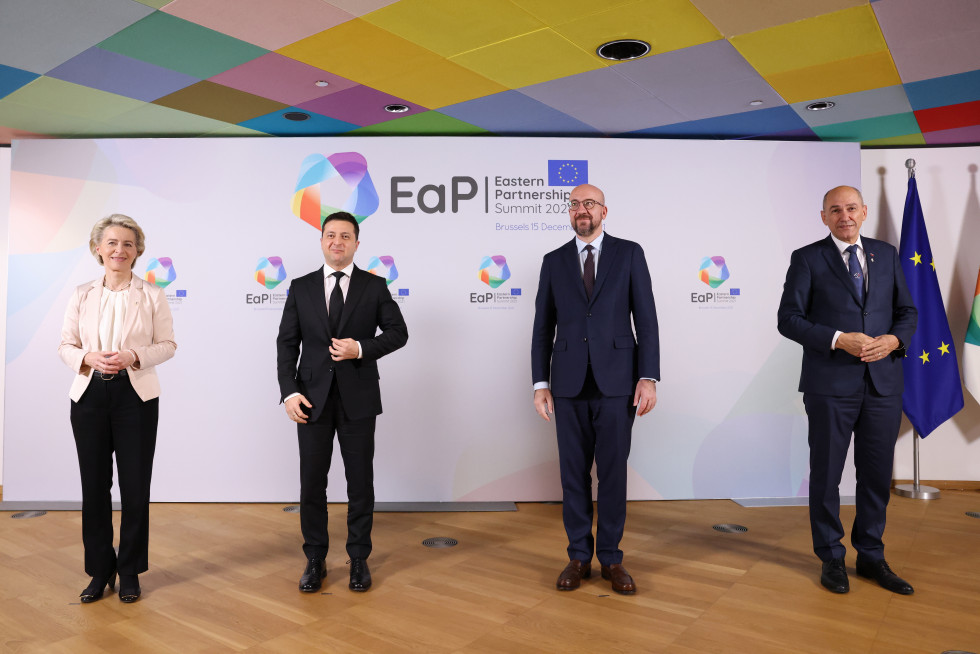 Prime Minister Janša attends European Council meeting
Prime Minister Janša attends European Council meeting
Prime Minister Janša attends European Council meeting
Prime Minister Janša attends European Council meeting
Prime Minister Janša attends European Council meeting
Prime Minister Janša attends European Council meeting
Prime Minister Janša attends European Council meeting
Prime Minister Janša attends European Council meeting
Prime Minister Janša attends European Council meeting
In his statement to the press after his arrival at the European Council meeting, Prime Minister Janša said that the European Council had a very extensive agenda. "From the very beginning, there will be an interesting discussion about the high prices of electricity and energy in general. According to documents received from the European Commission and regulators, we do not expect conclusions that would significantly change the market situation, but there will certainly be more determination towards measures to mitigate these price increases in terms of impact on consumers, citizens, Europeans", said the Prime Minister.
"It will also be very important to discuss some of the strategic challenges in our neighbourhood. We have all been following with great concern the events of recent days and weeks in connection with Belarus. The exploitation of the misfortune of migrants for hybrid attacks not only on neighbouring countries but also on the EU as a whole by the Belarusian regime is deplorable. This is the common position of the whole EU", said the Prime Minister and added: "Moreover, the sentences that have recently been handed down to some opposition leaders in Belarus, which are draconian, which are not being imposed for crimes that have actually been committed which are among the most severe, are something that, in my opinion, shows the great nervousness of the Belarusian regime, which is now well aware of the fact that it has made a mistake by exploiting the plight of illegal migrants, and is rushing into another mistake that is reflected in these rigorous sentences. This will certainly not contribute to calming the situation or finding a diplomatic solution to the Belarus crisis; on the contrary, the situation will worsen further, which means a shorter life for the dictatorial regime."
The European Council will also meet in an inclusive Euro format. "We will review the state of our common currency and what the key challenges are at this time. The discussion will probably also touch upon the future enlargement", said the Prime Minister.
He also said that today's discussions will also be a continuation of yesterday's rather successful meeting with our Eastern Partners. "I am pleased to say that, for the first time since attending the talks with the Eastern Partnership countries, there has been a rather reassuring dialogue between Armenia and Azerbaijan. That was a positive surprise that came out of yesterday's meeting. Both leaders were more focused on finding a way to resolve the situation, on coming up with pragmatic solutions for this situation, rather than on mutual accusations," said the Prime Minister.
"A large majority of EU Member States, partners who are already in the Union, expressed considerable support for Ukraine in face of pressure from Russia. Overall, we voiced a strong commitment to the view that the decision on future members of the EU and consequently NATO lies with those who are already members of those organisations and those wishing to join. We will certainly not accept that someone that is neither a member nor wishes to become one should have the right to veto and the right to violate the sovereignty and self-determination of any sovereign country," said Prime Minister Janša.
When asked about potential sanctions against Belarus, the Prime Minister said that no concrete sanctions had been determined yet but that there was broad agreement on the subject. "It will all depend on the specifics we receive about the situation, and then we will decide. The door for serious negotiations in the coming days may still be open and diplomacy may still work. We are pinning our hopes on these possibilities," said the Prime Minister. He also said that he was concerned about developments in that part of the world. "There is a heavy concentration of military force, particularly on the Ukrainian border, which is uncommon for a regular military exercise, so there is no doubt that Russia is using its military power to create pressure. The question is whether this is just about creating pressure or something else," said the Prime Minister, adding that it was good that the EU was prepared and that it could avoid any surprises, which had occurred upon the Russian occupation of Crimea.
On the energy industry, the Prime Minister said that the energy sector was an important part of the EU's strategic economy and talks about its relationship with Russia, and also referred to the issue of Nord Stream.
"Whatever happens in relation to Covid-related travel restrictions, I hope that we come up with a coordinated approach. I think we need a coordinated approach because that is what the EU is for – coordinating our response in these situations. We are close to reaching an agreement on that matter," he said when asked about Covid-related travel restrictions.