Alfred Brežnik: Slovenia exceeded all expectations and has become a commendable and successful country, an example worthy of imitation
Throughout his life, Alfred Brežnik - Fredi, an electrical engineer, a businessman and a long-term Honorary Consul General of the Republic of Slovenia in New South Wales, Australia, has been promoting Slovenianness and his home country with dedication and sacrifice. He moved to Australia in 1959. Together with other compatriots in Australia, Brežnik was particularly active during Slovenia's independence process. Prior to that, he held intensive discussions with Australian politicians regarding the recognition of Slovenian independence. And also thanks to him, Australia was the first overseas country to acknowledge Slovenia as an independent state in January 1992.
You spent the period of the independence war in Slovenia; how do you remember those days?
I was actually in Slovenia at the time when the Republic of Slovenia was declared an independent country, and also before, during the first democratic elections. Those days were filled with uncertainty, but also happiness and hope that the several hundred year-old dream of our nation would come true – that we would finally get or fight for our own country. This was especially important for me personally and also for the majority of our diaspora (emigrants after World War II). Many left their home country at the end of World War II, particularly due to the political situation, among them were also those who saved their lives by emigrating. Thirty years ago, the first opportunity presented itself for everyone to visit their homeland without fear after several decades of absence.
The Slovenian World Congress was in session at the time in Ljubljana and you attended it as one of the delegates of the Australian-Slovenian Conference.
Being present at the declaration of the independent Republic of Slovenia in the Assembly at the invitation of its President, Dr France Bučar, and later at Republic Square were two of the happiest moments of my life. Especially when the old flag with the red star was lowered from the pole in front of the Assembly's building and a new long white, blue and red flag with the coat-of-arms of our new country was simultaneously raised in Republic Square to the sound of the Slovenian national anthem. Truly an unforgettable and once-in-a-lifetime experience. We became a nation in the true meaning of the word, with our own country. I/we can finally identify myself/ourselves as a Slovenian/Slovenians anywhere in the world. The celebration in Cankarjev dom was also festive and solemn. We had the opportunity to meet many leading politicians and 'independence makers'. We again met Dr Dular, the first Minister for Slovenians Abroad, who had previously visited us in Australia, informed us about the developments in Slovenia and encouraged us to joint action.
This joyful atmosphere was somewhat spoilt the next day ...
On our way to Ljubljana, the police stopped us at Brezovica. A completely smashed-up car was in the middle of the road. It had been run over by a tank of the Yugoslav People's Army. There was chaos all around and many people were panicking. My happiness turned into sadness; this was no longer my dream. Was this what awaited us? I was taken to the session of the Slovenian World Congress by the journalists of RTV Slovenija who were filming at the scene; they had permission. The Congress had to be cut short. This was the start of the aggression of the Yugoslav People's Army against Slovenia. I was also worried about how I would travel to Vienna from where I would fly home to Australia in three days' time because no flights were scheduled from the Brnik Airport. Mr Breznik from Vienna, who was also one of the delegates at the Slovenian World Congress, offered me a lift. We were additionally joined by Mr Lajovic, who was also a delegate from Sydney and had to travel to Switzerland on business the next day. But the border crossings were closed, and we couldn't go on. We were told that the border crossing at Gorica, Italy was open, but we also encountered problems there because the main road to Gorica was closed. My wife's resourceful brother-in-law, Franci Lenaršič, came to our rescue and drove in front of us, showing us the way along side roads and cart tracks. After several hours, we finally made it to the border where we were again stopped by the police and told to quickly find shelter because shots were being fired nearby. After some five minutes, the shooting stopped, and we quickly drove on before it could start again. Although quite frightened, we drove on and crossed the border soon after and safely arrived in Gorica, from where I continued my journey to Vienna through Villach, Klagenfurt and Graz. I had just arrived at a hotel in Vienna when I received a phone call from the Australian national broadcaster, ABC. They asked me about the latest developments in Slovenia and simultaneously broadcast my reply on television in Australia. After my safe return to Sydney, I was met at the airport by my compatriots, who were anxious to know first-hand what had been happening in the home country.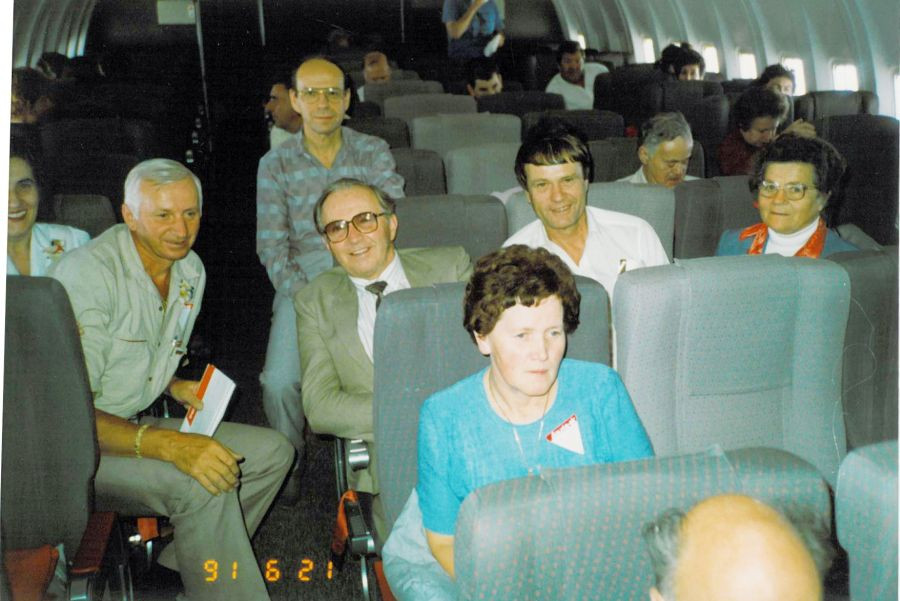 Declaration of independence of the Republic of Slovenia at the Assembly
Return home: Welcome at the Sydney Airport
How did the independence events in your homeland impact the expansion of Slovenianness in Australia?
Before I answer this question, I would like to briefly say a few words about our Slovenian community in Australia and its foundation. The major part of Slovenian migration to Australia, the one that pioneered the Slovenianness, happened in the first years after World War II and into the 1960s. Slovenians mostly moved to large cities, capitals of Australian federal states such as Sydney, Melbourne, Perth, Adelaide and Brisbane. Many first had to go to various migrant camps until they found work and accommodation. At that time, quite a few priests arrived in Australia, mainly Franciscans who came from America. In addition to pastoral needs, they also helped their compatriots to find jobs and apartments and they brought them together. The initial social gatherings particularly took place in church halls. The first informative monthly, Misli/Thoughts, which is still published today was founded by the Franciscans and is celebrating its 70th anniversary this year. At that time, the first Slovenian associations were already being established, which triggered cultural activities in the Slovenian community in Australia. In addition to their own homes, the compatriots also built common establishments: association and club premises where they organised parties, concerts and ceremonies, and socialised in general. Quite a few choirs of good quality, dance bands and amateur theatre groups were established. Associations and religious centres began teaching children Slovenian. Later, Slovenian lessons were also held in state schools – Saturday schools. Thanks to the Slovenian community, Slovenian was even taught at the Macquarie University in Sydney. In short, we could say that all of these efforts had already reached the peak of Slovenianness in the 1980s and 1990s.
The second wave of migrants from Slovenia started in the 1970s ...
... and these, for the most part, were economic migrants. They weren't as critical of the regime in the home country as the first, post-war migrants, or they weren't critical at all. We have to understand that they also weren't politically burdened. They went into the world mostly to seek their fortune and find a better life. But they didn't want to be deprived of the possibility of returning to or visiting their homeland. These new and the first – post-war – migrants couldn't find common ground, which led to disagreements and division in the Slovenian community. Two opposing groups were formed. This division was exploited by the then authority in Slovenia/Yugoslavia, which engaged the Slovene Emigrant Association and helped this new group financially as well, thus winning them over and acquiring their loyalty for their own purposes, including political ones, of course. At the time, the Slovenian National Association was established with the aim of promoting Slovenian independence. The day of the establishment of the first Slovenian government (28 October 1918, after World War I) was celebrated every year, although it was active only for a month.
When speaking about the importance of the independence struggle in the homeland in connection with the expansion of Slovenianness in Australia, the most important thing was that the struggles immediately brought us together from the start and we became united again. This is unimaginable, a phenomenon. It was as if we had never been divided. And it is the same today. We could have been an example to many. Perhaps even the homeland ... No more ideological divisions, political intrigues and pressure. All of the above are private/personal matters, including faith, just as it is, or it should be in a democracy. It is also important that we can identify as Slovenians and are also recognised as such. Of course, it wasn't like that before independence because we didn't have our own country.
Can you tell us how the Slovenian community in Australia functions, how many members it has, and what its activities are?
Slovenians in Australia are respected and recognised as people with a strong work ethic. They are successful in all fields of life. Irrespective of the time when they arrived in the country, they smoothly integrated themselves into the Australian environment and way of life. It is typical of the Slovenians also those born here that they are proud of their ancestry and don't hide it. It has always been difficult to determine how many Slovenians live in Australia. A questionnaire in the census, which takes place every five years, includes the "country of birth" section. Prior to independence, we entered Yugoslavia in this section. So, there was no official data on the Slovenians living in Australia. Unofficial data stated that there were some 25,000 to 30,000 of us. In the census five years ago when Slovenia had already been established, the "language spoken at home" section was included in the questionnaire. According to this data, some 17,000 Slovenians spoke Slovenian at home in Australia. But this doesn't give us information about how many Slovenians or people of Slovenian descent there are. If the section in the questionnaire read "ethnic origin", the above data of 25,000 to 30,000 would be closer to the truth. It's also true that with every census our numbers decrease because very few of the original post-war migrants are still alive. Their descendants, the second and third generations, usually speak English at home; regardless of whether their marriages are mixed or not. So, there's no accurate data yet about how many Slovenians or those of Slovenian descent live in Australia. In the 30 years since we have had our own state, quite a few Slovenians came to Australia – several hundred, perhaps more. These are mostly young people with a high level of education and usually with families who don't integrate with the existing Slovenian community. However, they do connect through their professional organisations: academic associations, the Slovenian Australian Chamber of Commerce, and social networks, of course.
What's currently going on in the Slovenian community?
There are still eleven active Slovenian associations/clubs in Australia with their establishments – buildings and other real estate. Due to the decline of members over the years, many are experiencing difficulties, especially with the maintenance of relatively large real estate, and also financially. Certain associations and clubs have already closed down. But, it's not all grim. For example, the Triglav Club in Sydney resolved these issues a few years ago by connecting with another local club, which also took ownership of it. It's open to everyone who wants to become a member, irrespective of ethnicity. It's managed by a Slovenian subcommittee and even the sign on the building greets you in Slovenian. The club is very successful and organises all major Slovenian events and ceremonies in Sydney, including Slovenian national holidays. Furthermore, it financially helps other Slovenian organisations and institutions in their preservation of Slovenianness. The largest and oldest in Sydney is the Slovene Association Sydney (SAS), which is still owned by Slovenians. To resolve problems that occurred due to the lack of members and subsequent low income, the then management board made a fatal mistake a few years ago. It entered into a contract on cooperation with a private lessee (of non-Slovenian descent), which proved to be rather harmful for the association. The management board was replaced last year and the new one is trying to resolve the matter. Even the younger generation became engaged in the resolution and started applying for memberships. The SAS has now 400 members with new ones still applying. These are two examples of current developments in the Slovenian community in Sydney. The number of members in other associations/clubs is between 100 (or even less) and 400 to 500 members. The three largest associations/clubs in Australia are Triglav and SAS in Sydney and the Slovenian Association Melbourne. Let me also mention one example that's probably unique. The Slovenian club Planica in Wollongong, which is some 100 kilometres south of Sydney, also owns its own church in addition to club facilities. A priest from Sydney, Franciscan fr Darko Žnidaršič, holds holy masses and other religious ceremonies at this church.
The associations are usually open only on weekends. They organise various parties, ceremonies, Mother's Day and Father's Day celebrations, St Martin's Feast, Culture Day, St Stephen's Day, Independence and Unity Day, Statehood Day, New Year's celebrations, etc. Then, there are also special club days, youth concerts, plays, and some even organise Slovenian language lessons, especially for children. They also issue club bulletins. The coronavirus has significantly limited the activities in all these associations and they are still completely closed.
In addition to associations and clubs, there are three religious centres/missions with their churches and halls: St Raphael's Slovenian Catholic Mission in Merrylands, Sydney, the Slovenian Catholic Mission St Cyril and Methodius in Melbourne, and the Holy Family Slovenian Church in Adelaide. In addition to religious purposes, the compatriots socialise at numerous cultural events, concerts and parties in these centres. Among the most visible events is the annual all-Slovenian youth concert organised by all three missions.
Is it possible to draw a parallel between Slovenia and Australia; what are the differences and similarities? Apart from the size, naturally.
Sizewise, there's quite a substantial difference between Slovenia and Australia. When it comes to natural beauty, both are wonderful countries, yet very different. I personally see, feel and hold Slovenia in my heart, as the "paradise under Mt Triglav" as author Ivan Cankar described it so beautifully. Many Australians born in Australia would probably describe their country in this way. Perhaps even certain migrants who made Australia their home would describe it as such. I love Australia, too. I've lived here for over 60 years and I'm its citizen. But I also like to visit my homeland, Slovenia. And I'm happy again when I return home to Australia, to my family. I'm lucky to have two wonderful homelands.
From the geographical aspect, there are great differences between Slovenia and Australia. Slovenia's area is only equivalent to about one third of the Australian island of Tasmania and its nature is also very similar to that of the island. The vastness, extensiveness and great distances of this enormous continent have certainly left a mark on the character of the Australian citizens and shaped it. They are very open, relaxed, friendly and broad-minded people, tolerant towards all migrants, including those arriving in ever-increasing numbers in recent years from parts of the world whose culture and customs are not particularly compatible with those of western culture, which has dominated on this continent under the southern cross since 1778. Everyone has the opportunity and right to live in Australia in accordance with the culture, customs and traditions which they bring with them – obviously within the framework of Australian legislation. Due to migration, Australia is becoming more and more multicultural and has almost 200 different ethnic (linguistic) groups. It's one of the most attractive destinations for migrants and also those who seek temporary employment. It's also attractive to tourists.
I'll try to give a more general reply from my perspective on whether a parallel can be drawn between Slovenia and Australia and what the differences and similarities are between the two. The standard of living in Australia is one of the highest in the world. Average income is perhaps three times that of Slovenia if looked at solely from the aspect of currencies. But bear in mind that the prices of goods and other necessities are also much higher in Australia than in Slovenia. Not to mention the prices of real estate. Sydney and Melbourne are among the most expensive towns in the world. Sydney, the town where I have lived since my arrival in Australia in 1960, has changed greatly since then. The population was a little over two million at the time, and now it's five million. At the time of my arrival, Australia had some ten million inhabitants, it now has 26 million. The way of life has changed greatly, too. The culture and food, everything was Anglo-Saxon. The food was very simple. Fish and chips was most popular, and in a shop was handed to you wrapped in newspaper. Shops, pubs and restaurants closed as early as ten in the morning on Saturdays and remained closed on Sundays. Streets were empty. You couldn't find a living soul in the city. But sporting activities came to the forefront on weekends, such as rugby, cricket, horse racing and other sports unknown to me. Australians are also great gamblers, of all sorts. Poker machines are a hit in all clubs and recently also in hotels and pubs. Many lose large sums of money on these machines. Those were also the years of a large influx of migrants who mostly came from Italy, Greece and the Balkans. It wasn't hard to find a job. Everyone looking for a job would find one. Wages were relatively good at the time. In the first two years of living in Australia, migrants have already started building their own homes.
And yet, the situation is now also very different in Australia.
Australia has come a long way and became a modern, highly technologically advanced country. It's a democratic country where citizens' human rights are a priority. It still accepts some 200,000 migrants a year, except in the COVID-19 period, of course. At this point, the major proportion of migrants comes from the Near and Middle East and Asia. These have also contributed greatly to the development of the country, which is most evident in food. Cities like Sydney, Melbourne and Brisbane are now global metropolises. Life in the cities resembles life in other big cities around the world. Although Ljubljana is not considered one of the global metropolises, it's a capital city with all the characteristics, requirements and comfort that a large city provides. The fact that Ljubljana is a small city can only be an advantage. Life in Slovenia is certainly more pleasant and comfortable. If nothing else, you're not very far from your workplace. In Australia, commuting can take several hours. But it's easier to find work in Australia, especially for young people with an education. Nevertheless, both countries are highly developed and they're also similar when it comes to sports. They're both extremely successful. Yes, both countries have many things in common and it's nice to live in both, Slovenia and Australia.
How frequently do you visit Slovenia, and how do you see it today? You moved to Australia in 1959; things were much different then.
I travelled to Australia on 1 April 1959 from Genoa on an Italian ship called Oceania and after 33 days I arrived in Sydney Harbour on 4 May, where I was met by my father and brother Rudi. My father had gone to Australia already in 1949 and my brother Rudi 18 months before me. A job was already waiting for me in Warragamba, 60 kilometres away. There was a large construction site surrounded by shacks where workers lived. I lived in one of those shacks, too. There was also a canteen for the workers. I've never seen so much food in my life. Large portions and a lot to choose from, and of high quality. All this abundance in one workers' canteen alone made a good first impression on me if compared to the canteen at the residence hall in Ljubljana and a mess hall prior to that. The wages were also good, especially if I compared it to the wages I received at home. A large dam was being constructed in Warragamba to dam the water reservoir for Sydney. I worked in the electrical workshop in the electronics department. The work was interesting. We made all the electronic devices for telemetry and communications ourselves. In the evenings, when the majority of workers went to the pub for a beer, I went to an English language course twice a week. On other nights, I repaired radios and TV sets (still black and white at the time) at a sole trader who had his own electrical workshop in the town. After 18 months of staying in this remote country town, I got a job in the company's main office in Sydney (Sydney Water Board). First, as a technical draftsman and later as a technical officer. I was also able to continue my studies in Sydney while working and so upgraded my knowledge of electronics. At that time, my wife Jeni (Jelena) had arrived from Slovenia. Jeni and I registered a company called Emona Enterprises in 1972, which mostly operated by mail order. In 1978, we registered a company called Emona Instruments Pty Ltd, which is still in operation and managed by our sons, Alfred and Mark. After my arrival, I immediately joined the Slovenian community in Sydney where I'm still a member, but less active due to my age.
Slovenia has been an independent and democratic country for 30 years. In these three decades, it has proven not only that it is capable of living independently, but it has also shown to the world how it is possible to live if an opportunity is given. Slovenia exceeded all expectations and has become a commendable and successful country, an example worthy of imitation.
We, the migrants, who have left decades ago, are pleased with the success of our homeland and are proud of it. We love it and we love visiting it.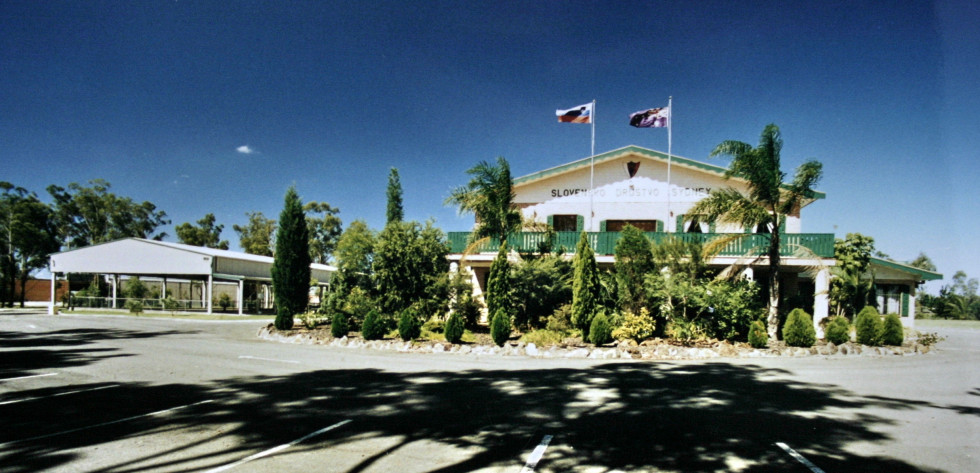 Ceremony on the occasion of Statehood Day of the Republic of Slovenia at the Slovene Association Sydney
How do Australians look upon Slovenia; do they know it in general and in what way?
Until the independence, Slovenians were qualified in Australia as one of the Yugoslavian language groups. The national radio also referred to us in that manner. We had no identity as a nation with its own state. The first changes in Slovenia's visibility occurred at the time of independence, particularly after the attack of the Yugoslav People's Army on Slovenia when the media largely wrote about these events. And even more so, after the international recognition of Slovenia as an independent state. The then Australian government was very inclined towards Slovenia and was the first overseas country to recognise it. The newly established and first Slovenian consulate in Sydney and then the embassy in Canberra, established several months later, worked intensively for the recognition of Slovenia. A lot of confusion was also caused by the similarity of the names Slovenia and Slovakia, even among the politicians. It's also interesting that, as the Slovenian Olympic Attaché at the 2000 Sydney Olympics, I noticed that the Slovakian flag was hoisted instead of the Slovenian one several times. Of course, I made sure that the replacement was prompt. Slovenia's visibility and reputation grew quickly. The membership of our consulate in the consular corps in Sydney and that of our embassy in the diplomatic corps in Canberra contributed greatly to this. Membership of both in the European Australian Business Council (EABC) has also largely affected the growth in economic exchange between both countries. Two representatives of Slovenian descent were in both houses. Mr Milivoj Lajovic was the first non-British post-second world war migrant to become a senator in the upper house and Ms Tanja Pliberšek, MP in the House of Representatives, was even a minister. Slovenians are also lecturers at many Australian universities. There are, for example, Dr Zlatko Skrbiš, Vice-Chancellor and President of Australian Catholic University and Dr Boštjan Kobe at the University of Queensland, who is involved in molecular bioscience. There are renowned scientists, businesspeople, but above all, good people who are respected and esteemed members of Australian society. Slovenian athletes have undoubtedly contributed the most to the greater visibility of Slovenia, particularly the cyclists. Names such as Roglič and Pogačar are equally as recognisable in Australia as they are in Slovenia. In short, Australians see Slovenia as a well-governed, civilised and successful friendly nation. Its citizens of Slovenian descent are highly appreciated as exemplary members of the Australian community.
Author: Vesna Žarkovič