Minister Mark Boris Andrijanič: We want to become one of the five most digitally advanced European countries in less than a decade
On Thursday, Minister Andrijanič delivered an opening address at the conference "Leaders' Dialogue: How Can We Create a Region of Mavericks, Unicorns, and Global Winners?", which was held as part of the sixth Slovenia Business Bridge Investment and Development Conference.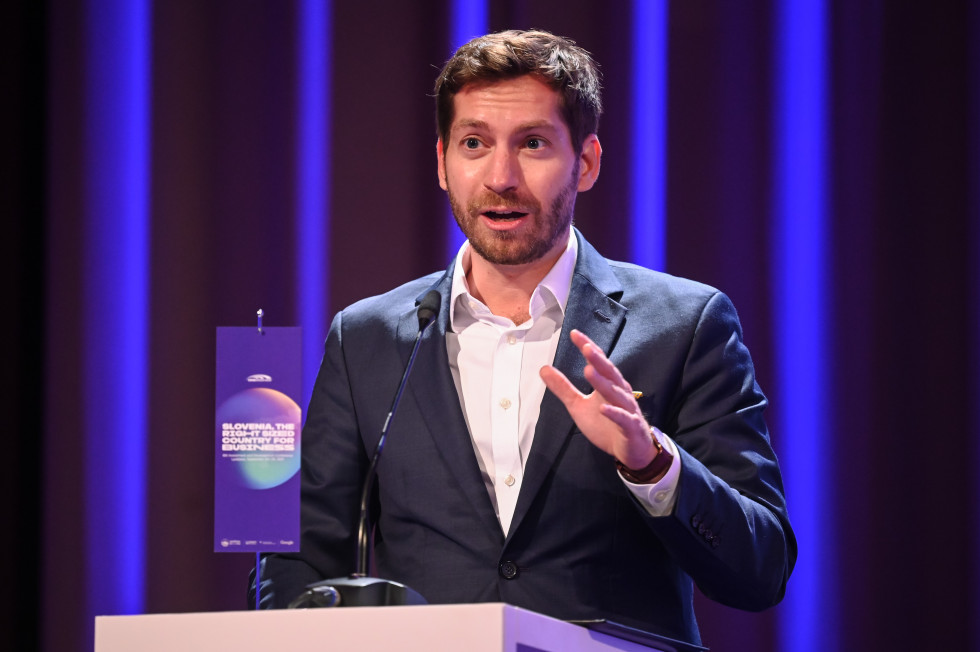 Opening remarks by the Minister Mark Boris Andrijanič
Opening remarks by the Minister Mark Boris Andrijanič
As the Minister said in his opening remarks, he is optimistic because he firmly believes that we have many reasons to celebrate despite the challenging times that we live in. "Our country has turned 30 this year. We are a proud and constructive member of the EU and NATO. We pay in Euros and we can freely travel, work, and study across this great continent. It is easier for our businesses to operate on global markets than ever before," said the Minister. He emphasised that Slovenian talents are also going global and driving cutting-edge research at the world's leading universities and institutes. "We host Unesco's first AI centre and actively shape international rules on AI and big data through our EU Presidency. And since today we mark our National Sports Day, let's not forget about our amazing athletes that continue to dominate international sports pages," said the Minister in his address.
He highlighted that Slovenia is recovering fast after the pandemic. "Slovenia's growth is one of the highest in Europe while unemployment is at a record low. Our economy is expected to grow 6.1 % this year and 4.7 % in 2022. The Eurozone, on the other hand, is expected to bounce 3.8 % in the same period. This is a big deal," stressed the Minister.
He also said that he was proud that Slovenia had been ranked the fifth safest country in the world. "But our ambition goes way beyond that. We want to become one of the five most digitally advanced European countries in less than a decade. That's why we are supercharging Slovenia's digital transformation by implementing the action plan, prepared by the Strategic Council for Digitalisation," emphasised the Minister, adding that we will be introducing new digital services in the area of healthcare, education, and public administration in the following two years. "We will also be improving the business environment for tech and other companies, as well as ramping up investment in cutting-edge technologies," he said. The Minister listed some solutions in this respect, such as electronic identification for citizens, a mobile app for key public administration services, telemedicine, and the digitisation of building permits and notary services.
"On the tax front, we are preparing simpler taxation of cryptocurrencies and tax incentives for IT experts coming to Slovenia. We will also establish a tech embassy in the Silicon Valley, an international institute for applied AI, and a welcome centre for Slovenian expats willing to return home," said the Minister, adding that "we will do everything within our power to help bring more investments to Slovenia".
"As some of you know, I spent the past decade abroad. I was living and working in some of the oldest and grandest countries in the world. Countries with famous histories and golden years that are largely behind them. I firmly believe that with your help Slovenia's golden era is just beginning. That's why I'll never stop being optimistic about our future. And neither should you," concluded Minister Andrijanič.