Prime Minister Janez Janša on Planet TV: "Next spring will be much more optimistic than the last."
Former Prime Minister Janez Janša (2020 - 2022)
Prime Minister Janez Janša was a guest on the programme A Talk with the Prime Minister on Planet TV. He spoke about how the Government is tackling the second wave of the novel coronavirus epidemic, about current political affairs and about the Government's plans for the future.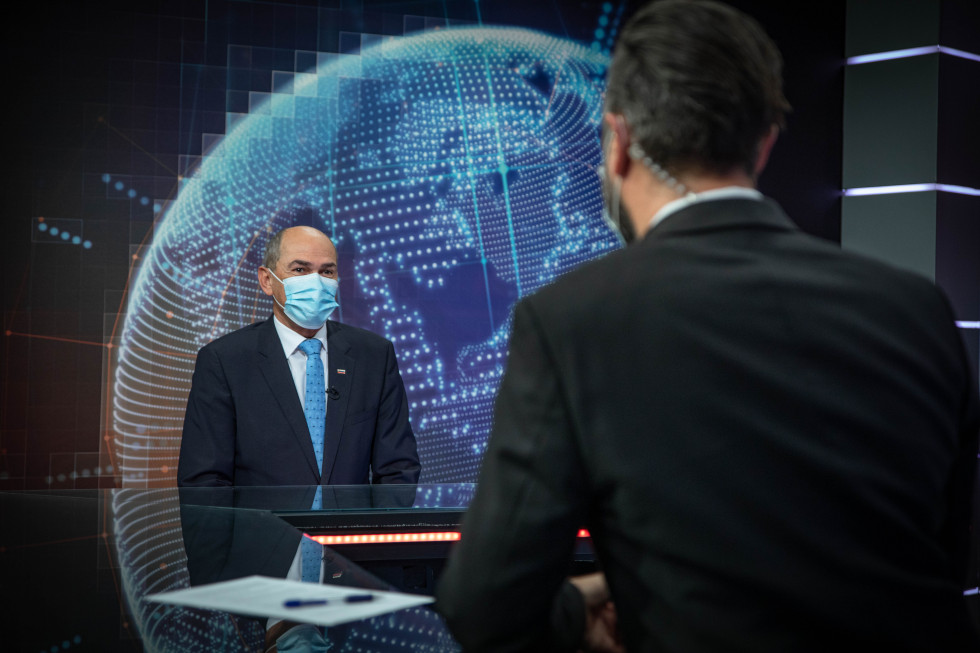 PM Janez Janša was a guest on the programme A Talk with the Prime Minister on Planet TV.
PM Janez Janša was a guest on the programme A Talk with the Prime Minister on Planet TV.
The first question the TV presenter Igor Krmelj asked the Prime Minister was intended to assess the current situation in which the country found itself due to the novel coronavirus epidemic. When asked with what or with which events could the situation the country is currently facing be compared, Prime Minister Janez Janša said: "Maybe with events we haven't experienced. For instance, the time of the Spanish flu after the First World War. Chroniclers say it was similar back then. They wore masks and wondered how long it would last or how many waves there would be. There were more casualties than during the First World War. More than a century later, our medicine is more advanced, vaccine announcements are optimistic, so we believe it will not be the same as it was then. We are now in the middle of the second wave, which is worse than the first one, as it was during the Spanish flu. And the numbers you mentioned are unfortunately persisting not only in Slovenia, but also across most of Europe and almost the entire northern hemisphere."
He went on to discuss the introduction of measures to contain the spread of novel coronavirus infections in Slovenia. "Those who have criticised us whenever we declared a colour or stage should encourage their followers, those who believe them, to criticise the government whenever they want, but to respect the measures nonetheless."
When asked why there are differences in adopting restrictive measures among European countries, Prime Minister Janša answered: "Because the situations are somewhat different. This second wave first engulfed those countries that are more transitory or touristy, if you will. Slovenia certainly is such a country, since it lies at the juncture of the fifth and tenth European corridors, so this wave reached it earlier. However, it also spread faster because the warnings we received and issued were not heeded. For instance, we said in May and June that in the autumn, if there is no vaccine, and there were no indications that there would be one, and if there is no mandatory app for those who are infected, the second wave will be worse than the first one. I probably gave this warning a hundred times myself, along with some other European leaders. In fact, this was the only thing we saw as some kind of instrument that could protect us from drastic consequences, since it was known that a cold wave would be worse than a warm one. Going into spring is one thing, but going into autumn with shorter days, a weaker immune system and respiratory illnesses is a completely different thing. Even in May, it was possible to predict the situation in autumn. Unfortunately, Europe has failed to overcome all the bureaucratic obstacles to establish a single European app. Member States were left to fend for themselves. We discussed it at length in parliament and in the studios, you probably discussed it here as well. To what extent does such an app encroach on human rights, privacy and so on, which, if you ask me, a person who has been involved in computer science for 35 years, partly also in a professional capacity, is just stupid, because every, practically every commercial app encroaches more on your privacy than the one that is supposed to protect your health." He went on to point out that, as a result of all those debates, many people remained sceptical about its use. This is why in Slovenia only a few per cent of the population use this app compared to 50% in Finland. "And the numbers in Finland are much more optimistic than in Slovenia. They will not necessarily be less affected when the wave reaches them, but for now, it is obvious that this is a difference from which we also could have benefited at least partially were we more responsible. So I don't think any European country will be able to avoid a second wave that is worse than the first one, maybe with the exception of Italy, and even there the picture is currently very bad or at least the trends seem very bad, just because it is a cold wave." He went on to express the hope that the people of Slovenia would come to their senses and respect the measures in the face of the latest alarming numbers related to the epidemic. "Not for the sake of the Government or the opposition or the media or who has more credibility, but for the sake of protecting our health and the health of our fellow citizens, colleagues, friends, family, public health, if you will; and of course trusting science to soon develop an effective vaccine accessible to everyone in real time," said the Prime Minister.
When asked about the easing of measures by the Christmas and New Year holidays, the Prime Minister said that regardless of how soon the vaccine is developed, it will not be possible to ease all measures by the end of the year, since vaccination alone, even if already available, will not have such a significant effect so soon. "That is to say, some measures will certainly apply then as well, but hopefully they will not be as strict as now. Currently, the trends are no longer steeply increasing, but they are still persisting. Our health system is burdened, overburdened even. This must not last for too long. Therefore, I call on everyone for the 150th time to take this seriously and to limit their contacts to as few people as possible. Fewer the contacts, fewer the chances of infection," he said.
The Prime Minister went on to discuss the new spatial capacities they were able to provide at the University Medical Centre Ljubljana in ten days: "They were able to set up one floor, which is a huge achievement considering our bureaucracy and otherwise slow investments. I believe two additional floors will be finished tomorrow, so the number of spare beds at the best possible suitable location will increase considerably. These capacities will alleviate the burden placed on certain regional general hospitals, which are extremely overburdened considering their capacities. Look, we currently have ten times more COVID beds available than we had in March. Slovenian healthcare, which, in some cases, was already struggling in normal conditions, provided ten times more capacities for patients with a severe case of COVID, and ten times more intensive-care beds. That is, where additional care and medical devices are needed, ten times as many teams are working on it. Of course, this cannot go on forever. Of course, other things suffer because of this. Of course, people who are overburdened fall ill because of this. And once again, I call on everyone to do their best so that the numbers of not only positive or infected patients, but also of those who are ill and seriously ill, those on ventilators, begin to decrease significantly; and even then it is necessary to adhere to at least the general rules to avoid the third wave before the vaccine is available, since it could be even worse than the second one.
When asked about his cooperation with the Minister of Health, Tomaž Gantar, and the assessment of his work, the Prime Minister said: "This is like asking drivers or team leaders if they are happy with their drivers, while overlooking the fact that some drive Mercedeses, others drive Ferraris, and still others drive Škodas or Golfs. Unfortunately, in the Slovenian Government, not only because of the last term, but also because of a certain development, an administrative development of the quality of administration, regulations, bureaucracy and so on, which we could discuss for an hour, but that is another topic. There are simply no conditions under which we could actually do what we see should be done immediately. A Golf can reach 130 or 150 kilometres per hour, not 250, and all ministers are trying their best. Ministers are trying their best, they are working for a salary that, considering the GDP, is one of the lowest in Europe and in the world in general. Whereas those criticising are those who are paying out COVID bonuses to themselves instead of the doctors or those who are at home with nothing to do. The atmosphere is tough, it is not easy, people are working hard. It would be very inappropriate for me to criticize anyone. I think with the capacities and the administrative environment we have at our disposal, this team is doing its best. We are preparing the seventh anti-coronavirus package. There are several difficult decisions in all six that we have prepared so far; the sixth one is currently being adopted in the National Assembly. There are more difficult decisions, amendments to acts and concrete matters affecting our lives in one of those packages than, for instance, the previous government or the previous governments were able to put together in two years."
In continuation, he pointed out that: "In the preparation of all these legislative packages, with just one law, one law-making project, we are amending tens of other laws. There are those who subsequently want to add something to these packages, something that, although necessary to improve this situation we face with COVID, we all know should have been done a long time ago. Even if there was no COVID. And then we are criticised and accused of exploiting the COVID situation to resolve certain issues. I say thank God, since none of what is being adopted now is unnecessary, since, if it were, then parliament would not pass it anyhow, we have a highly diverse coalition, to put it lightly a harsh opposition, harsh public opinion, harsh media. We cannot even pass things that we urgently need, let alone pass anything that is outside the realms of this situation.
Regarding the situation in homes for the elderly, the Prime Minister highlighted that if the virus is everywhere, it would be unreasonable to think that homes for the elderly would be spared. "In a time when the virus is present everywhere, when no local community is free of the virus, it is impossible to achieve complete isolation to prevent such infiltrations. This would only be possible if the people caring for the elderly were simply shut in and did not go home, creating concentration camps out of these facilities. Which would clearly be unacceptable." He continued, stating that very large outbreaks like those that occurred in the spring are practically non-existent now. "There are many outbreaks, but they are then contained. In fact, only a few homes for the elderly and similar institutions have not been infiltrated by the virus. However, of these cases, there were only a few where everyone became infected. Some of these were in environments where the virus was practically everywhere. Most of the homes have organised themselves so that they know how to respond in the case of an outbreak, so as to include the local community. Every day, over one thousand members of the civil protection service, Red Cross volunteers and Karitas volunteers are active, mayors are also extremely active, practically everywhere, and these cases of infection are contained and those who require medical care receive it immediately. Nevertheless, it is true that this is the most vulnerable group of people. The virus was first present among young people who went to parties on the island of Pag and then socialised at home at house parties and so on. Relatively few of them contracted the virus, then it moved to the older active population and now it is affecting the oldest among us. This is simply how the virus spread and this has consequently led to a high death toll and Slovenian hospitals being at full capacity. It should be made clear that we are now at the point where the people who fell ill three weeks ago, two weeks ago and recovered are now returning to the homes for the elderly and also to hospitals. Particularly younger people. This is a positive sign, this is positive, good news. In institutions, there are more cases of people recovering and coming back to work than people getting infected and leaving."
In answer to the question about the difficult working conditions in homes for the elderly and the lack of interest shown by the unemployed to work in these homes, Prime Minister Janša said: "This situation is a result of the fact that care for the elderly has been neglected for the past ten, fifteen years. No new facilities were built and the people who worked there, those employed in homes for the elderly, were poorly paid. This means that people were not rushing to fill these positions, which accordingly affected the quality of the staffing, and many an issue was simply compensated for by self-sacrificing employees. By people working more, working harder for their low salaries. With these intervention measures we have now increased salaries; anyone who works with COVID patients will receive a 30% bonus. Anyone who is transferred to a different job position will receive an additional 20% bonus. This adds up to half a salary more. However, this cannot simply make up for what was overlooked earlier on. Furthermore, there is an element of fear here. They need work, but not desperately, as we have a strong social safety net in place. Unfortunately, the truth of the matter is that they are now waiting a little for COVID to pass, so there is less risk, regardless of all these bonuses. But, there are many volunteers, there are students who are getting involved, and in this way we will succeed. If there were no such added value in the form of their solidarity, the situation would be much worse." In relation to the adoption of the measure where unemployed people must accept work referrals, the Prime Minister commented: "Have to, no. They can refuse; however, this will lead to them losing their status. As was already explained. Now, this social safety net in Slovenia is very generous and we are faced with a situation where those who try their luck sometimes get more from the various social allowances and transfers than if they were working for the minimum wage. Therefore, it is clear that a social transfer reform is absolutely necessary in Slovenia. It is part of our coalition agreement. We will address this; however, it is not possible to take this challenging step, which requires extensive social dialogue and harmonisation, in the middle of an epidemic."
The Prime Minister also spoke about the proposal for Anti-Corona Package No. 6, on business incentives, on the guarantee scheme and on small businesses. "The fact is that the liquidity of the financial sector in Slovenia is high. As is in Europe. Which means that we are in the middle of an epidemic, or pandemic, but not in the middle of a financial crisis. All the companies that had lines of credit at commercial banks are simply being financed through normal banking operations. They haven't taken advantage of the guarantee scheme, which is a good sign. It doesn't mean that the scheme is not a good one, but rather that the majority of businesses did not need it, also due to the fact that we financed practically everything during the first wave. This includes compensation for taxes, contributions, temporary lay-offs, part-time work. Many of these measures are now being implemented, or have already been implemented, also now in the second wave. Roughly 150,000 jobs will be preserved in this way. In view of this, the extent to which businesses are directly affected is significantly smaller than would be otherwise. This includes the tourism industry, which has been additionally affected, particularly hotel management. This includes the retail industry, which was affected in the first wave and will be again affected now, and which will receive a large part of this supplementary aid. We are now preparing the seventh anti-corona package, with which we aim to assist those who have so far fallen through the cracks. In short, our goal is to ensure that all those economic and social entities who are still able to function even after the pandemic are kept afloat."
The Prime Minister also touched on the topic of Anti-Corona Package No. 7 and the envisioned aid for the sports industry. "This is ultimately a repeat of some of the intervention measures that were used to mitigate the effects of the epidemic on the most vulnerable groups, particularly low-income pensioners. There are 300,000 such people, by far the largest category, which, in my opinion, are socially afflicted even without the coronavirus, despite the majority having worked all their lives. However, it is impossible to right this wrong all at once simply with a reform, since it is an immense category and public finances cannot withstand such a load. However, we can mitigate the consequences that have been further intensifying during the epidemic. This is what the measures will be generally aimed at."
On the topic of the increasing social distress in the second wave, the Prime Minister noted that there were fewer lay-offs. "The most current data show that the unemployment rate is lower that it was in the spring, however, not as a result of activities not being adversely affected, but because we preserved jobs with the measures we took, as we believe that it is less costly to preserve jobs than taking a hit to the economy which would lead to less revenue, smaller salaries being paid out, less taxes being paid in; while, on the other hand, money needs to be secured for the unemployed. We will continue to use this approach, which turned out to be very successful and due to which Slovenia essentially improved its position regarding public finances in the financial markets, also in the future. Now that there is a light at the end of the tunnel, when the information on working vaccines is becoming more optimistic each day, we can also see a time frame that was, up to now, very intangible. Up to ten days ago, the expected time frame was constantly being pushed back. A vaccine was expected to be available at the end of the year, at the start of next year, and only two weeks ago the European Commission predicted in its guidelines that wide-scale vaccination would take place in April, May and June. This is now much closer, much more optimistic and this naturally has an impact on the forecasts, on macroeconomic projections, and these affect the measures that we adopt."
Asked about the opposition's plans and votes for a constructive vote of no-confidence to the Government, Prime Minister Janez Janša said: "You see, we are talking about the same parties that already had a government formed after the election they actually lost. Theirs was a minority government supported by the extra-coalition Left Party, and they overthrew their government themselves. We, the then opposition, did not file a no-confidence motion. Marjan Šarec threw in the towel at the beginning of the epidemic and I strongly doubt that these parties would want to take over the government even if they had those 46 votes. Sitting in the opposition or at home is much more comfortable. They do not even have to go to the National Assembly now that they can work from home and criticise the Government. So if they have the 46 votes, let them file them; if they think they can do better, let them try. These are the same people that could have done so in March, but they preferred to resign." As regards his relationship with Minister Počivalšek, the Prime Minister pointed out: "My relationship with the entire ministerial team is characterised by hard work, extremely hard work. We work practically day and night, we are often in touch during the night because of the measures that need to be taken. Our communication is very intense and very constructive as well. I think there has never been a government team that cooperated in such a constructive way, regardless of everything that is shown in the media, that is heard in parliament, that is said by those who were in charge but backed out. You see, I have no problem if someone else has the majority. Please, let them come and form a government, so we can get some sleep for once after six months. I have no problem with this. It is a problem, though, if the epidemic, the measures to stop the epidemic and the criticism of the Government are mixed up. Very rare are voices such as that of Dejan Židan, the former president of the Social Democratic Party, who said the other day: "Dear people. Let us criticise the Government, but respect the measures. Stop calling upon people not to respect the measures. The whole of Europe respects them, the whole world respects them. The epidemic is not limited to Slovenia. We can see what is happening." Now we are missing such voices. Very few of them come from the opposition. Yesterday, for instance, the parliament spent the whole day making heroes out of the wrong people. Heroes were being made out of those caught without masks and being imposed a fine by the police. This is the wrong approach. A single person without a mask is not a problem, they will probably not infect the whole of Ljubljana. It is, however, about setting an example, you see. Heroes are being made out of people who undermine the majority's efforts. These are, after all, not the Government's efforts. The Government may adopt any law, any measure. A law and a measure cannot stop the virus. There will always be a minority that can bypass all this. The virus can now be stopped only with good sense and solidarity. That is to say, with good sense that makes us realise where the danger is coming from, that it is a danger to our health, to our lives, and especially to the health and lives of vulnerable groups, and with solidarity, which means that we care about others, that we do not act as though, "It won't hurt me, I'm young. Even if I get sick, I'll recover. I'll demand the best hospital bed, I'm entitled to it, of course. As for the elderly – lock them up in nursing homes and let those die who will die anyway." We will all die at some point, but every human life is precious no matter their age and we have medicine and healthcare to help anyone who is sick and who can live if they get timely help. We are one of the few countries that makes no divisions here. I do not mind being criticised at all. You mentioned an introduction earlier. This does not hurt me at all. What hurts me, however, is that we do not see other people, that a few percent of Slovenia's population act as if they are masters over life and death. This is deplorable, you see. This is deplorable and there can be ninety per cent of us who respect all the measures, who restrict our contact with others, and those ten per cent who do not want to do this, and announce it through the parliament or through the media, prolonging the second wave by two months, increasing the death toll by a thousand, burdening the healthcare system so that another thousand will die as a result. So what we need is the sound judgment of not just the majority, but practically everyone."
When asked whether the votes and terms of deputies are for sale or not, Prime Minister Janša answered: "The media write all kinds of things. I have very little time to keep track of this, I do not even pay any attention to it. It is certainly nothing new for Slovenian politics to experience changes in the middle of the term and backstage agreements and so on, and I think that the situation is no better now, maybe it is even worse. I do believe, however, that nobody is tempted to take over the Government in this situation where we have to work night and day."
When asked to comment on Aleksandra Pivec's note that with the arrival of Karel Erjavec in DeSUS, the party will join the opposition and thus the Coalition of the Constitutional Arc, the Prime Minister replied that he had not read it and that he was not concerned about it. "See, DeSUS is an autonomous sovereign party. At the moment, they are part of the coalition and working constructively. If they decide otherwise, it is their sovereign decision. In this coalition, they achieved significantly more of their programme goals in one year than they did in the previous eight years. This can be proven. Never before has any coalition done more for the constituency that DeSUS considers its own. But if they think they can achieve more in another coalition, that is their sovereign decision." He then pointed out that he is not preoccupied by who leads which party. "We have a coalition agreement. We had a serious talk with the parliamentary group, which is key for any coalition. Asked directly if they saw any problem with the coalition agreement and the status of DeSUS in the coalition, they said no."
Regarding violent protests and the participation of allegedly criminal groups, Prime Minister Janša said: "I do not think 'allegedly' is the right word. After all, according to what could be seen on social networks, they include well-known names from various criminal groups. However, they were joined by those who are not criminals, who are protesting or who protested on Fridays and who just take part in every anti-Government rally, even illegal, because they think it is their sacred duty or that a universal basic income or funds paid to the accounts of various non-governmental organisations or funds that some receive for the so-called culture and art are intended for protesting against the Government, so it was a mix of people. As for peaceful protests at the time when there is no epidemic, that is a constitutional right in Slovenia that I will always defend. However, at a time when there is a risk of the virus spreading, such meetings are dangerous and prohibited, not under the law of public order, but under the Communicable Diseases Act because they threaten the health of others. It is not just about gathering in a square or riding a bicycle, it is also about getting together in small groups until bars were open and then hanging out or having various meetings at private addresses and see, this is from where the virus has spread. In addition, as we may have forgotten to mention earlier when we discussed the situation in other countries, the number of infected employees in education in Slovenia was, or still is, twice as high as the European average. This answers the question why schools in Slovenia closed down before they did in other countries. It was because the number of infected employees in education amounted to ten per cent of all infected persons, while the European average is five per cent." When asked about the connection between the protests in 2012 and 2020, the Prime Minister pointed out that they have a common denominator. "The same media that called people to protest then are calling them to protest now."
In the interview, the Prime Minister rejected the possibility of transferring the state prosecutor's office to the jurisdiction of the Ministry of the Interior. "See, the SDS has tens of thousands of members. Some of them may be considering it. But nobody told me about it, we are not concerned with it. However, I think it is extremely irresponsible if the police do their job, catch someone in an illegal act, and the prosecutor, even before getting acquainted with the case, says: do not even bring them to me because they will not be detained; that is, before taking such a decision, one must probably examine the evidence and decide only then, not in advance, because people are protesting against this Government and so they will not be prosecuted. It is probably not the way it was said, but this is how it appears to be."
As regards the rule of law, the Prime Minister pointed out the following: "There is now a procedure, and with a proposal different from the one agreed in July at the European Council, where we needed a meeting – I think it was the longest in the history of the European Union – that lasted four days and four nights continuously, with breaks with bilateral coordination, but still continuously, and where we finally came to an agreement worth almost two thousand billion euros, which requires a lot of legal manoeuvring, if you will, in order to find the European Union's own resources, in order to enable the European Commission to borrow on behalf of the entire European Union for the first time in history, and the parliaments of all Member States must ratify these agreements in full or in part. Those nights were hard, and if somebody filmed it and showed it to Europeans, I think the effect would be quite sobering. But now that such an agreement has to be coordinated with the European Parliament, the Presidency of the Council, that is, Germany, has harmonised at a working – but in fact already formal level – a text that is different from that and if you want me to simplify this, it shifts the so-called rule of law from the domain of the court to the Council of the European Union, where decisions are taken by a majority. This rule of law means that the legislative, executive and judicial branches of power are separated and that disputes in case they occur are decided on by an independent court and not by a parliament or government by voting, because this is a political decision, not the rule of law, a political decision, that is what it is; it may be a correct, wrong, good, bad or any political decision, but it is still a political decision and not the rule of law. After four days and nights of long heated debates on this matter, a consensus was somehow reached in July and now, at the request of the Parliament leadership the matter was returned to the starting point, which means that in the event of a dispute between one Member State and another Member State or an institution over the use of European funds or any other subject which becomes tied to the drawing of European funds, a procedure is initiated where European funds are frozen and in the end the Council decides by majority if you get these funds which are your funds anyway, because you paid them. I tell you in advance that this will not hold water, such a decision will not be ratified by the parliaments; two countries who have constantly been mentioned as those being the reason for such a decision will probably not ratify the decision. I myself cannot imagine, for example, that the Slovenian Parliament would ratify a mechanism which would have been discussed in Brussels for two years to be adopted in order to take funds from Slovenia. This should be clear in advance. And here we are now, making great efforts to find a solution to return the situation to the point where it was in July this year, to the agreement reached by common consent. If we fail, we might miss out; the least that can happen is that we miss out. But the consequences could be even more serious. However, if we enforce this now with some kind of legal manoeuvring, in practice this could result in a situation where one Member State will block European funds in another Member State and in that Member State the public will clearly support its government and that government will then block European funds in the other Member State and eventually the European Union will fall apart; no, this will not hold water. The rule of law means that the braches of power are separated and that disputes are decided on by an independent court. The European Union has a court, it has this body, it has the Treaty of Lisbon which lays down the procedure; but what is happening now with this manoeuvring which is unfortunately called the rule of law, is breaking up the European Union."
When asked how these delays would affect Slovenia, the Prime Minister said: "For Slovenia this would mean a certain problem. But since we have not yet drawn all the funds from the existing financial perspective and there is a substantial delay and as still many funds are available there, at the beginning this would not have a significant impact. It would, however, strongly affect, for example, Spain, Italy and Portugal; those countries that already experienced a terrible shock during the first wave in terms of the fall in gross domestic product and are equally or even more affected now, in the current second wave. If, however, these mechanisms fell through, if this instrument fell through, this would mean that in the seven-year European budget next year only the most urgent needs would be financed, not even by twelfths, but this year's sevenths of the budget, while the Recovery and Resilience Fund would simply not be available; but these are the very funds we need for setting up additional capacities within the healthcare system to build resilience in case of another epidemic in Europe and also in Slovenia. For Slovenia who has negotiated significant funds under this title, this means billions less for investments that are already partly in the budget and as will be included in the national recovery plan to be adopted by the end of the year. Nevertheless, we are not only dealing with the financial consequences; the European Union is not founded on money, it is founded on values and one of them is the rule of law; however, the rule of law cannot be decided on by a political majority but by an independent court."
In connection with the elections in the United States and congratulating the newly elected US president the Slovenian Prime Minister said: "There is always time and I will gladly congratulate the one who will be officially confirmed as the next president of the United States. We never had problems with that, the United States is Slovenia's strategic partner. I became the prime minister for the third time and whenever I led the Slovenian government, our country had excellent relations with the United States. The only official visit to the White House, an official visit in the true sense of the word, took place during my term of office. We hosted an EU-US summit. In the past six months, we have done more to improve these relations than all the three previous governments. There is no problem in this regard at all. But as you know, the official results of the US election have not yet been announced. There is the Senate, which is waiting for the results, there is the legislature of numerous states with these results or still uncounted ballots. There is a lot of information, it is hard to say what is true and what isn't. The fact is, however, that the United States Constitution sets out certain procedures. I believe that one of the oldest democracies in the world will be able to adhere to these procedures, and in the end it will be decided, either that the results will be announced or that one of the candidates will accept defeat or that the Supreme Court or Congress will have the final word. In accordance with the US Constitution – and there have already been such cases – different options exist as regards election results. I am not worried that some have congratulated and others haven't, this will not affect relations between Slovenia and the United States of America in any way as long as our government has its term of office. I am actually very happy about this pro-American outburst among Slovenian left-wing parties who have previously considered the United States as an almost fascist formation. We will be very happy if they support all these projects, including the invitation to the United States to station a US military unit in Slovenia." As regards congratulating the Republican Party, Prime Minister Janša highlighted the following: "The Republican Party is first of all a party of the International Democratic Union and we are together in this Union, I am even a member of the IDU executive board. We continuously work together and we have always congratulated them when they won and this time they won. For now, they have 50 seats in the Senate while the other party has 48 seats. There are still two seats at stake due to the second round. The Republicans have significantly improved their position regarding Congress; I think they have won in 30 states of among all the 50 states for now, also when it comes to the elections in individual states, but the results have not yet been declared in all of the states and votes are still being counted. I congratulated the Republican Party because it achieved great success in this election. By the way, the only elected Congressman of Slovenian descent, Pavel Gosar, is on the list of the Republican Party and he won 70% in Arizona. And I congratulated him too."
At the conclusion of the interview, Prime Minister Janez Janša spoke about the COVID-19 vaccine, which is expected to be available in Slovenia by the end of December; he also touched on the hesitancy among the population to receive vaccination as evident from public opinion polls and on Slovenia's recovery after the epidemic. "I would first like to warn about the reference to the public opinion polls in Slovenia. We need to be careful when numerous media, such as Ninamedia, Mediana or Valicona, pompously publish some public opinion polls, as was the case. All of them are agencies that failed to forecast the correct election results many times before, also in the latest elections; and almost always when it was possible to make incorrect predictions, they failed to forecast the correct results; I do not believe that the majority of the population in Slovenia refuses to be vaccinated. I believe, however, that many people are still waiting and that they are sceptical. I myself have also not yet seen anyone who would be saved by being vaccinated, because vaccination has not yet started. I also believe that none of these vaccines has been finally approved for use; to date, only clinical trials have been concluded and the prospects are good. In short, I think that publishing such polls is nothing but harmful. It is completely irrelevant, it only scares people. As I have already said, Slovenia is not the only country who is in the middle of a pandemic, other countries are in the same situation. We will see. We will definitely not be the first to undertake experiments. We should trust the medical profession. And if a vaccine is 90% effective, as the two vaccines closest to approval are supposed to be, then a 60% vaccination coverage is in fact an important safeguard against the further spread of the virus. Not everyone needs to be vaccinated. The entire population is never vaccinated. There are also various protocols that exclude those with certain diseases from this circle. As I have already said, when the vast majority of the population is vaccinated, others who are not vaccinated are also protected, because the virus cannot spread as it is spreading now. I would also like to emphasise that on the day when the first doses of vaccine will be available in Slovenia, the epidemic will not yet be over, it will not be the end of the coronavirus threat. The threat will end after 60% of people will have actually been vaccinated, so until then at least some of the measures will still have to be in place and will need to be observed."
When asked if we will ever get a sense of normality as it was before the outbreak of the novel coronavirus, Prime Minister Janša said: "Look, winter is ahead of us and after winter comes spring. And next spring will be much more optimistic than last spring. Last spring was a confrontation with the unknown. In the coming spring we will realise that we won the battle. That it was difficult, but we overcame this epidemic and that we are ready because we have an effective vaccine for the autumn wave which we might not even be affected by."