The peak in the number of hospitalised patients will be reached this weekend
Robert Carotta, Coordinator for COVID-19 hospital beds at the Ministry of Health; Primož Horvat, Head of the COVID-19 Department at Ptuj General Hospital; and Government spokesperson Jelko Kacin attended the press conference on the current situation regarding COVID-19.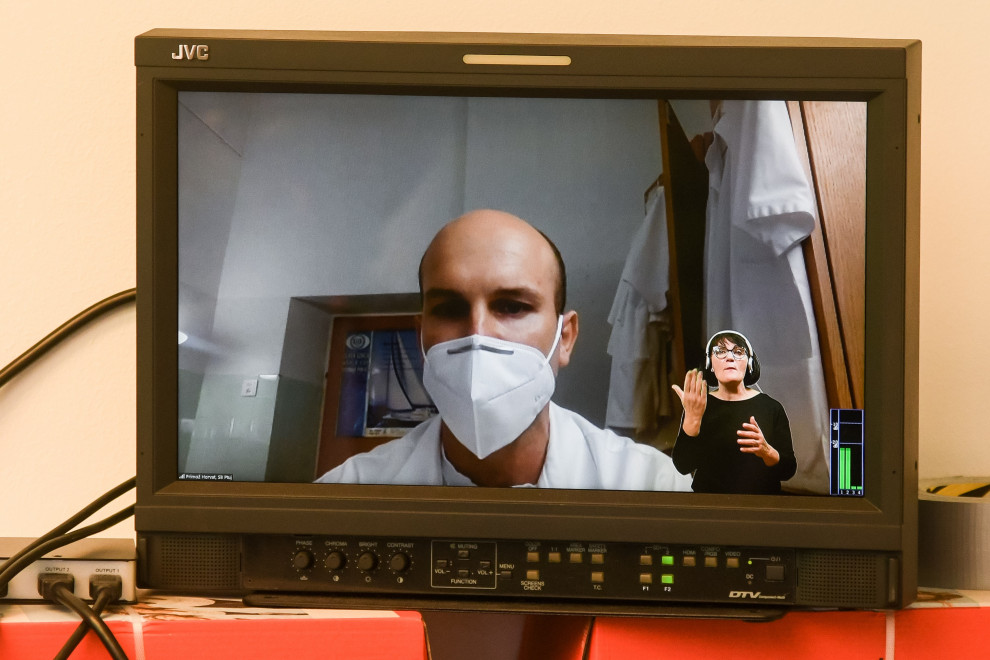 Robert Carotta, Coordinator for COVID-19 hospital beds at the Ministry of Health
Of 4,457 tests performed on Monday, 1,084 were positive, which amounts to 24.32 per cent. Some 27 people died, 19 in hospitals and eight in retirement homes. Yesterday, 1,171 patients were in hospitals, which is 28 more than on Sunday and 196 patients required intensive care, i.e. six more than the day before. Some 151 patients were admitted to hospitals and 104 patients were discharged. The number of occupied beds additionally decreased due to the 19 people who have died.
The data on the number of new positive cases by municipalities was communicated by Kacin. Some 120 new cases were recorded in Ljubljana and 29 in Maribor. The data for the Gorenjska region reads as follows: 55 in Kranj, 29 in Škofja Loka, 19 in Tržič, 15 in Jesenice, 11 in Bled and 10 positive cases in Gorenja vas – Poljane. In the region's border area, Domžale with 27 and Kamnik with 25 cases of infection stand out.
In the east of the country, 29 new cases were recorded in Celje, 20 in Velenje, 18 in Žalec, 12 in Gornja Radgona, and 15 in Rogaševci and Slovenjske Konjice each. Ten new cases were established in Slovenska Bistrica. There were 38 new infection cases in Novo mesto, 16 in Kočevje and 12 in Grosuplje. Koper stands out on the coast with 20 cases, while there were 22 new cases discovered in Ilirska Bistrica and eleven in Nova Gorica.
Carotta referred to his assessment made ten days ago when he estimated the upper threshold of the possible number of hospitalised patients at 1,200. Today, he confirmed that this threshold could be higher, but failed to provide a number as he hoped that would not be necessary since he believed that the peak in the number of hospitalised patients would be reached at the end of this week and would not significantly exceed 1,200.
Ptuj Hospital has 40 regular beds for COVID-19 patients which are fully occupied according to Horvat. There are four patients in intensive care, while critical patients are being referred to other hospitals. As of yesterday, 140 patients were being treated; 90 treatments were completed successfully, and there were 20 fatalities. External health professionals from local health institutions are also involved in the work at the hospital.