Prime Minister Janez Janša: The Government's approach to mitigating the consequences of the coronavirus epidemic and maintaining the economic potential is adequate
At today's 17th session of the National Assembly, Prime Minister Janez Janša answered parliamentary questions raised by Jani Möderndorfer (LMŠ), Jani Prednik (SD), Violeta Tomić (Levica) and mag. Marko Pogačnik (SDS).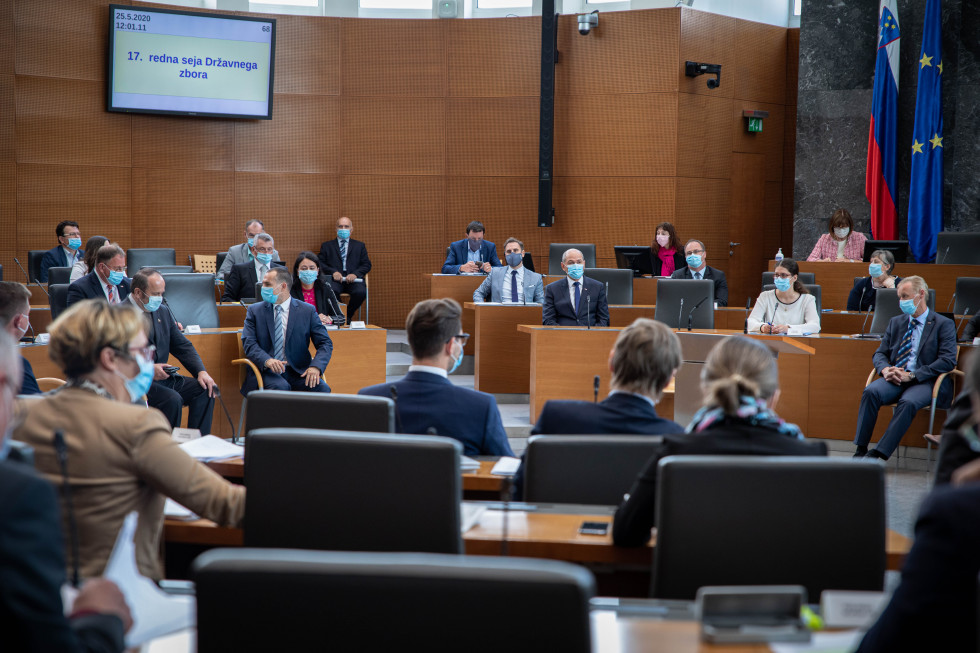 Prime Minister Janez Janša answered parliamentary questions.
Prime Minister Janez Janša answered parliamentary questions.
In his answers to the parliamentary questions, the Prime Minister spoke about the European Commission's economic forecasts and the adopted anti-corona packages, which mean mitigating the consequences of the COVID-19 epidemic for the population and the economy. At the same time, he emphasised favourable forecasts of the European Commission for Slovenia, which are also a result of the measures taken by the Government to preserve the purchasing power and well-being of the population and the potentials of the economy. He also pointed out, as one of the key laws for dealing with the current economic situation, the act removing barriers to important investments, which will be the basis for removing a number of bureaucratic barriers.
The Prime Minister also noted that the first and second anti-corona packages had provided assistance to 1,300,000 people in Slovenia: "Without these measures, including in tourism and hospitality, the number of unemployed people in Slovenia would rise by 250,000," he said, adding that "all temporarily laid-off workers received 80% of their income." "The self-employed received and still receive the universal basic income, this a first in the history of crises in this country. And as far as tourism is concerned, the first two packages contained a number of measures that also helped tourism," the Prime Minister noted. He also recalled that in 2009, during the previous economic and financial crisis, the Government gave a lot of money to banks, which were then sold cheaply, and that shorter working hours or unemployment benefit was paid as well. "These measures then brought us the longest recession in history, or at least the longest one among the European Union Member States," added the Prime Minister.
The Prime Minister also noted that the Government, having considered the epidemiological situation, found last week that it could formally declare the end of the epidemic at the end of this month provided that the situation did not deteriorate in the meantime. "Many experts from other countries approach us with questions and are interested in the measures that enabled Slovenia to achieve this situation without declaring a state of emergency, a state of war or a curfew like others did. The unanimous finding is that there are two reasons: the first is a timely decision to properly control the spread of infections, even though it was criticised, and the second is that the measures were taken in time and respected by the people," the Prime Minister emphasised.