Prime minister: Everyone – governments, scientists, business and academics – has the opportunity at hand to develop and guide AI to benefit humanity
Former Prime Minister Marjan Šarec (2018 - 2020)
On the second day of the 50th annual meeting of the World Economic Forum taking place in Davos until 24 January, Prime Minister Marjan Šarec took part in a panel debate entitled Unlocking Public Sector Artificial Intelligence.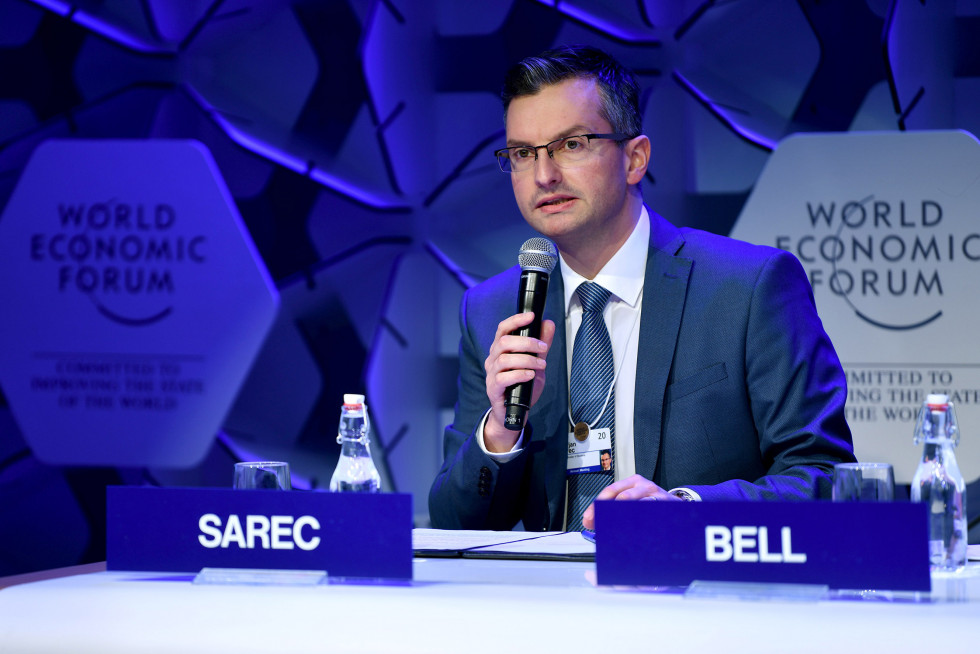 Prime Minister Šarec at the WEF in Davos
Prime Minister Šarec with Founder and Executive Chairman of the World Economic Forum Prof. Klaus Schwab.
Meeting of Slovenian and Georgian Prime Ministers
Meeting of Slovenian and Serbian Prime Ministers.
The panellists discussed the opportunities that artificial intelligence offers governments and the public sector in improving services for the public and in seeking and applying solutions in numerous areas (from traffic management to healthcare). A major element of the discussion focused on the challenges that artificial intelligence brings, for example in the area of privacy.
In the introductory part of the discussion, Mr Šarec drew attention to the benefits of artificial intelligence, which in contrast to other technologies largely tries to do things that even recently were solely the preserve of human capacities and intelligence: "AI has the potential to serve humanity, and to bring great benefits to individuals and society. For it to do this, all stakeholders will have to be involved in its development and management."
"For the public sector AI can bring greater efficiency and responsiveness, and provides solutions for our society that are more sustainable and more relevant. However, we also need to understand this area very well, so it can serve the public sector and act for the widest benefit," he added, "and therefore we need smart and effective public policy to help us use this technological revolution to improve global living standards." From this perspective he drew attention to fundamental human values, such as ethics and morality, which he believes to be vital if we wish to use artificial intelligence for the public good. In this connection he also raised the issue of human rights, and how artificial intelligence must follow properly established legal standards.
"Now is the time. Everyone – governments, scientists, business and academics – has the opportunity at hand to work responsibly and quickly to develop and guide the use of AI to benefit humanity," he said. In the discussion Mr Šarec highlighted the actions of Slovenia, which is encouraging debate and seeking solutions for the ethical and regulatory aspects of artificial intelligence, where in his words we cannot limit ourselves to "soft approaches", as current technological solutions are already having a significant impact on society. He reiterated that Slovenia will push for a debate on the ethical and regulatory aspects of using artificial intelligence based on respecting democracy, the rule of law, and fundamental rights, including during its presidency of the Council of the EU in the second half of 2021.
He noted that UNESCO's general conference held in Paris last November officially approved the establishment of the first international research centre for artificial intelligence, based in Ljubljana under UNESCO sponsorship. Its aim is to act as a hub for an open and inclusive global network of artificial intelligence research centres, and thus to provide an open, transparent environment that, in addition to researching and debating artificial intelligence, provides public and political support to stakeholders around the world for drawing up guidelines and action plans in the field of artificial intelligence.
Mr Šarec reminded the audience that Slovenia has a long history of research in this area: "They began researching AI at the Jožef Stefan Institute back in the early seventies. Slovenia can boast the highest number of AI researchers per head of population in the world. Given our skills and knowledge, our vision is focused on becoming a world leader in high-tech."
Mr Šarec also took part in a second-day panel on EU strategic sovereignty, which addressed the issues of how to strengthen the EU's collective power, not least in the light of Brexit, how to ensure the EU's role as a global player, how to successfully tackle climate change, and how to face challenges to the international community. He emphasised that in order to maintain strategic sovereignty the EU needs clear relations between its Member States, and effective institutions, whose decisions must be based on the rule of law, and not on political convenience. He also reiterated that the EU must continue its role as an advocate of multilateralism, human rights and international law.
Alongside today's debates, Mr Šarec also met the Georgian prime minister, Giorgi Gakharia. In their talks he stressed his support for Euro-Atlantic progress and Georgia's European alignment.
He also met briefly with the father of the World Economic Forum, Prof Klaus Schwab, the founder and executive chairman of the WEF, and with the Serbian prime minister, Ana Brnabić.