Minister Šinko: "Considerable aid to the agriculture, forestry and fisheries sector shall be required"
At today's Agriculture and Fisheries (Agri-Fish) Council meeting, the EU Ministers were familiarised with the damages suffered by the Slovenian agriculture, forestry and aquaculture in the aftermath of the recent floods and landslides. Ms Irena Šinko, Minister of Agriculture, Forestry and Food, told in presentation that immediately after the extreme weather events the Ministry commenced collecting data on the damages inflicted, and preparing emergency aid measures. "In agriculture, damages have been recorded on land, facilities, machinery, deficiencies in stock of feed and seed materials, and difficulties in raw milk delivery."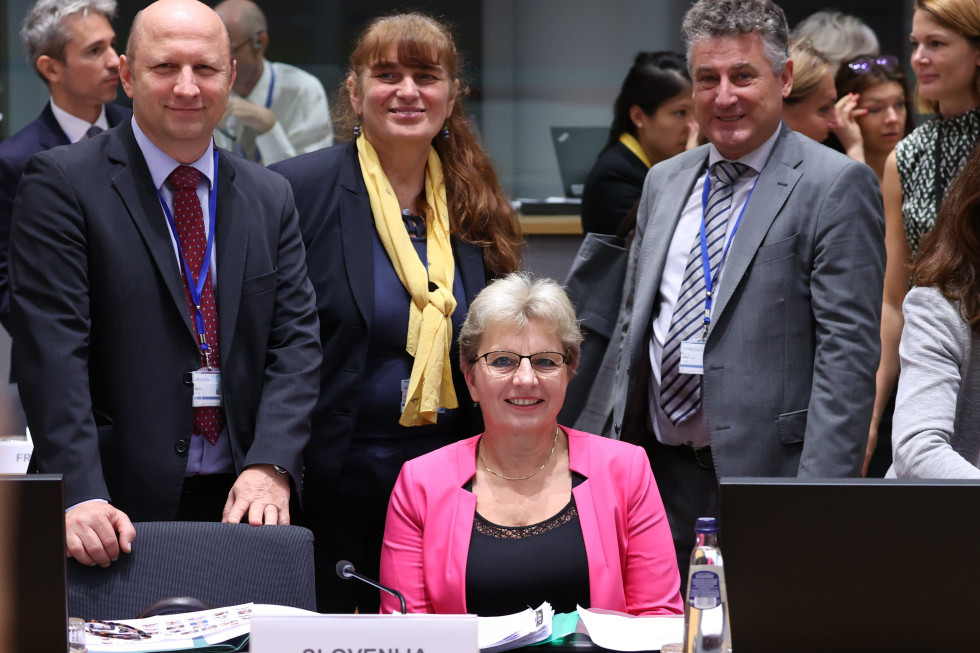 Minister Irena Šinko.
Minister Irena Šink and portoguese minister Maria do Céu Antunes.
The EU Agriculture and Fisheries Ministers discussed the agricultural as well as fisheries topics in today's meeting in Brussels. The meeting under the Spanish Presidency opened with the fisheries topics. The Ministers exchanged opinions on annual consultations between the EU and the United Kingdom on fishing opportunities in 2024, and on annual consultations between the EU and Norway and Coastal States, planned for the coming year.
On Slovenia's incentive, the EU Ministers were familiarised with the damages in agriculture, forestry and aquaculture brought about in Slovenia by the 2023 floods. As told in presentation by Ms Irena Šinko, the Slovenian Minister, more than 2700 agricultural holdings were inventoried, 410 facilities were damaged, and thereof, more than 10 % completely demolished. "At almost 2000 agricultural holdings, the damages recorded had been brought about by landslides, deposits of detrital material, soil erosion, with the overall damaged agricultural land surface covering 3150 hectares." As to the assessment of costs, the Minister explained that the quantified indirect damage on demolished agricultural land is at EUR 1500/hectare of income loss in the first year (sowing, labour, seed materials, and loss of yield per hectare), and EUR 500/hectare in the second year. "Overall estimated loss in agriculture is at around EUR 145 million."
High losses in recent floods have affected also the aquacultural sector. The Minister pointed out that damages had been inventoried in 35 fishing entities, and in 20 facilities with activity in the aquacultural sector (a total of 29 facilities). "Overall estimated loss amounts to over EUR 6 million, and thereof, the damage to facilities amounts to more than EUR 700,000; to more than EUR 500,000 to equipment, and to more than EUR 2.6 million to the farmed and free-living fish, and to more than EUR 2.2 million to the loss of income." As to the losses in forestry, the Minister pointed out that more than 1.5 million cubic metres of timber had been damaged or entirely destroyed all over Slovenia, and that more than 1700 kilometres of forest roads had been demolished, and that loss is estimated at EUR 48.4 million.
According to the Minister, prompt action is imperative to remedy and eliminate the consequences of damage. "It is more than clear that significant aid is required for remediation in the agriculture, forestry and fisheries sector and, for this reason, Slovenia calls on the Commission to offer cooperation and maximum flexibility at adaptation of measures within the Common Agricultural Policy, Common Fisheries Policy, and at measures relevant to forestry." Slovenia asked for additional funds from the Reserve for crises in the agricultural sector, as well.
Today, the EU Council addressed several other topics. The Commission presented the Proposal for a Directive on Soil Monitoring and Resilience: for protection, sustainable management and restoration of EU soils from agricultural perspective. This regulation shall constitute a uniform framework for monitoring the condition of soil, with the vision that all the soil ecosystems are in a state of health by 2050, in line with the EU ambition of zero air, water and soil pollution. "Healthy soils provide for ecosystem services, including inter alia the production of healthy food, ensuring soil carbon storage, water and nutrient flow regulation, and maintaining and enhancing biodiversity," highlighted Minister Šinko. As the Minister put it, the strengthening of sustainable soil management and soil restoration practices will in turn help strengthen the resilience of EU agriculture. "In this light, Slovenia supports creating a uniform framework for monitoring and evaluating soil condition at EU level, and we expect in particular that farmers and other users shall get better and easier access to data on soils and their condition."
Ministers exchanged opinions on the topic of Long-term vision for EU rural areas. The existing challenges in rural areas are now accompanied by climate change impacts on rural areas and on agriculture. Minister Šinko pointed out in discussion that a new role needs to be given to know-how, the principle of cooperation and sustainable development, with adaptation to climate change challenges placed at the forefront. "Digitalisation and technological transformation, and promotion of circular and organic farming, constitute new opportunities for sustainable development of rural areas. We need to achieve a breakthrough at incorporation of farms and local products into the food supply chain, where intergenerational transmission is equally important." According to the Minister, we need to maintain a strong rural development policy as part of the Common Agricultural Policy. "We need to strengthen investments into sustainable agriculture, responses to climate change challenges, and innovation, aiming at safeguarding jobs in rural areas."
Today, the EU Council was familiarised with the recent outbreak of African Swine Fever in Sweden, with the Danish proposal for simplification and better regulation of legislation on common EU policies on food, agriculture, and fisheries, and with the Commission's reporting on the state of play at trade-related agricultural policies.