EU Home Affairs Ministers discuss the Migration and Asylum Pact
Minister of the Interior Boštjan Poklukar is attending the Home Affairs Ministers Council meeting in Luxembourg. The main topics of today's meeting, as highlighted by the Minister in a press statement, are the Migration and Asylum Pact and the situation in the Schengen area.

In the framework of the Migration and Asylum Pact, ministers are trying to reach agreement on the EU Council's common positions regarding the asylum procedure regulation and the asylum and migration management regulation. These are two key files of the Migration and Asylum Pact that will have to be further negotiated with the European Parliament. "The Migration and Asylum Pact has been on the table of EU Home Affairs ministers for a long time. Today we are discussing a compromise proposal which is not yet finalised," said Poklukar, noting that Slovenia supported the compromise proposal. Slovenia has expressed some reservations, which the minister believes will have to be taken into account in the final document. In Minister Poklukar's view, the price of not negotiating would be too high, and that is why Slovenia supports the framework for the negotiations with the European Parliament. In response to a journalist's question about the number of applicants for international protection that Slovenia would have to accept as part of the relocation, the minister explained that the figures had not yet been the subject of a serious discussion: "The number is not such a burden that Slovenia would not be able to accept a compromise proposal."

In the context of discussing the situation in the Schengen area, Minister Poklukar drew attention to the intolerable situation at the Slovenian-Austrian border, where Austria has been carrying out internal border controls for the eighth consecutive year. This is a disproportionate and illegal measure, as Slovenia has consistently pointed out. "I think we are not alone in the EU in having problems with countries closing internal EU borders. There are traffic jams, there is pollution of the environment and there is economic damage". The Minister has also written to European Home Affairs Commissioner Ylva Johansson and to European Commission Vice-President Margaritis Schinas on this matter, as he believes that it is the European Commission that should act urgently. "Slovenia is not the only country with internal border control problems. I believe that other countries will also support my proposal for the solution to start solving these issues and gradually eliminate them," concluded Minister Poklukar, speaking to the media.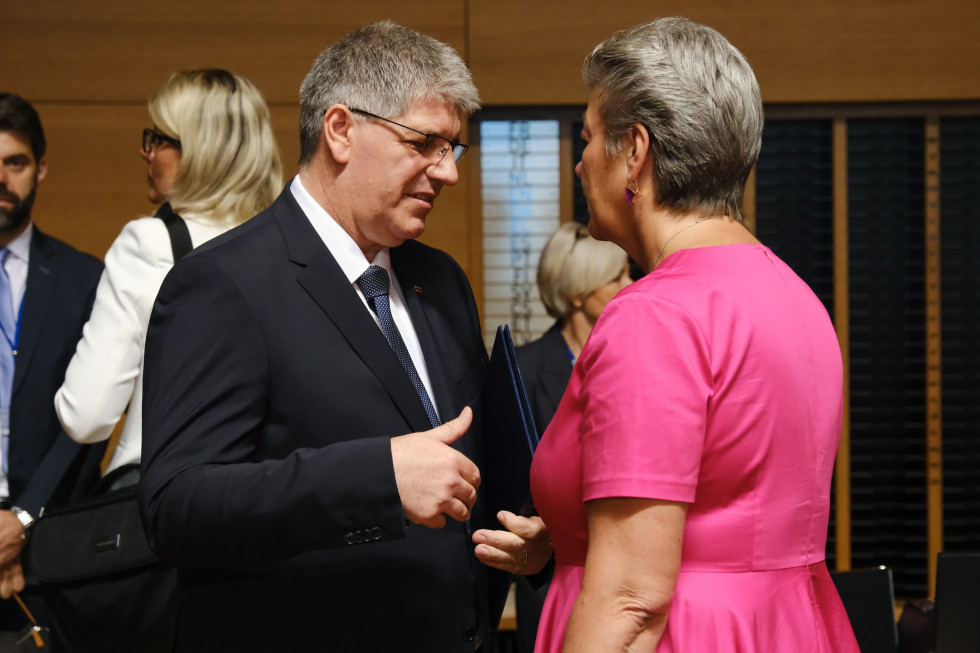 Meeting of European Union Ministers of Internal Affairs in Luxembourg
Slovenian and Austrian interior ministers Boštjan Poklukar and Gerhard Karner
Slovenian and Croatian interior ministers Boštjan Poklukar and Davor Božinović
Slovenian and French interior ministers Boštjan Poklukar and Gerald Darmanin
Minister of the Interior Boštjan Poklukar and Executive Director of the European Union Asylum Agency Nina Gregori
Minister of Internal Affairs Boštjan Poklukar and Slovenian Ambassador at the Permanent Representation of the Republic of Slovenia in Brussels Iztok Jarc
Minister Boštjan Poklukar at a press release