World Bee Day celebrated in Kalmthout arboretum
The celebration of World Bee Day in Kalmthout Arboretum was co-organised by the Slovenian Embassy in Belgium with the support of the Ministry of Agriculture, Forestry and Food. State Secretary Tatjana Buzeti and Ambassador Barbara Sušnik attended the event along with other guests. A bee tree was planted on the occasion.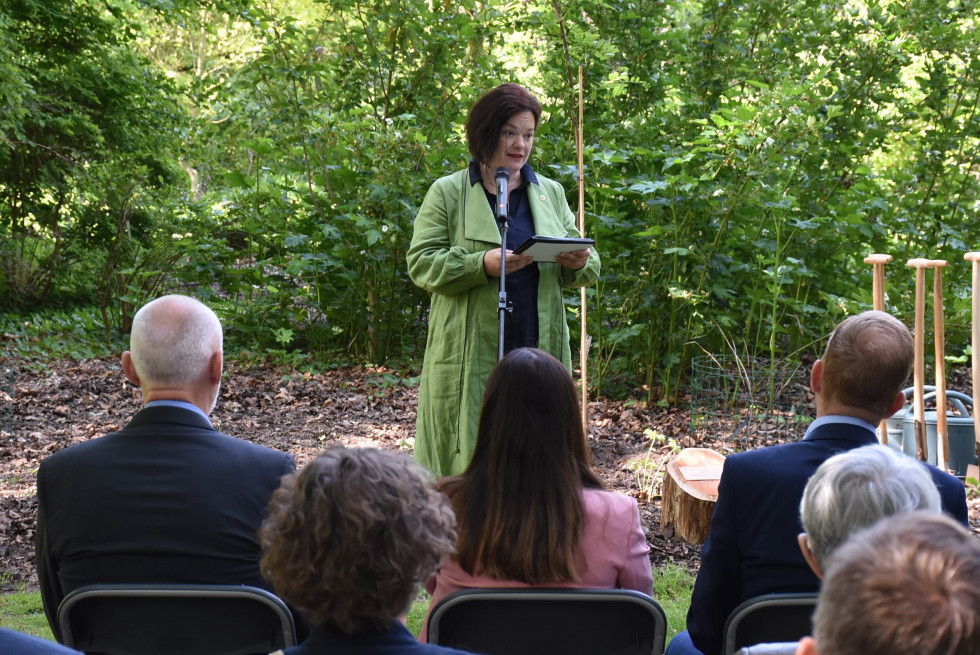 Slovenian apiary in the arboretum
The guests are planting the tree.
Kalmthout Arboretum, which has bound Slovenia and Belgium together for many years, is the home of a Slovenian linden tree and of a descendant of the world's oldest vine tree from Maribor. A Slovenian beehive has adorned the arboretum since 2021. "It is bees that have, once again, brought us together today," said State Secretary Tatjana Buzeti. "Our friendly ties that were established here result from the dedicated work of our compatriot Jelena de Belder Kovačič, whose knowledge and commitment were invaluable for the development of this arboretum." She highlighted that Slovenians have always been strongly connected to bees and beekeeping and that is why we are committed to protecting bees and bee products. "World Bee Day was proclaimed on Slovenia's initiative and our country has presented the international Golden Bee Award for the third consecutive year. I am convinced that our activities and efforts contribute to the progress that has been made lately at the EU level. At the European level, we have repeatedly called for a more precise labelling of honey blends and of their origin, and a vast majority of member states supported our efforts."
State Secretary went on to highlight the role of the beekeeping sector in protecting bees and pollinators. "Beekeepers face numerous challenges. On the one hand, they face climate change, environmental pollution and the loss of biodiversity and, on the other, economic challenges related to competitiveness and bee health. Your presence here testifies to our common will and commitment to preserve the bees and other pollinators that are vital for all of us on this planet." She concluded by saying that each and every one of us can contribute to their protection with even the smallest of gestures – such as today's planting of a bee tree.