Slovenian civil protection high-capacity pumping unit deployed to the flooded area in Italy
At the request of the Republic of Italy, a temporary civil protection unit was deployed to provide assistance in the affected area of Emilia Romagna.
As the team leader, Borut Horvat, explained, Slovenia responded to the request of the Republic of Italy and deployed a unit of 32 members, that will operate in the area of Emilia Romagna, which has been affected by the worst floods in the recent period. "We are deployed there as one of four international units with two high-capacity pumps. Our primary task is to assist with water pumping as directed by the Italian authorities. Today, we are waiting for transit in the afternoon, and we are equipped with 16 vehicles. We are self-sufficient, which is absolutely necessary in such cases. The unit consists of 18 operational members and the other 14 have a support function. We are experienced, equipped and certified based on all standards that exist in the field of protection against natural and other disasters in civil protection. We will strive to perform the task to the utmost of our capabilities." The regional units come from the area of Celje and Nova Gorica. Most of the members have already taken part at the interventions such as floods in Serbia, some also to the recent intervention in Turkey. They are volunteers, with the exception of the accompanying staff of five people who are employed at the Administration for Civil Protection and Disaster Relief and provide organizational support.
The rescue unit is deployed within the Union Civil Protection Mechanism, which calls in specially trained and certified units. The Slovenian unit will be the first to arrive in Italy. These are the most demanding tasks, as they involve pumping large amounts of water. "This means that we will not participate in pumping the water from individual residential houses, but our task is primarily to remove water from very large areas and thereby save them from possible collapses. If Italy asks for any other help, we will provide it in accordance with the Decision of the Government of the Republic of Slovenia," said Acting Director-General at Administration of the Republic of Slovenia for Civil Protection and Disaster Relief, Leon Behin. Two units equipped with two pumps have been deployed, while five units remain stationed at home. This arrangement allows for assistance to be provided in other locations, both domestically and internationally, in the event of emergencies. Additionally, it facilitates the rotation of the intervention unit if required.
Concluding his statement, Rudi Medved, the State Secretary at the Ministry of Defense, expressed his satisfaction with the strength of our protection and rescue system. He highlighted the capability to effectively manage domestic situations while simultaneously providing assistance abroad. "This shows how resilient and robust the system is. A really exceptional team is heading out today."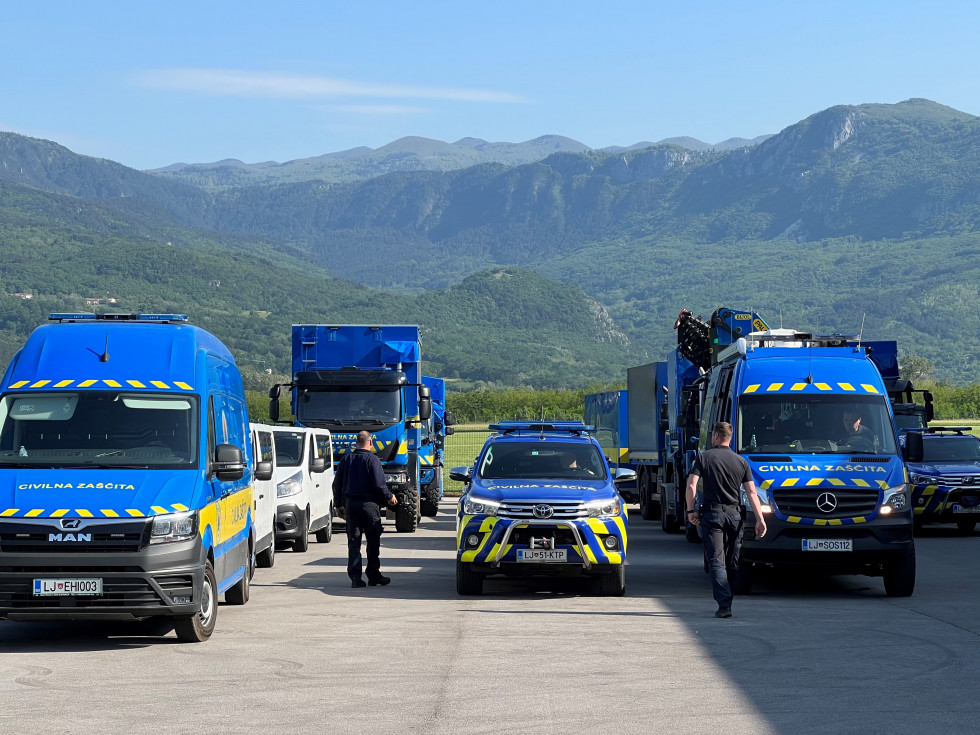 High Capacity Pumping unit.
From left to right: Rudi Medved, Leon Behin, Martin Smodiš, Samo Kosmač