Address by Minister Marjan Šarec: Ceremony in support of Ukraine on the first anniversary of the war
Today, Minister Marjan Šarec and State Secretary Dr Damir Črnčec attended a ceremony at Congress Square in support of Ukraine on the first anniversary of the war in Ukraine.
The Minister's address is published in full (spoken word applies):
Your Excellency Ambassador Taran,
Thank you for inviting me to this commemorative event marking the first anniversary of Russia's unprovoked and brutal attack on Ukraine. Let me express my strong support and admiration for the people of Ukraine who, despite their suffering, are showing persistent courage and resistance in the struggle for their freedom and sovereignty.
Slovenia, which - like Ukraine - became an independent state in the summer of 1991 (2 months before Ukraine), has fully supported the independence and territorial integrity of Ukraine within its internationally recognised borders and strongly condemned Russian aggression ever since the beginning of this unfortunate and unnecessary war. This not only represents an intolerable existential threat to Ukraine, but also an attack on the entire rules-based international order. A war that has global negative consequences, also for the population of the Russian Federation, is a flagrant violation of the international law, humanitarian law, and the UN Charter. The violations of international humanitarian law, the uncompromising attacks on civilian infrastructure, the violent incarceration of millions of refugees and internally displaced persons - all of this cries out for accountability. This war that should not be in Europe at the beginning of the 21st century must end.
Russia's premeditated aggression against Ukraine has fundamentally reshaped Europe's security architecture and irreversibly brought the EU and NATO closer together and united them in their condemnation and support for Ukraine. During my visit to Ukraine last November, I witnessed first-hand the tragic consequences of the Russian attacks. The dimensions of destruction and aggression should sober us all up and remind us of the need to maintain the international political momentum in providing support. Slovenia, a young country, remains strongly committed to supporting Ukraine in its historic, existential moment, which will one day surely be recognised as a unique moment of Ukrainian statehood and identity. We have been providing unwavering support from the beginning of the war and under different governments. To conclude, let us recall that Article 3 of the Slovenian Constitution defines the permanent and inalienable right of the Slovenian people to self-determination. Article 124 of the Constitution places the defence of the State in the context of the inviolability and integrity of the State territory. In this regard, pursuing the culture of peace and non-violence, also defined in our Constitution, Slovenia supports all sincere efforts to achieve a just peace in Ukraine. However, we must certainly not forget the importance of international solidarity in Ukraine's post-war recovery. SLAVA UKRAJINI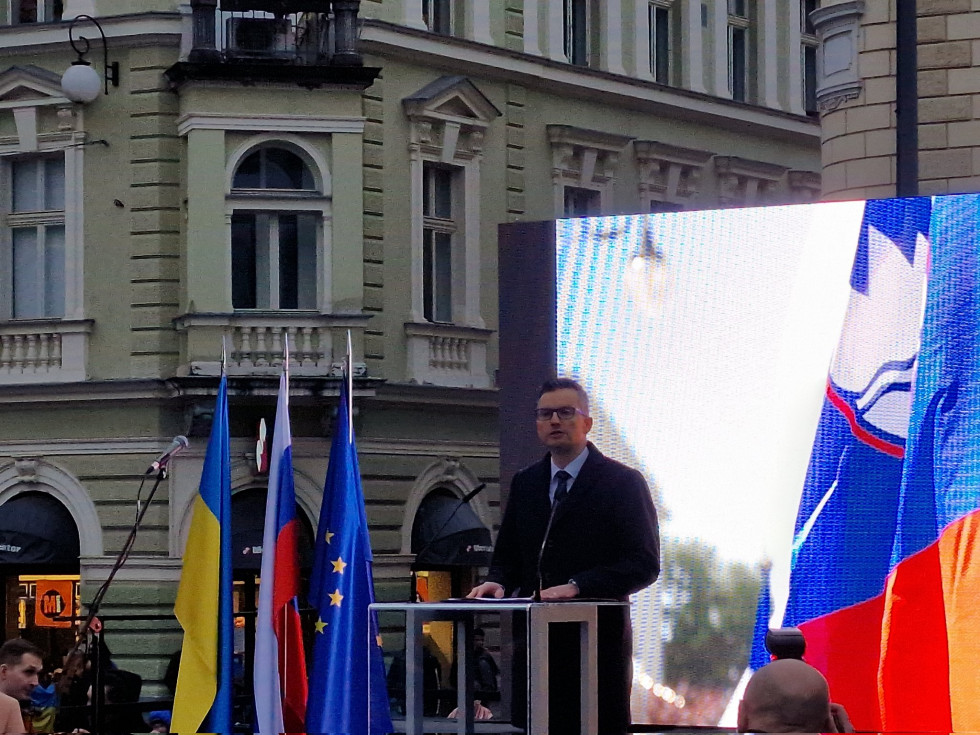 Minister Marjan Šarec and State Secretary Dr Damir Črnčec attended a ceremony at Congress Square in support of Ukraine on the first anniversary of the war in Ukraine