Minister Šarec meets Minister of Defence of the Republic of Cyprus, Charalambos Petrides
The purpose of the two-day visit is to strengthen ties of friendship and cooperation between the two countries, with an emphasis on establishing concrete forms of cooperation in the field of defence. In the light of the latter, the two ministers signed an Agreement on cooperation in the field of defence, which will serve as the basis for the preparation of a further programme.
At the signing, Minister Šarec emphasised that with the rapid development in the fields of defence and security, it is increasingly important to consolidate excellent relations and cooperation between countries based on shared values. "With today's signing of the Agreement, we have established principles and procedures for increasing political-military cooperation between our two countries. The minister and I have agreed on concrete steps of cooperation between our two armies, especially in the areas of military exercises and training, research and development, cyber security and EU initiatives," he added.
In their bilateral talks, the ministers discussed the current security situation in the Western Balkans and the Eastern Mediterranean, as well as the war in Ukraine. They also focused on international operations and missions and exchanged views on European issues.
Minister Šarec reminded that Slovenia supports a more ambitious and effective Common Security and Defence Policy. "We believe that the EU has taken important steps to strengthen European defence capabilities and promote a safer and more resilient EU environment.
He sees participation in operations and missions as a key part of contributing to international security and stabilisation efforts. He added that the Western Balkans remain our priority operational area, while Slovenia is also actively engaged in the Mediterranean, the Sahel and the Middle East.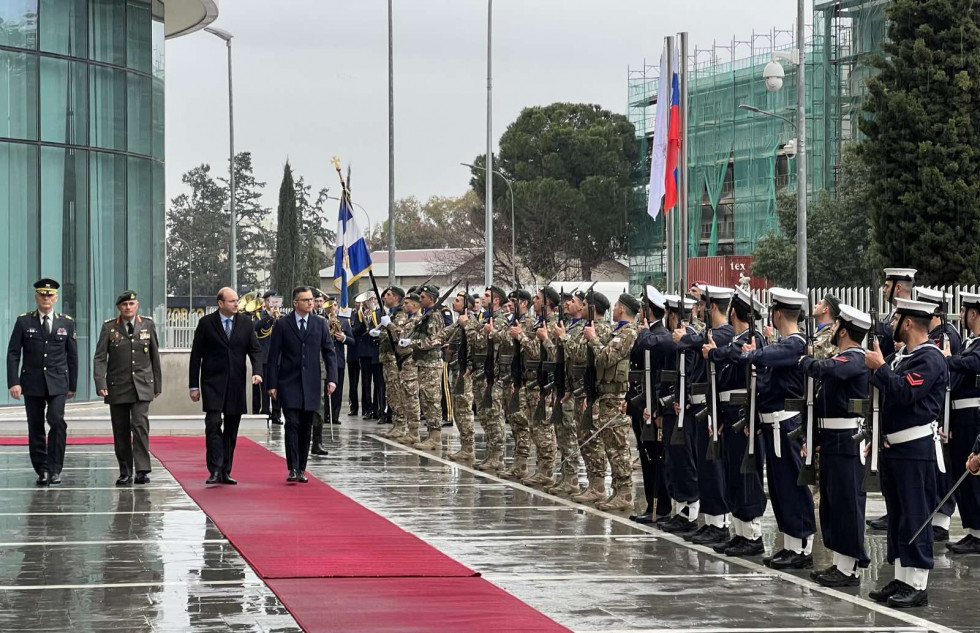 In their bilateral talks, the ministers discussed the current security situation in the Western Balkans and the Eastern Mediterranean, as well as the war in Ukraine
The two ministers signed an Agreement on cooperation in the field of defence, which will serve as the basis for the preparation of a further programme
With today's signing of the Agreement, we have established principles and procedures for increasing political-military cooperation between our two countries