Minister Šarec visits Kosovo
Today, as part of his two-day visit to Kosovo and Bosnia and Herzegovina, Minister of Defence Marjan Šarec and his delegation visited members of the Slovenian Armed Forces in Kosovo, who are deployed in the international operation KFOR and the NATO Advisory and Liaison Team.
The Slovenian Armed Forces first deployed to KFOR in January 2000. Until 2007, Slovenian troops were deployed as part of other armed forces' units, but in February 2007, for the first time in its history, the Slovenian Armed Forces deployed a battalion-sized unit to an international operation and mission. This October, the mission was taken over by the 46th Slovenian Armed Forces contingent, comprising 91 members.
KFOR's mission remains to ensure a secure and stable environment and freedom of movement, to monitor the security and overall situation in the country, and to conduct surveillance and patrol along transit routes and checkpoints. SAF members in Kosovo also participate in KFOR's civil-military cooperation (CIMIC) projects, which are primarily aimed at assisting the local population. In the municipality of Vučitrn, our servicemembers acquainted the Minister with the completion of one of the KFOR projects - the installation of a prefabricated accommodation building. This project is a good starting point for further cooperation, as next year, after more than ten years, we will reinforce our contingent with a CIMIC team that will also include civilian functional experts. Slovenia's contribution will also be upgraded by a stand-by Slovenian Armed Forces helicopter for Kosovo. In line with the Prime Minister's guidance, the Ministry of Defence reversed the decision of the previous government to reduce the SAF's presence in both Kosovo and Bosnia and Herzegovina, and halted the drawdown of both contingents. Both contingents will be gradually reinforced through the additional deployment of non-combat elements for both contingents.
"The Western Balkans, and, consequently, Kosovo, remain Slovenia's strategic priorities. In the coming years, we will continue to deploy to KFOR and NATO Advisory and Liaison Team by manning and reinforcing the positions where the knowledge and experience of the Slovenian Armed Forces can be most beneficial. As I have seen once again today, the performance of you, SAF members, in your important peacekeeping efforts in Kosovo is excellent. I appreciate your work and your diligence, which are also noticed and appreciated by our allies. You will spend this holiday season here in Kosovo, in the service of your homeland, away from your loved ones, which requires a great deal of sacrifice. Thank you for your commitment to Slovenia and its values, especially peacekeeping. I wish you a peaceful holiday season and all the best for the coming year."
On the occasion of his visit, Minister Šarec also met with the KFOR Commander, Major General Angelo Michele Ristuccia.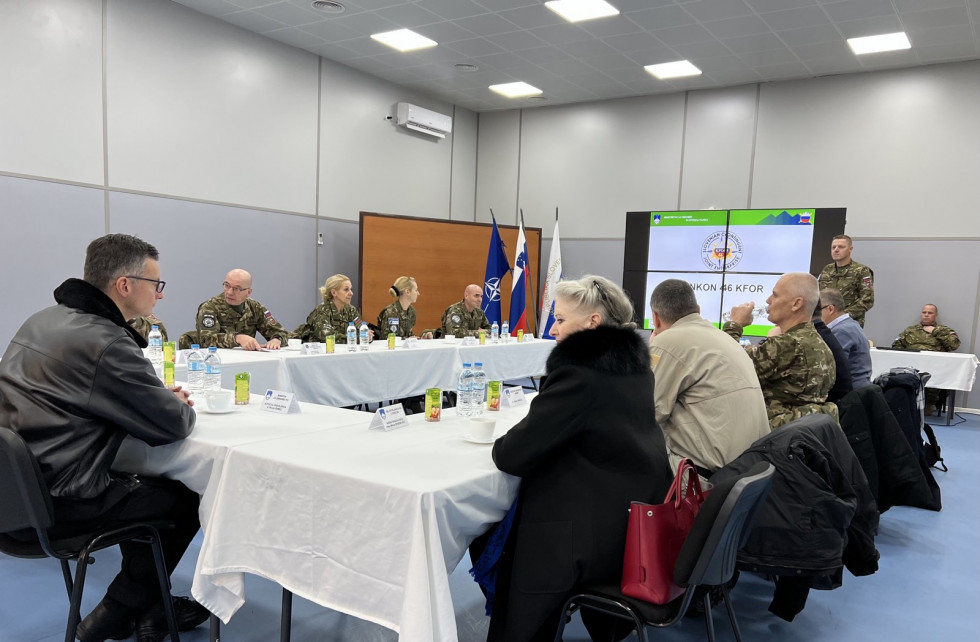 This October, the mission was taken over by the 46th Slovenian Armed Forces contingent, comprising 91 members
KFOR's mission remains to ensure a secure and stable environment and freedom of movement, to monitor the security and overall situation in the country
On the occasion of his visit, Minister Šarec also met with the KFOR Commander, Major General Angelo Michele Ristuccia