Minister Fajon's first official visit to Serbia
Ministry of Foreign Affairs
Minister of Foreign Affairs Tanja Fajon met her Serbian counterpart Ivica Dačić during an official visit to Belgrade. Their meeting focused on enhancing bilateral relations between their two countries, succession issues and Serbia's rapprochement with the EU.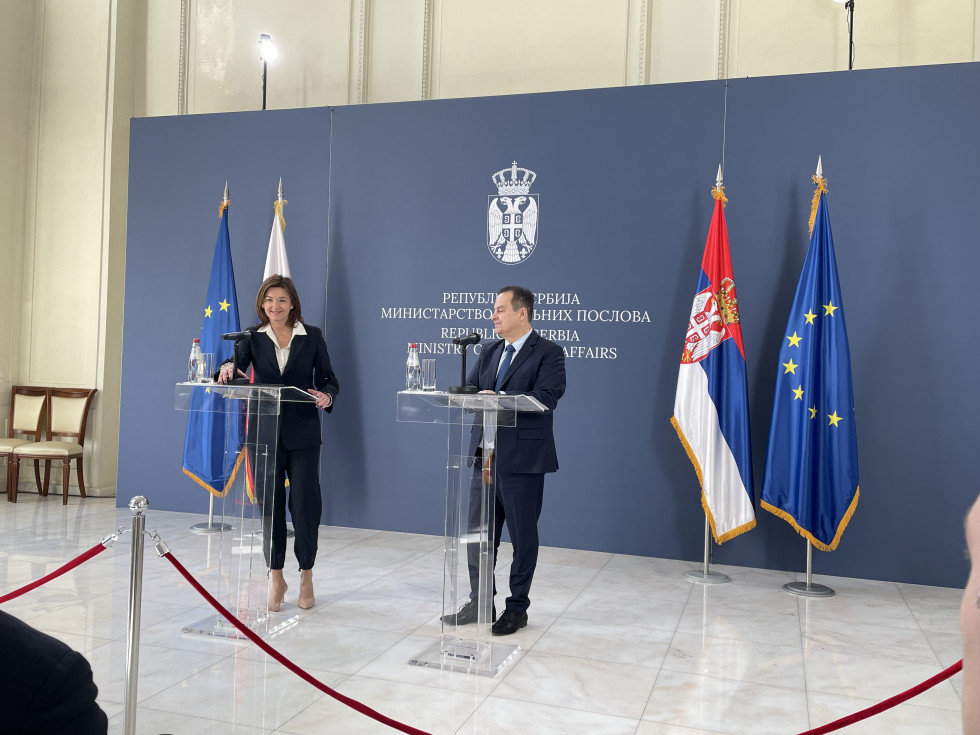 Minister Fajon in discussion with Minister Dačić
Minister Fajon shaking hands with President Vučić
Minister Fajon shaking hands with Prime Minister Brnabić
Minister Fajon with National Assembly President Orlić
Cooperation between Slovenia and Serbia is intensive, dynamic and diversified. Minister Fajon underlined that relations between the two countries have been particularly enriched by their excellent cooperation on culture. The two ministers were very pleased to note a renewed impetus in economic cooperation since the COVID-19 pandemic. "I am pleased to see positive trends in all segments, in trade, investment, tourism and services. The current circumstances due to the energy crisis also open up new opportunities for investment in the renewables and energy," the Minister said. As to connectivity, the two ministers called for a re-establishment of environmentally friendly rail passenger transport on the Ljubljana-Zagreb-Belgrade route.
On the implementation of the Agreement on Succession Issues, Minister Fajon underlined the need to make progress in resolving the remaining outstanding issues, in particular relating to archives and the return of cultural heritage objects.
The talks also focused on Serbia's EU accession. "Slovenia is committed to a continued EU enlargement process and insists that negotiations with the Union are an important incentive for adopting reform policies," she stressed. She called on Serbia to make additional efforts to make progress on the alignment of its foreign policy with the Union's Common Foreign and Security Policy and the visa policy. Concrete progress is expected from Serbia on the rule of law, media freedom, and the fight against corruption and organised crime, she added. "Slovenia will always help Serbia on its European path. It is in our common interest to do so," concluded Minister Fajon.
The talks also touched on developments in Kosovo, with Minister Fajon calling for tensions in the north of the country to be defused. The implementation of the agreements already reached, including the agreement on the Community of Serb-Majority Municipalities, is vital to ensuring a continued dialogue. "It is essential that the conditions for a normal life of the local people are restored, which is the responsibility of both sides," the Slovenian Minister cautioned.
During her official visit, Minister Fajon also met with President of Serbia Aleksandar Vučić, President of the National Assembly Vladimir Orlić, who is planning to visit Slovenia in early 2023, Prime Minister Ana Brnabić, Minister of European Integration Tanja Miščević, Minister of Culture Maja Gojković, and Commissioner for the Protection of Equality Brankica Janković.
The Minister also met representatives of Slovenian companies on the Serbian market, President of the National Council of the Slovenian National Minority Saša Verbić, and representatives of Slovenian associations in Serbia.