Minister Fajon at EU-ASEAN Commemorative Summit on global and regional security challenges
Ministry of Foreign Affairs
Minister of Foreign Affairs Tanja Fajon took part in the 45th Commemorative Summit of the ASEAN-EU in Brussels. The event was the first to bring together the highest representatives of all of the member states of the two organisations. She also held numerous bilateral meetings on the sidelines of the Summit.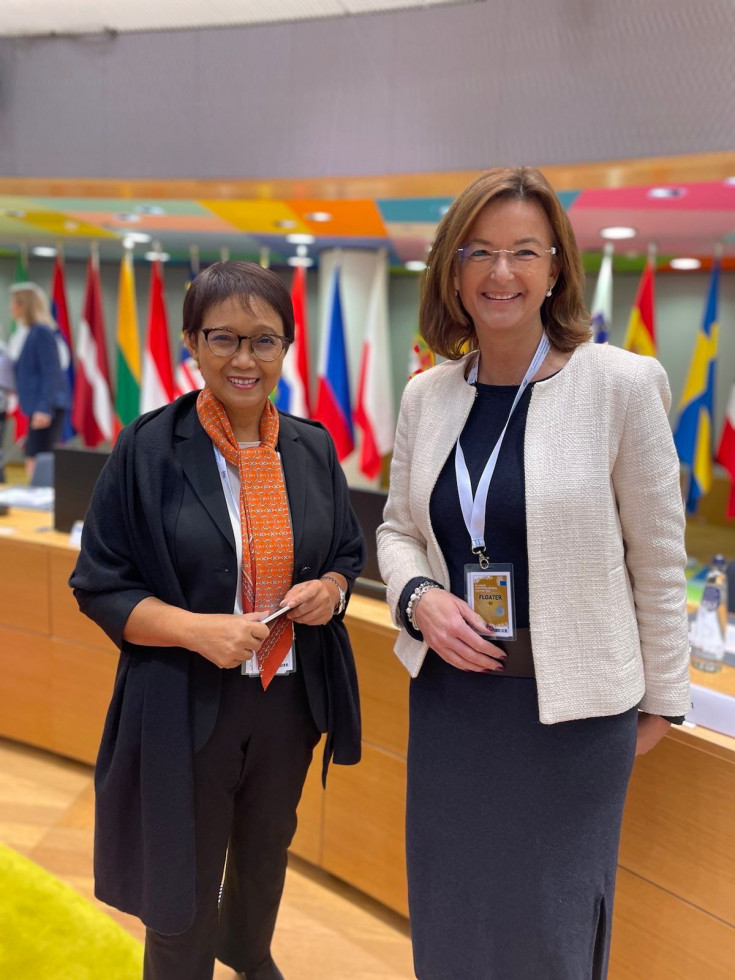 The EU-ASEAN Summit
Minister Fajon in conversation with Thailand's Minister Pramudwinai
Minister Fajon shaking hands with Cambodian Foreign Minister Sokhonn
Minister Fajon with the ASEAN Secretary-General
Minister Fajon at the meeting with Lao Foreign Minister Kommasith
The participants discussed global and regional security challenges, including the war in Ukraine and its impact on energy and food security, the situation in Myanmar, maritime security, the freedom of navigation of the South China Sea and the situation on the Korean Peninsula. They also touched on economic cooperation, including trade, connectivity and ensuring sustainable supply chains, and on cooperation on the green and digital transition.
The Summit was marked by efforts on both sides to enhance cooperation. The EU-ASEAN Comprehensive Air Transport Agreement has been signed recently and the signing of partnership and cooperation agreements with Malaysia and Thailand is in the final stage. The EU-ASEAN cooperation is one of the priorities of the EU Strategy for Cooperation in the Indo-Pacific.
On the margins of the Summit, Minister Fajon held a number of bilateral meetings. In the discussion with the ASEAN Secretary-General, she reaffirmed Slovenia's interest in strengthening cooperation with the Association and its member states on politics and the economy and within the framework of the EU Strategy for Cooperation in the Indo-Pacific. In the multilateral context, they exchanged views on the current situation in the region.
Minister Fajon also met with Cambodian Minister of Foreign Affairs Prak Sokhonn, Indonesian Minister of Foreign Affairs Retno L. P. Marsudi, Thai Minister of Foreign Affairs Don Pramudwinai and Lao Minister of Foreign Affairs Saleumxay Kommasith. Alongside the possibilities to enhance cooperation on the bilateral and multilateral levels, they discussed the situation in the Asia-Pacific region, with a focus on the crisis in Myanmar.
"Slovenia highly values a safe and stable Indo-Pacific, among other reasons because the Port of Koper is regarded as a hub connecting Central Europe and the sea," stressed the Minister during the talks. Slovenia views the green and digital transitions as potential opportunities for cooperation with the countries of the region.