Honey Breakfast "Bee x Education", Tokyo, 13. December 2022
On Tuesday, 13 December 2022, the Embassy of the Republic of Slovenia in Tokyo organised a working honey breakfast entitled "Bee x Education". The main topic was the importance of educating beekeepers, educating the general public about bees and apitourism.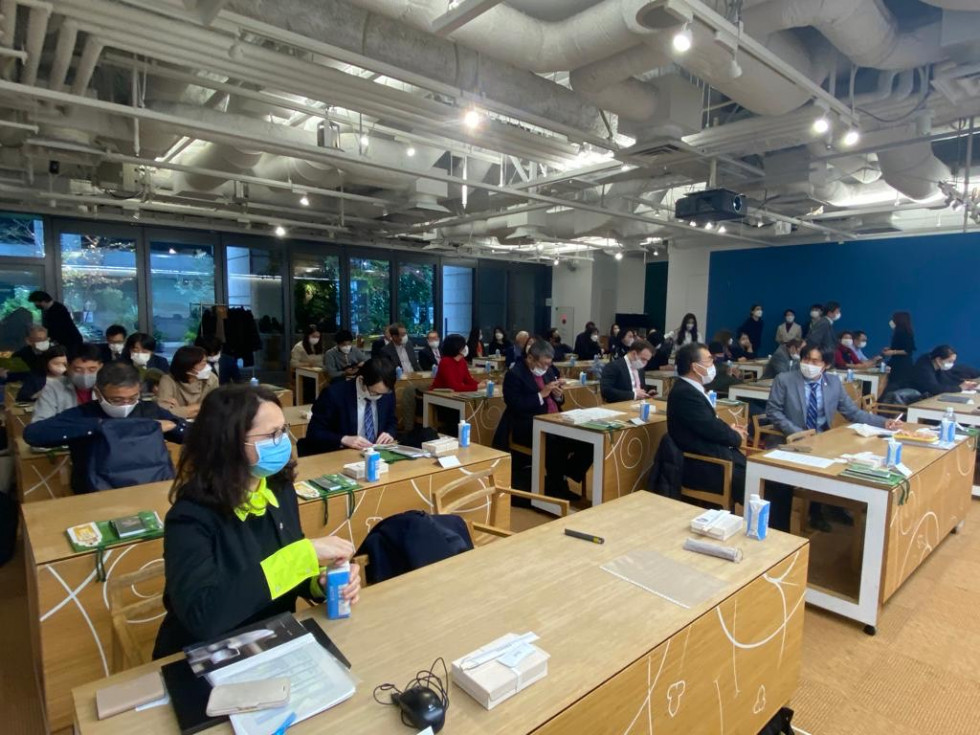 Gathering after the seminar
Reiko Fujita presenting about educating women beekeepers in Osaka
Fujio Miyachi presenting about Slovenian apitourism
Chargé d'Affaires a.i. Tina Vodnik and Vice President of the Japan Beekeeping Association, Yasuyuki Hasada, both welcomed the participants and agreed that they should strive to establish even stronger ties between Japan and Slovenia in the field of apiculture, and especially regarding apitourism.
Miha Grudnik from the Embassy of the Republic of Slovenia in Tokyo presented the activities, which Slovenia is carrying out in the field of raising public awareness about the importance of bees and the Slovenian Beekeeping Academy. He invited the participants of the event to submit innovative ideas or projects to the public call for the Golden Bee Award.

Next, Fujio Miyachi, an importer and seller of Slovenian honey, gave a detailed presentation on Slovenian apiculture and made suggestions for cooperation in the field of apitourism.

Lastly, Reiko Fujita, who is involved in bee-themed activities at the Japanese branch of the French perfume and skincare brand Guerlain, gave us an overview of their project to educate women beekeepers in Osaka and their events at primary schools.

The seminar was followed by Slovenian honey and honey liquor tasting and informal networking.
The "Bee x Education" event was attended by 51 beekeepers, beekeeping and honey professionals, heads of governmental and non-governmental organisations.