Minister Fajon for deepened cooperation with Latin America and the Caribbean on digitalisation
Ministry of Foreign Affairs
Minister of Foreign Affairs Tanja Fajon hosted the second high-level event of the Digital for Development (D4D) Hub for Latin America and the Caribbean in Brussels. In her opening address, the Minister underlined the need to strengthen partnership and cooperation on AI.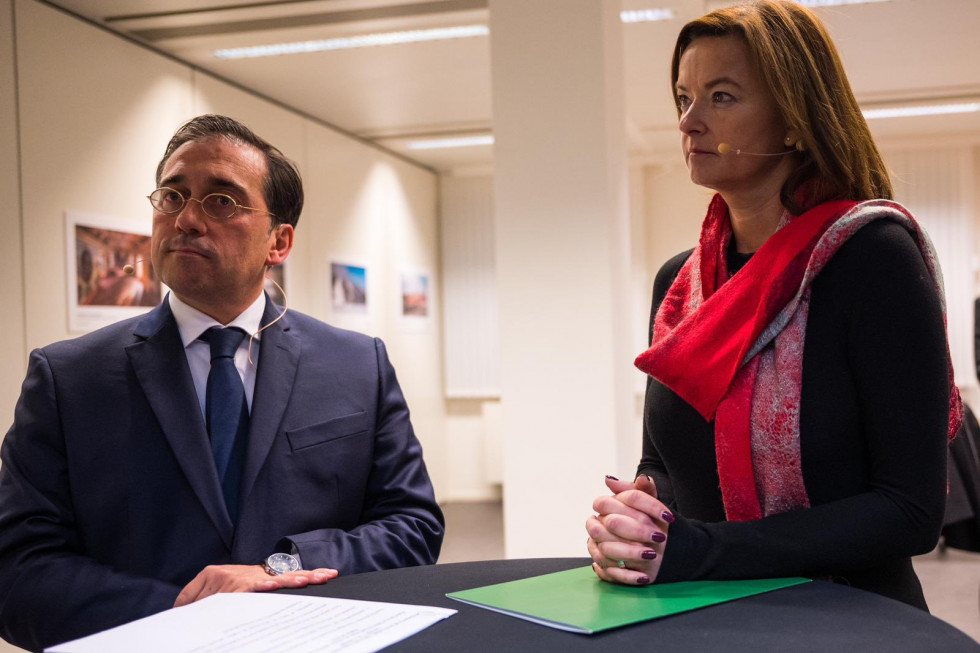 Minister Fajon addressing the participants
Minister Fajon in conversation with Spanish Minister for Foreign Affairs, European Union and Cooperation Albares
The event took place at the Slovenian Permanent Representation to the EU in Brussels and online. The participants focused on finding ways to deepen cooperation on digitalisation between the EU and countries of Latin America and the Caribbean, with the next summit of the region particularly in mind. Minister Fajon called for an inclusive preparation of tangible results of the EU-LAC Summit that will take place in July 2023.
The event featured two roundtables: the first on building a digital investment package of the EU Global Gateway strategy, and the second on inclusive and human-centred digitalisation with a focus on new technologies, especially AI.
The live stream of the event is available on the D4D Hub website.
The event was organised by Slovenia, Spain, the EU Commission and the D4D Hub.
The D4D Hub was established during Slovenia's second EU Council Presidency. The first high-level event co-organised by the Slovenian Presidency took place on 14 December 2021.