Minister Fajon attends the Regional Forum of the Union for the Mediterranean and EU-Southern Neighbourhood Ministerial Meeting
Ministry of Foreign Affairs
Minister for Foreign Affairs Tanja Fajon attended the 7th Regional Forum Union for the Mediterranean (UfM) and the EU-Southern Neighbourhood Ministerial Meeting held in Barcelona. The ministers discussed the impact of the current situation in the region on younger generations and its improvement, solidarity, and cooperation, and outlined the way forward for the work of the UfM.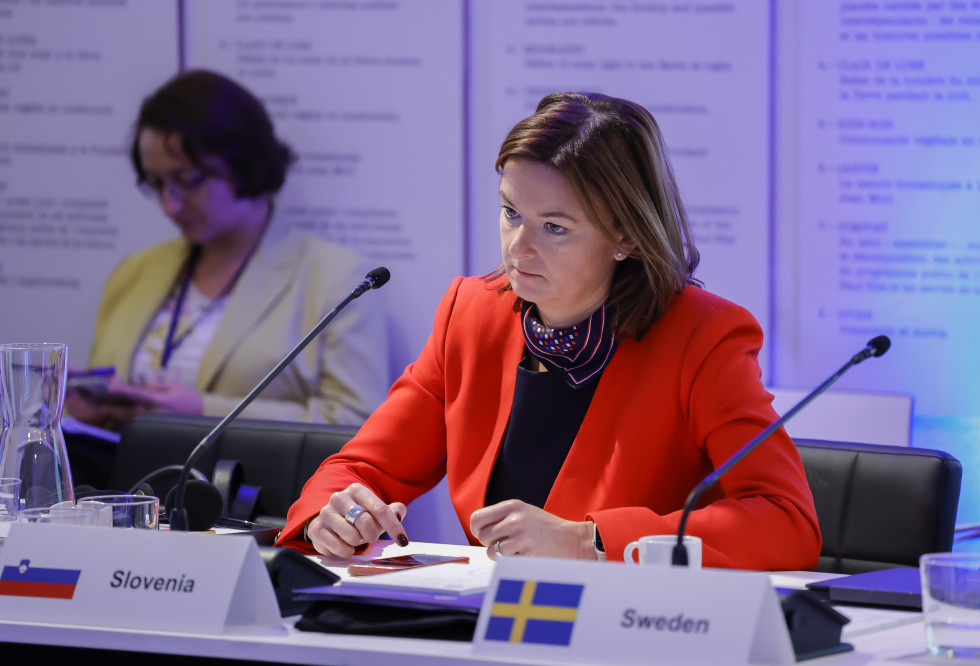 Forum participants
Meeting with the Foreign Minister of Morocco
Meeting with the Foreign Minister of Mauritania
Meeting with the Foreign Minister of Libya
Meeting with the Foreign Minister of Palestine
Meeting with the Foreign Minister of Jordan
At the Forum, Minister Fajon expressed a particular satisfaction with the decision of the Member States of the UfM to give special attention to young people in the framework of the European Year of Youth. "To ensure a brighter future for the next generations, we need to join forces in tackling the challenges facing the region. Improving the governance of education systems is therefore crucial," said the Minister. She stressed that one of Slovenia's most important projects in the Mediterranean is the Euro-Mediterranean University EMUNI, based in Piran, which must be given additional support. According to the minister, another good example of a joint project between Slovenia and the UFM is the Creative Forum, which brings together young people from the southern Mediterranean and the Western Balkans.
The ministers endorsed the accession of North Macedonia to the UfM as a full member. They expressed their satisfaction at the joint commemoration of the Mediterranean Day on 28 November, which will take place with the support of the Anna Lindh Foundation this year. A new initiative to designate "Mediterranean Capitals of Culture" was also announced.
The Regional Forum was followed by a ministerial meeting of EU countries with the countries of the Southern Neighbourhood (Algeria, Egypt, Israel, Jordan, Lebanon, Libya, Morocco, Syria, Tunisia and Palestine), as a follow-up to the EU's commitment to regular political dialogue. This commitment was announced in February 2021 in the context of the EU's renewed relationship with its Southern Neighbourhood as the "New Agenda for the Mediterranean".
"The Mediterranean region is particularly vulnerable to the negative impacts of climate change, as well as to water and food insecurity. The latter is linked to security challenges and features at the forefront of Slovenia's campaign to secure a non-permanent seat in the United Nations Security Council for the period 2024-2025," the Minister stressed.
On the sidelines of today's meeting, Minister Tanja Fajon also held bilateral talks with the Foreign Ministers of Jordan, Libya, Morocco, Mauritania and Palestine. They exchanged views on current international challenges, in particular the situation in North Africa and the Middle East. They agreed that the countries have many areas of common ground where there is scope and interest for closer cooperation, including improving mobility and education opportunities for young people.