Conclusion of the annual IMF Mission consultations
Speaking at the press conference after the conclusion of the annual IMF Mission to Slovenia's consultations, Minister Klemen Boštjančič expressed his agreement with its findings.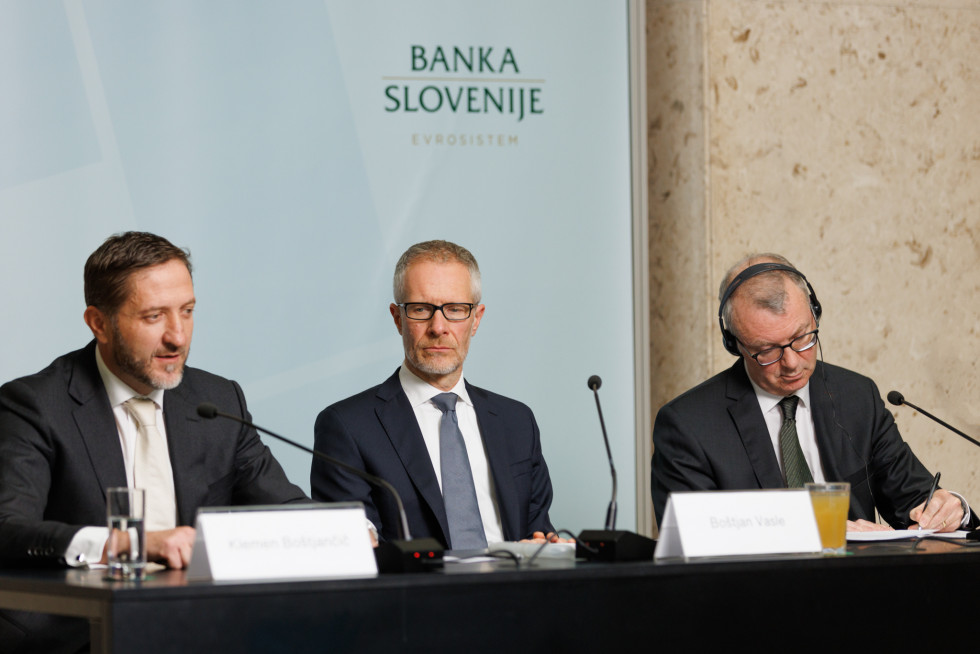 Minister Klemn Boštjančič's response to the IMF report
IMF Chief of Mission Donal McGettigan, Minister Boštjančič and BS Governor Vasle at the conclusion of the regular annual consultation.
The IMF Mission Chief for Slovenia Donal McGettigan began by emphasising Slovenia's exceptional resilience to the economic effects of the pandemic and the war in Ukraine. Despite these shocks, Slovenia still maintained high growth and record low unemployment.
In his response to the report, the Finance Minister said that the IMF report is of great importance for Slovenia, as it has a significant effect on international markets, investors, and our country's ratings.
The minister stressed it was most encouraging to hear the predicted 1.8% GDP growth for 2023, which is higher than the European Commission's most recent forecasts. He said it was important that IMF forecasts also take into account the effects of the planned crisis mitigation measures. The IMF also predicts GDP growth of 3% for 2027.
In 2023, fiscal policy is primarily oriented towards measures to counter the energy crisis and preserve the level of investment. Measures must be targeted and temporary, and must not increase pressure on inflation, stressed the minister.
The area of taxation has not been revised for a number of years. Various inadequacies and deficiencies have accumulated in the system, and they have a negative effect on the sustainability of public finances. Many of these deficiencies were recognised in cooperation with the Organisation for Economic Co-operation and Development (OECD) and the IMF.
The Government is preparing an integral structural tax reform, which will involve a wide range of stakeholders. After all, changes in the field of taxation affect us all. The minister announced there would be much work in this domain, not only to find solutions, but also to attain broad social consensus regarding where we would like to go as society, and what measures are necessary to reach these goals. The reform will not be carried out rapidly like an emergency measure, but only after thorough consultations, and will take into account various factors, concluded the minister.