Representatives of business and diplomacy at the Traditional Slovenian Breakfast
Ministry of Foreign Affairs
Today, the Volčji Potok Arboretum played host to an event within the framework of the regular Business to Diplomacy (B2D) meetings organised by the Ministry of Foreign Affairs under the auspices of Minister Tanja Fajon. The events are aimed at the internationalisation of the Slovenian economy and represent an excellent opportunity for Slovenian companies to present their know-how, products and services to the diplomatic corps in Slovenia.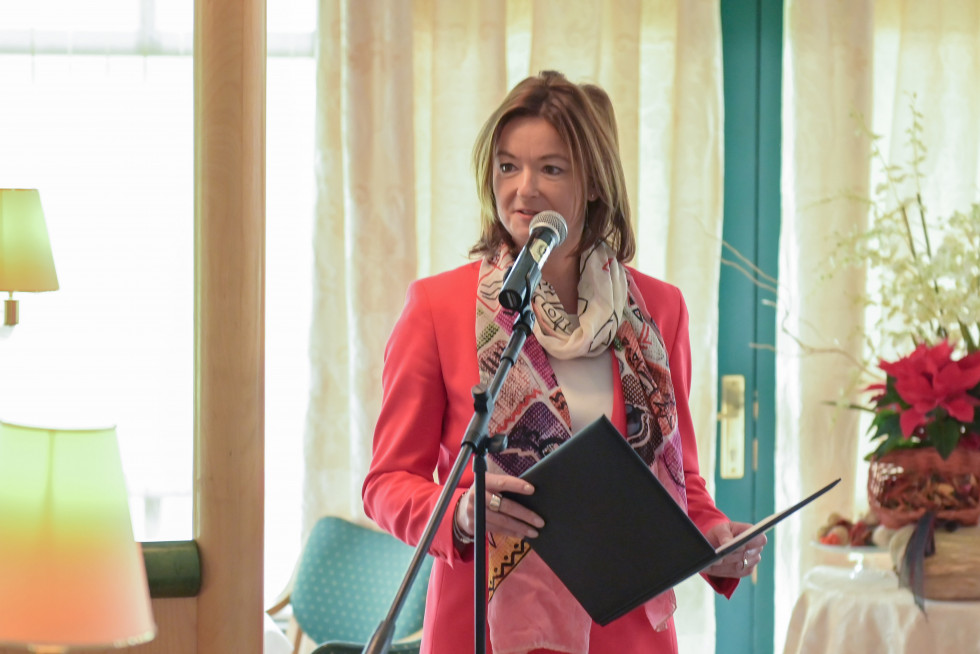 Representatives of business and diplomacy at the Traditional Slovenian Breakfast
Traditional Slovenian Breakfast
Traditional Slovenian Breakfast
In November, the meeting between representatives of business and diplomacy coincided with the day when Slovenia celebrates the Traditional Slovenian Breakfast. This takes place every year on Slovenian Food Day – the third Friday in November. This year, the twelfth Slovenian Breakfast Day is being celebrated under the slogan "Breakfast with milk – a great day!" The Slovenian breakfast meeting featured Slovenian food companies that are also important exporters, namely Conditus, Don Don, Medex, Ljubljanske mlekarne, Mlekarna Celeia and Mlekarna Krepko. The gathered representatives of the diplomatic corps, about 40 ambassadors, were addressed by Tanja Fajon, Deputy Prime Minister and Minister of Foreign Affairs, Dr Tatjana Zagorec, Director of the Chamber of Agricultural and Food Enterprises, and Boštjan Noč, President of the Slovenian Beekeepers' Association.
"Economic diplomacy is one of the key pillars of Slovenia's foreign policy. That is why meetings of representatives of business and diplomacy, the so-called B2D events, have become a regular feature and have proven to be an excellent way to promote the Slovenian economy and thus internationalise it as successfully as possible. Today's event also sends other important messages. Firstly, that quality locally produced and processed food is important to ensure the food security of citizens, and in particular that the country's food sovereignty is important in these uncertain times. And secondly, sustainable development, including when it comes to the future of food security, is the path that Slovenia has chosen to take. Sustainability and concern for the future of the planet will also be central to Slovenia's action if elected as a non-permanent member of the United Nations Security Council for the 2024–2025 term," said Minister Fajon on the sidelines of the meeting.