GAC on preparations for the European Council meeting and on Hungary
Ministry of Foreign Affairs
State Secretary Marko Štucin attended a regular meeting of the EU General Affairs Council in Brussels. The focus was on the preparations for the December European Council meeting and on the hearing of Hungary on the state of the rule of law under Article 7 of the EU treaty.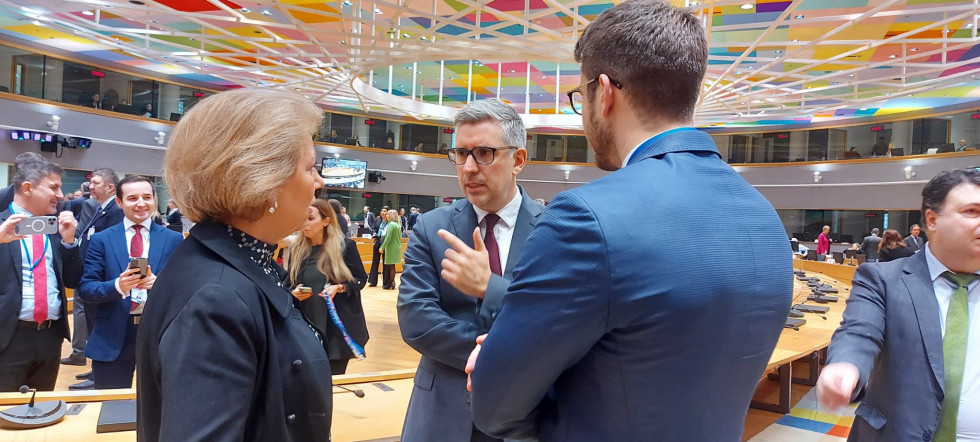 GAC on preparations for the European Council meeting and Hungary
In preparation for the European Council meeting, ministers and state secretaries for European affairs discussed the agenda for the December meeting of EU heads of state, which includes the war in Ukraine and its consequences, energy and the economy, security and defence, relations with the Southern Neighbourhood and topical foreign policy issues. State Secretary Marko Štucin expressed solidarity with Ukraine, but also with Poland, following the recent incident in the border village of Przewodów. He drew attention to the difficult situation in Ukraine and called for de-escalation. He also advocated an ambitious timetable for the creation of a temporary dynamic price corridor on natural gas transactions and stressed the importance of preserving the competitiveness of the European economy in the light of the current challenges. In line with the conclusions of the June meeting, he proposed that EU leaders take a decision on granting candidate status to Bosnia and Herzegovina in December and address human rights violations, in particular women's rights, in Iran.
The European Commission reported on the state of play in EU-UK relations. In a brief response, ministers focused on the implementation of the Withdrawal Agreement, in particular the Protocol on Ireland and Northern Ireland, and went on to express their support for the Commission in its negotiations with the British side, calling for continued EU unity.
Following the presentation of the Commission's work programme for the coming year, GAC members focused their discussion on specific policy priorities. State Secretary Štucin supported the Commission's announced initiatives, highlighting the green and digital transition, measures to mitigate the effects of the energy crisis, EU enlargement and cooperation with the Western Balkan countries, as well as the reform of the economic governance system at EU level as priorities.
During the hearing of Hungary on respect for EU values and the state of the rule of law as part of the Article 7 TEU procedure, the ministers and state secretaries for European affairs focused on issues relating to the independence of the Hungarian judiciary, corruption, the functioning of the constitutional and electoral systems, and on other issues raised by the European Parliament in triggering Article 7. State Secretary Štucin highlighted the need for a common understanding of the EU's fundamental values and respect for the rule of law, which also includes respect for the judgments of the courts, and went on to welcome the opportunity for constructive dialogue and individual positive shifts as regards the rule of law in Hungary.