Minister Fajon and Special Envoy of the President of the Republic of Korea Park on strengthening cooperation
Ministry of Foreign Affairs
Minister of Foreign Affairs Tanja Fajon met with Special Envoy of the President of the Republic of Korea Park Byeong-seug. The meeting was devoted to discussions on ways to strengthen bilateral cooperation between the Republic of Slovenia and the Republic of Korea.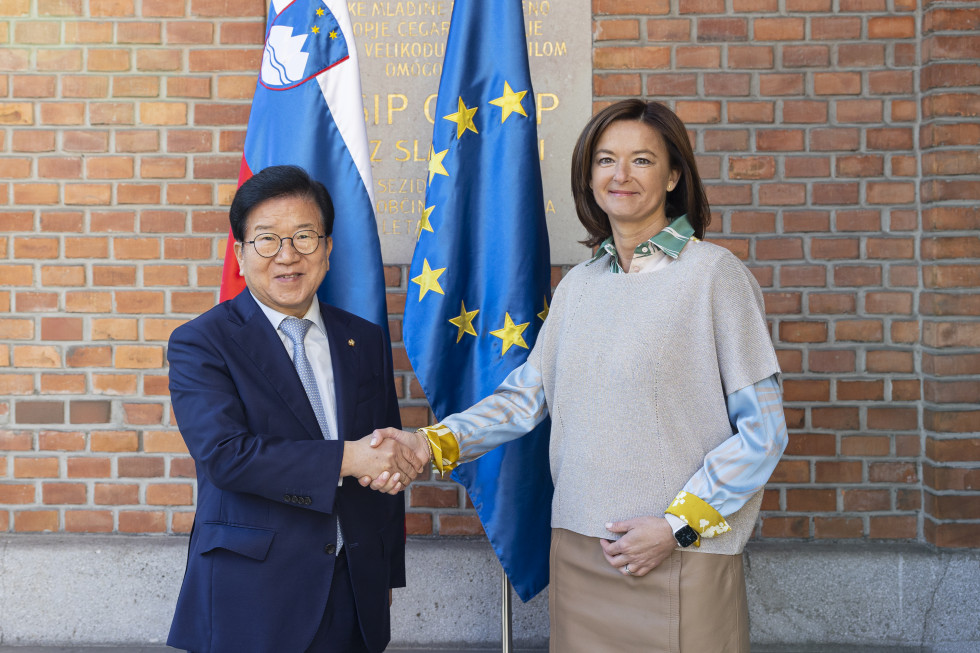 Minister Fajon during bilateral talks
Bilateral meeting of the two delegations
Group photo of Minister Fajon with the delegation of the Republic of Korea
"This 18 November, Slovenia and Korea will mark the 30th anniversary of the establishment of diplomatic relations. I am therefore particularly pleased that Slovenia recently opened an embassy in Seoul, which will contribute to enhancing our bilateral relations, especially in the economic field. I hope that the Republic of Korea will also take a similar step," said Minister Fajon.
She also underscored the importance of mutual investment, highlighting the Port of Koper, which is already successfully cooperating with Korean partners. Additional opportunities lie in the automotive, mechanical engineering and metal industries, as well as in tourism, logistics and artificial intelligence.
The Special Envoy presented the Republic of Korea's candidacy for EXPO 2030 in Busan and handed the Minister a letter from the President of the Republic of Korea, Yoon Suk-yeol. He also explained the reasons behind the Republic of Korea's decision to host this important world fair covering various topics under the main theme "Transforming Our World, Navigating Toward a Better Future". Minister Fajon thanked the Special Envoy for his presentation of the candidacy.
They also discussed cooperation within international organisations and the security situation in the neighbourhoods of both countries.