Minister of Finance Klemen Boštjančič visits Japan
During his visit to Japan from 26 to 31 October 2022, Minister of Finance Klemen Boštjančič met with Secretary of State Takahiro Inoue, with whom he discussed further cooperation between the two countries on the 30th anniversary of diplomatic relations between Slovenia and Japan.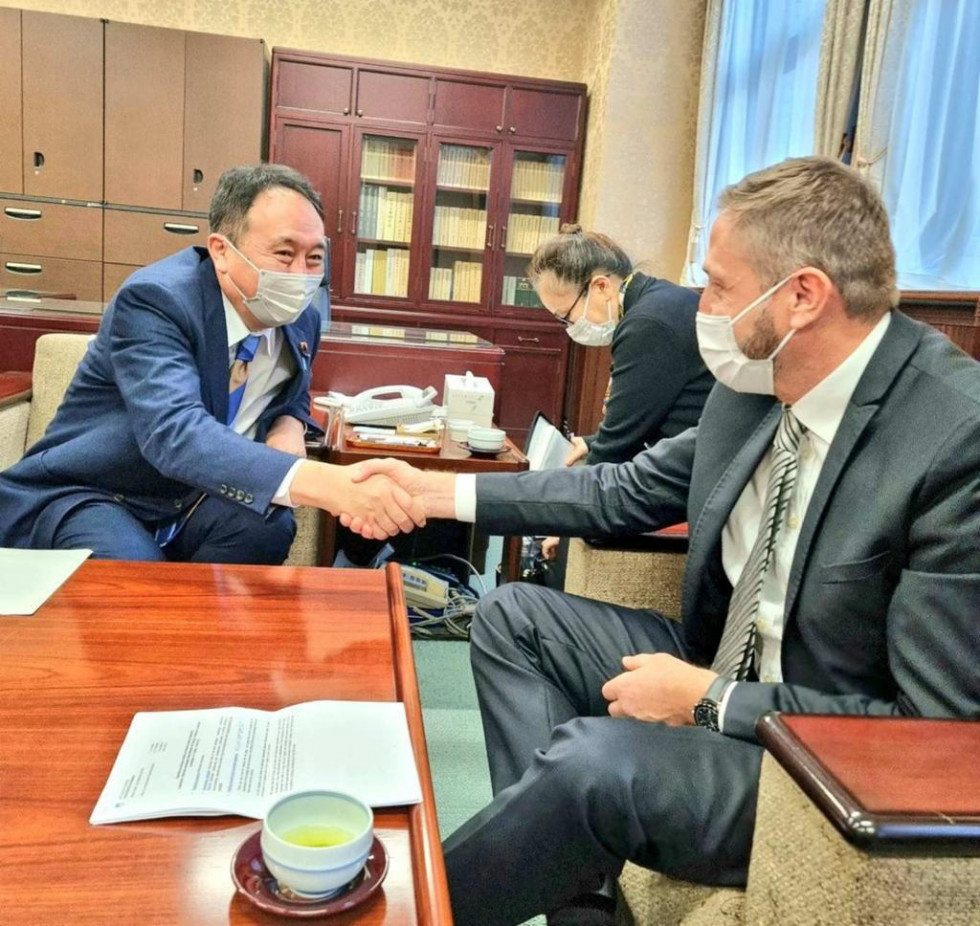 Minister Boštjančič and the Governor of Japan Bank for International Cooperation JBIC Nobumitsu Hayashi
Minister Boštjančič's lecture at Keio University
Minister Boštjančič's meeting with Takashi Hibino, Chairman of the Board of Daiwa Securities
Minister Boštjančič meeting with with Yoshiro Hamamoto, President & CEO of Mizuho Securities
The Minister emphasised the Government's commitment to increase economic cooperation with Japan and recalled the importance of Japanese investments in Slovenia to date. They also touched on the political and economic situation in the EU and Slovenia, with Mr Inoue stressing the importance of preserving democratic values in the context of the developments in Ukraine, to which the European Union is also contributing.
In Tokyo, the Minister also met Nobumitsu Hayashi, Governor of the Japan Development Bank JBIC. They discussed JBIC's activities on European markets, as well as the possibilities for deepening cooperation between JBIC and SID Bank and jointly entering third markets.
The Finance Minister also met with representatives of the largest banking groups in Japan, DAIWA, MIZUHO and others. Among the topics discussed were the current challenges facing the world economies, led by the energy crisis. The main focus was on cooperation between Japanese investors and Slovenia.
During the visit, the Minister held several meetings aimed at introducing potential Japanese investors to bonds issued on the Japanese or European market and ESG (environmental, social, governance) bonds. The presentation also included green bonds, which are intended to finance projects that have a positive impact on the environment.
As part of the activities marking the 30th anniversary of diplomatic relations between Slovenia and Japan, the Minister addressed students from the renowned KEIO University and presented the new orientations of the Slovenian Government in the field of finance, the impact of the energy crisis on Slovenia and its role among the European Union countries.