Minister Fajon visits Argentina and expresses interest in strengthening bilateral cooperation
Ministry of Foreign Affairs
Minister of Foreign Affairs Tanja Fajon met Minister of Foreign Affairs, International Trade and Worship of the Argentine Republic Santiago Cafiero in Buenos Aires. They discussed the strengthening and development of bilateral relations, cooperation in the framework of international organisations, topical global and regional issues and the strengthening of relations between the European Union and Latin America and the Caribbean.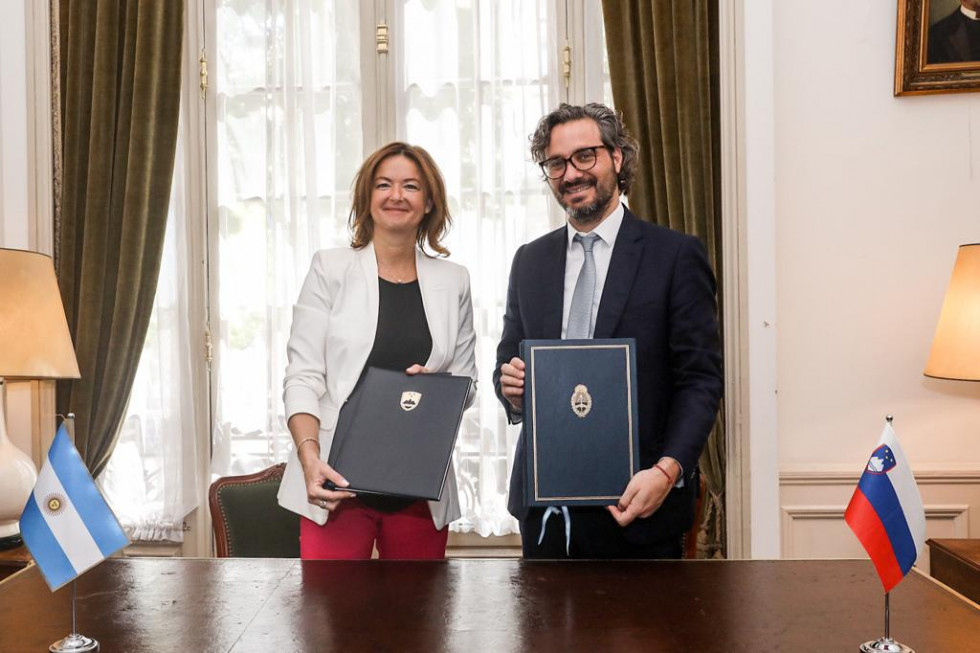 Minister Fajon and Argentine Foreign Minister Cafiero signed agreements on economic cooperation between their two countries and on the working holiday programme
Minister Fajon meets Eduardo Valdes, Chair of the Foreign Relations Committee of the Argentine National Congress
Minister Fajon at the Argentine Council for International Relations
In her talks with Minister Cafiero, Minister Fajon expressed interest in strengthening bilateral cooperation between the two countries, on both politics and the economy. She went on to thank Minister Cafiero on behalf of Slovenia for the support and assistance that Argentina provides to the Slovenian community there. During the meeting, the two ministers signed two agreements, the first being an Economic Cooperation Agreement, which will allow for the deepening of economic relations between the two countries, the development of economic cooperation in areas of mutual interest and the establishment of a Joint Commission on Economic Cooperation between the two countries; the second, the Agreement on a Working Holiday Programme, will facilitate the travel and stay of young people aged between 18 and 30 in the two participating countries and provide them with the opportunity to gain work experience and learn about the language, culture and life of their host country.
Minister Fajon also met with Eduardo Valdes, Chair of the Foreign Relations Committee of the Argentine National Congress. Their discussions focused on current global and regional issues, but the female members of the Argentine National Congress were also interested in gender equality and feminist foreign policy. The Minister later paid a visit to the Argentine Council for International Relations (CARI).
At the end of her visit, Minister Fajon met with representatives of the Slovenian community in Buenos Aires and with Slovenian honorary consuls in Argentina. Today, she will be joining a celebration to mark the 55th anniversary of the Slovenian hall Pristava and the 67th Slovenia Day in Argentina under the slogan "I am Slovenian and I want to stay Slovenian". "Many Slovenian women and men have found their second home in Argentina. Thank you for preserving Slovenian identity and spreading our culture and traditions for so many decades. This is a great contribution to Slovenia's visibility in Argentina," said Minister Fajon, who will conclude her visit to Latin America tomorrow in Uruguay.