Lobnikar: Migration challenges can only be addressed effectively through cooperation and a common approach
In Sarajevo, State Secretary Dr Branko Lobnikar attended a two-day regional conference entitled 'Sarajevo Migration Dialogue'.
The Western Balkan region has always been an important partner for Slovenia, the State Secretary stressed. He added his country promotes seeking common responses to increased migration flows and to new trends on the Western Balkan route. This was also the aim of today's conference, which was attended by ministers from the Western Balkan countries and some EU member states, as well as by representatives of EU institutions and international and regional organisations.

"Undoubtedly, the region deserves our attention. It should be reflected in formalised forms of cooperation which should include clear support for the region's European perspective and EU's willingness to provide assistance," said Lobnikar, expressing his support for EU's enlargement.

"Dialogue is the key word of today's conference; we must not only listen, but also hear each other and talk," State Secretary Lobnikar said and added: "Migration is a global phenomenon, a constant that no fence can stop." Migration challenges along the Western Balkan route can only be effectively addressed through cooperation and a common approach covering the entire route, the countries of origin, transit and destination. Lobnikar highlighted a new increasing trend of illegal border crossing by Cuban, Indian and Burundian nationals, who, while legally arriving in the Western Balkan countries, continue their illegal journeys to EU countries, which further increases migration. "This is mainly due to national exceptions and the non-harmonised visa regime with the EU. It clearly shows that any unilateral move may have broader implications for the entire region and the EU. Each country along the route has to bear its share of responsibility, contributing to more effective and comprehensive migration management," the State Secretary stressed.

The EU is ready to offer various forms of assistance in migration management to its Western Balkan partners through its existing mechanisms and tools, Lobnikar pointed out. He called on the countries in the region to cooperate with Frontex and the European Union Agency for Asylum.

Another important aspect of reducing migration pressure in the region is keeping to the return and readmission agreements in place, and return of migrants who are not eligible for protection, while respecting human rights. "It is particularly important that we work together to prevent criminal activity of smuggling rings making money through migrants. Close cooperation between law enforcement authorities and with Europol is vital in this regard," Lobnikar added.

As migration management is not only a security issue, the exchange of experience and best practice between partners is of major significance. It requires their constant collaboration through established channels of information exchange. Respect for human rights must be the key guiding principle for cooperation between the border, asylum and law enforcement authorities of the EU and the Western Balkans, pointed out the State Secretary. He mentioned in this context that his Ministry has recently set up a Consultative Body on Migration to draw up a new migration strategy.

Collaborating with civil society, NGOs and local communities, the Ministry is working to amend sectoral legislation, to improve the integration of migrants into society, especially into the labour market, and to make international protection procedures as fast and efficient as possible. Lobnikar noted: "We are removing the wire fence from the border with Croatia, which was a disproportionate measure to prevent irregular migration. Security is ensured by the Slovenian police, also through changed tactics and increased international cooperation." Of course, we remain committed to cooperating with the region and working towards common solutions.

On the margins of the conference, the State Secretary met with the Minister of Security of Bosnia and Herzegovina, Selmo Cikotić. They agreed that cooperation between their respective ministries and police forces has traditionally been very good. They underlined the successful collaboration in the fight against organised crime, with an intensive exchange of information and best practice. Lobnikar, who also serves as National Anti-Trafficking Coordinator, met with the BiH Anti-Trafficking Coordinator, Samir Rizvo; they highlighted good cooperation between their offices.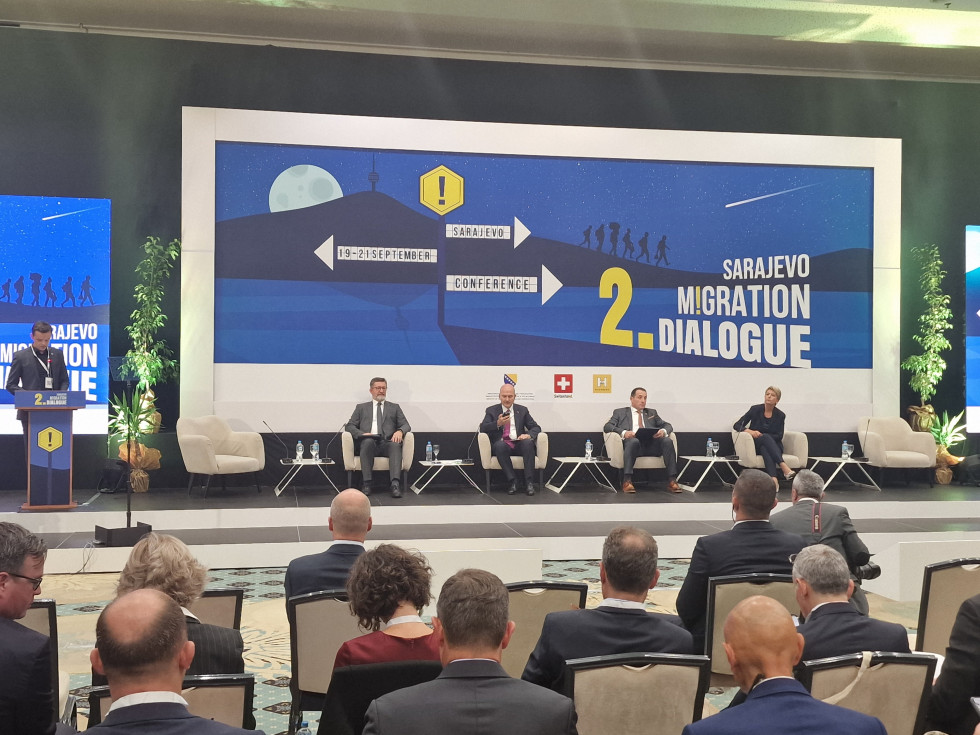 Minister for Security of Bosnia and Herzegovina Selmo Cikotić and State Secretary Dr Branko Lobnikar
State Secretary Dr Branko Lobnikar having an interview for 'Oslobođenje'