State Secretary Žbogar attends the first regional event on achieving zero emission targets in Maribor
Ministry of Foreign Affairs
State Secretary Samuel Žbogar attended the first regional Business-to-Diplomacy (B2D) NET 0 event in Maribor, focusing on the achievement of zero emission targets. In his opening address, he said that Slovenia is one of the most proactive countries at the international level, advocating an ambitious environmental agenda and a coordinated multilateral approach.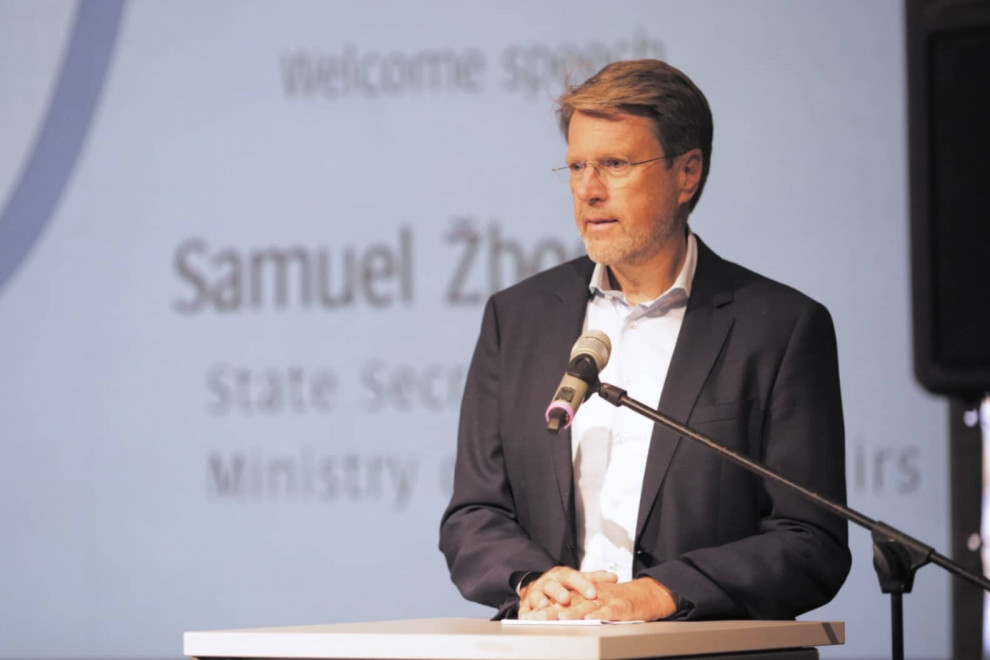 The event focused on achieveing the zero emission targets
State Secretary Žbogar underlined that Slovenia had successfully negotiated the Glasgow Climate Pact during its EU Council Presidency last year. Water diplomacy has been placed at the heart of the EU's external action. Since 2020, Slovenia has chaired the Group of friends on water and peace in Geneva, and next year, we are taking over the chairmanship of the water convention of the United Nations Economic Commission for Europe. According to his remarks, ensuring climate and water security is also one of the pillars of Slovenia's candidacy for a non-permanent seat on the UN Security Council.
Through economic diplomacy, the Ministry of Foreign Affairs supports and promotes innovative solutions of Slovenian economic and research institutions, their know-how, high-tech skills, products and research. Bringing together interested academics, business and public entities, the event put the achievement of zero emissions also by presenting good practices in getting participants to the event venue and by following the zero emissions criteria in the organisation of the event. As part of the full-day event, participants arrived from Ljubljana to Maribor by train and cycling to the event venue. In the context of the EU's efforts towards a carbon-neutral transport sector, rail transport greatly contributes to climate change mitigation.
The agenda featured a roundtable discussion entitled "Strategic orientations for sustainable business" with leading representatives of Slovenian companies: Petrol, Slovenian Railways, Resalta, Elektro Maribor and NLB. The participants included also a number of representatives of diplomatic missions accredited to the Republic of Slovenia and based in Ljubljana.
The event was organised by the Institute for Strategic Solutions (ISR) in cooperation with the Ministry of Foreign Affairs, the Ministry of Economic Development and Technology and the Public Agency of the Republic of Slovenia for the Promotion of Entrepreneurship, Internationalisation, Foreign Investment and Technology (SPIRIT Slovenia).