10th Anniversary Conference of the Ljubljana Guidelines
State Secretary Marko Štucin took part in the conference in Brdo pri Kranju to mark the 10th anniversary of the Ljubljana Guidelines of the Organisation for Security and Co-operation in Europe (OSCE). "The guidelines addressing the new global trends of growing inequalities are as relevant today as they were ten years ago," the state secretary emphasised in his address.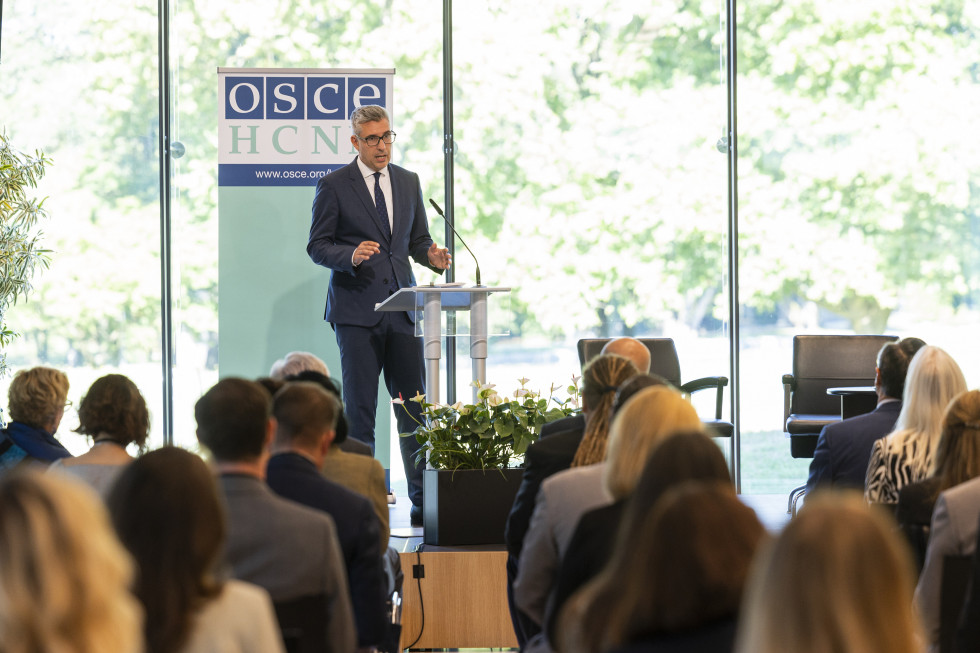 State Secretary Marko Štucin at the conference in Brdo pri Kranju
The 10th Anniversary Conference of the Ljubljana Guidelines is an important event to review the key achievements since the adoption of the guidelines and to discuss their implementation, in particular to address the emerging challenges. "The set of key principles included in the guidelines is useful for all those seeking to establish favourable conditions for integrated democratic societies where the human rights of all citizens are duly respected in keeping with the rule of law and the principles of good governance," stressed State Secretary Štucin. At the same time, he deplored the escalation of conflicts in the OSCE region, condemned any use of force, and called for the restoration of trust and dialogue. He also noted Slovenia's long tradition of protecting the rights of minority communities.
On the margins of the conference, the state secretary met with OSCE High Commissioner on National Minorities Kairat Abdrakhmanov. They discussed the challenges of minority protection and touched upon the consequences of the war in Ukraine. The high commissioner welcomed Slovenia's examples of best practice and initiatives in the areas of minority protection and inclusive societies. They both stressed the importance of addressing the position of national minorities and the diversity of societies in order to prevent conflicts and strengthen dialogue between societies.