Prime Minister Robert Golob assures state aid to those affected by the fire
Prime Minister Robert Golob visited a fire site in the Goriška Karst region and the Regional Civil Protection Headquarters to check on the situation faced by local residents, firefighters, civil protection service members and others battling the large-scale fire.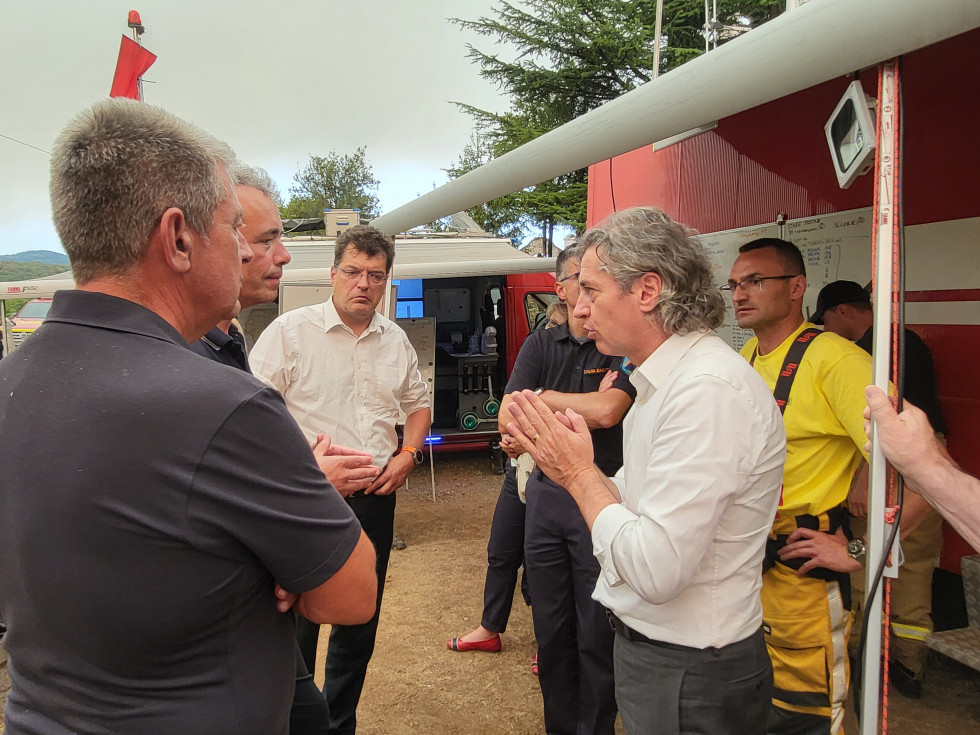 Slovenia has been hit by one of the worse wild fires in its history
Slovenia has been hit by one of the worse wild fires in its history. After a large fire spread from Italy to the Slovenian side of the border and the inhabitants of four Karst villages had to be evacuated, Prime Minister Robert Golob inspected the situation. First he thanked all the firefighters, both local and those from other Slovenian regions, policemen, soldiers and volunteers for their unselfish commitment. He said that such large-scale natural disasters could only be fought together.
He called for increased clearance of fire corridors and for existing field teams on the verge of exhaustion to be relieved of their workload. "Although things started to calm down towards the evening, it is now necessary to make use of the strong and numerous assistance to limit the spread of the fire. I am an optimist, but in light of the upcoming heat wave, we must keep our focus," said the Prime Minister.
"Despite the fire spreading over more than 1,000 hectares so far, and with more than 1,000 professional firefighters tackling it today alone, not a single house has been lost. This is a figure that says everything about the dedication of the teams in the fire zone," emphasised Mr Golob.
The Karst is Slovenia's most fire-prone area, which is why Prime Minister Golob has announced an intervention law to rebuild the affected areas and help people, along with increased investment in the preventive clearing of fire corridors, especially on the Karst edge. Slovenia also lacks air support; despite the help of the police and the army, it does not have its own firefighting planes. The Prime Minister thinks that its preparedness could be better already in the next season.
After a meeting with the European Commissioner for Crisis Management, Janez Lenarčič, in Kostanjevica na Krasu, Mr Golob pointed out that one of the options for preventive action is to draw up a joint Slovenian–Italian plan for the protection of the Karst edge on both sides of the border. "This would facilitate the transition of teams and aid from one country to another," were his concluding words in the fire area.
Today, the Prime Minister also thanked the European Commission, Austria, Croatia, Hungary, Italy, Slovakia and Serbia for their valuable assistance in fighting the fire.