Enhanced cooperation within the EU on the MED-9 countries meeting agenda
Ministry of Foreign Affairs
State Secretary Marko Štucin attended the meeting of Ministers and State Secretaries for European Affairs of the MED-9 informal group in Madrid. Participants discussed Mediterranean and topical European issues in the light of the MED-9 Summit to be hosted by Spain in September 2022.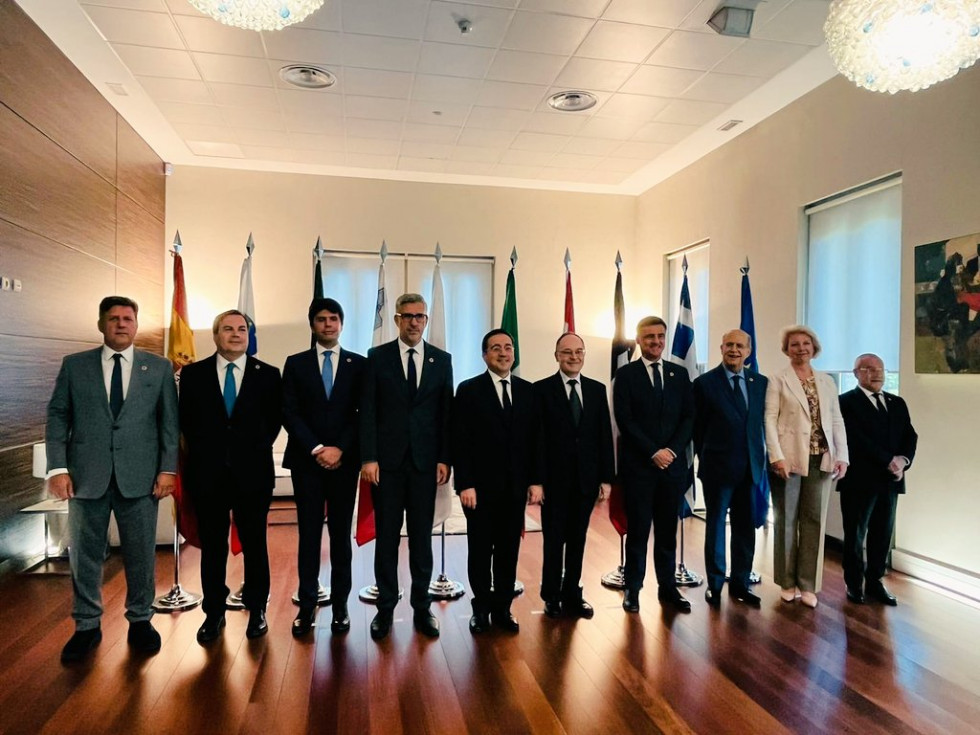 State Secretary Štucin during the plenary debate
State Secretary Štucin attending the MED-9 meeting
State Secretary Štucin during the plenary debate
The preparatory meeting was opened by the Spanish Minister for Foreign Affairs, Jose Manuel Albarez, who welcomed two new members to the group. He stressed the importance of this format for conveying common messages to the rest of the EU, as the EUMED or MED-9 countries represent 45% of the EU population.
State Secretary Štucin took part in plenary debates in which ministers and state secretaries discussed experiences and topical issues related to the COVID-19 pandemic, the war in Ukraine, climate change, energy and food security, migration and the Union's enlargement process. They agreed that the EU, as a global power, needs to be proactive in addressing its vulnerabilities and dependencies and build a more robust and resilient economy to meet the needs of its citizens. In their discussions, the ministers and state secretaries also paid particular attention to the group's partnership cooperation with the countries of the Southern Neighbourhood.
Preparing for the MED-9 Summit, the participating officials exchanged views on ways to strengthen the group's activities, in particular to increase its influence within the EU. Since 2021, the informal group of Mediterranean EU Member States has been made up of nine countries: Spain, Cyprus, France, Italy, Malta, Portugal, Greece, Croatia and Slovenia.
The MED-9 summit in September 2022 will be hosted by Spain in Alicante.